We just spotted a great deal for you. Tata Photon Wi-Fi hub, which was launched back in 2011 for a price of Rs 5999, is now available at a discounted price of Rs 2999.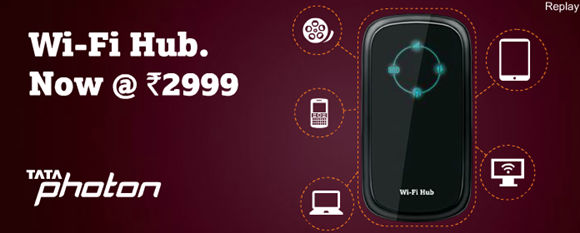 While the traditional Tata Photon dongle enables just one device to access internet via USB, Tata Photon Wi-Fi hub (a.k.a Mi-Fi) allows 5 different devices to connect to internet simultaneously. The device converts itself to Wi-fi hotspot, enabling other Wi-Fi capable devices to connect to internet through it. The device is portable and easily fits in your pocket.
The concept was well appreciated when it was launched a couple of years back. However, due to heavy difference in the price as compared to the traditional dongle, it could not do any wonders in terms of sales. Almost at the same time Android 2.2 was also launched with Wi-Fi tethering feature and Android devices' prices were going down rapidly. This also worked against the success of device. However, at this price, the device worth an attention.