The famous Tablet Manufacturer, Swipe has announced a new Quick Heal Mobile Security (QHMS) Solution for its fablets and tablets. This new application will be rolled out in new Swipe tablets and can also be downloaded from Swipe App Store.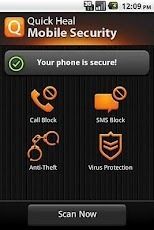 This Quick Heal Mobile Security Solution boasts lots of features like Anti-theft security which helps to lock your tablet or fablet. This will secure all your personal data. You can also locate your lost device if it is stolen or lost.
The automatic real time scan will scan all your installed application and games for threats. It also carries SMS and Call block feature, which enables you to block all unwanted calls and spam messages. You can create a black list to have an eye on all unwanted calls and messages. This feature will will enable you to block all unwanted advertisements and messages.
Shripal Gandhi, founder and chief executive officer for Swipe Telecom stated, "In 2013, users are expected to carry out more financial transactions through their Android devices, thus increasing the risk factor of malicious attacks. However, only a fraction of 6-8 per cent of tablets and fablets are protected by security software, despite a rise in the amount of malware targeted at mobile devices. With a visible upward trend in m- payments and m-commerce in India we at Swipe Telecom are sensitive to the situation and hence are offering security solutions to all our users. In the future, we hope to keep the momentum going and constantly innovate and offer value added solutions to all our users."
This Quick Heal Mobile Security solution if accessible on all Swipe Fablets and Tablets. However, you can also download a paid or free version of this application from Google Play store.