Swipe Telecom has come up with two new phones, at one go. These new devices are called the Swipe Fablet F2 and the Swipe Fablet F3. The Swipe Fablet F3 has been made capable of not just dual SIM option, but also 3G for both SIMs. So you can use both SIM's at the same time and not necessarily from the same service provider. Additionally, you can even turn off one network by activating flight mode, if you want to shut off annoying phone calls from your office place during non-office hours. The Swipe Fablet also lets you use your Skype account to make video and voice calls using appropriate hardware support. The Swipe Fablet F3 also comes with the latest operating system Android Jelly Bean 4.1.1.
When tested, the device functions smoothly without any hitches and glitches. Swiping screens and going through multiple applications is smooth without the glimmer of a second's lag. The phone works at great speeds which is remarkable for this budget friendly device. The Fablet F3 has 512 MB DDRIII RAM of and is powered by a 1GHz dual-Core Processor. The Fablet F3 is also powered up by a 2200 mAH battery. The screen is a neat large 5 inch display with 5 point multi touch. That is pretty neat alright. The Swipe Fablet F3 also has Bluetooth, Wi-Fi and FM Radio support. It has a 5 megapixel back camera and a 0.3 megapixel front camera. Memory wise you get 4 GB of internal, which can be cranked up to 32GB. The Fablet F3 weighs about 260 grams and has a USB 2.0 slot. Swipe has fit this device with its new 360° Camera Technique, using which a user can capture literally every angle making it great for burst shots, or when snapping a large group of people or even a wide scenery. You can also capture flat images and as well as panorama images.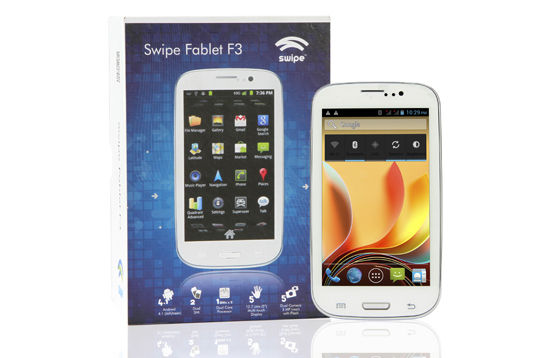 You will get Black, White or Trendy Blue colored shells for free with the Fablet F3. The Swipe Fablet F3 also comes with a free flap cover called the Business Navigator which shields the device against dust, scratches and other accidental phenomena. The Swipe Fablet F2 comes powered by a 1GHz Processor and works the Android Gingerbread 2.3.6 OS. The battery is a 2200 mAh battery which has an purported span of as much as 6 hours. The Swipe Fablet F2 weighs in at 260 g like the F3, and also has Black, White and Trendy Blue free shells and the Free Business Navigator. The back camera is a 5MP while the front is 0.3 MP. Memory is the same as the F3 having 4GB of internal capacity expandable to 32 GB. It also has FM Radio, Wi-Fi and Bluetooth support.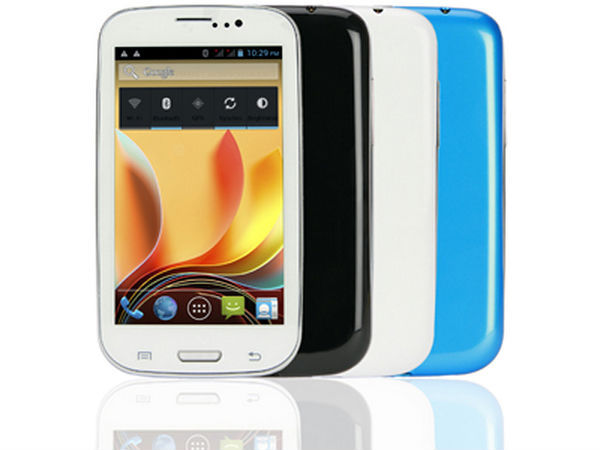 For those of you who are not particular on dual SIM features, you can buy the Swipe Fablet F2 for Rs.7,590/-, however with just a very small price difference you can pick up the F3 for Rs 9,290.