"With three colourful back panels to choose from, the Spice Stellar 520n lets you make a style statement"
This year has seen a revolution of sorts in the smartphone market, with value-for-money devices like the Xiaomi Mi 3 (review | cheatsheet) and OnePlus One (review | cheatsheet) challenging the likes of super-premium flagships, and smartphones such as the Moto E, Xiaomi Redmi 1s, etc. initiating a whole new segment referred to as 'budget-performance'. The category was kickstarted by the Moto E, which in Motorola's own words, is a device that "doesn't compromise on quality, style or experience", even though it's priced affordably. Indian manufacturers were quick to follow the brand's footsteps, leading to a fierce battle in the budget segment.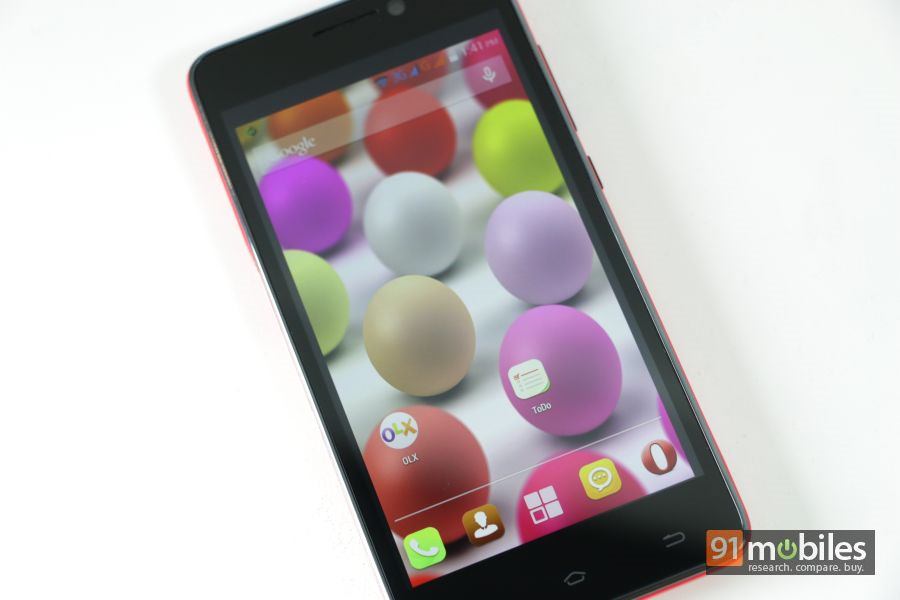 But as they say, more choice is always better for consumers, so we are glad that this category is getting so much attention. Today we have another contender fighting for the title in this space, the Spice Stellar 520n. On paper, it offers decent specs, but how well does it perform as a reliable daily driver? Let's find out.
Specs at a glance
Measures 145 x 72.8 x 8.5mm
5-inch display, 1,280 x 720 pixels resolution
1.3GHz quad-core processor
1GB RAM
8MP rear camera with LED flash
2MP front camera
8GB storage, expandable up to 32GB
Dual-SIM 3G, Wi-Fi, Bluetooth and GPS
2,000mAh battery
Android 4.4.2 KitKat
Simple looks, colourful personality(ies)
Barring a few out-of-the-box concepts, most smartphones bear a candybar design and the Spice Stellar 520n is no different. The device bears usual design characteristics and like all budget devices, it's constructed from plastic.
There aren't any surprises with respect to port and control placement either, with the front being dominated by a display, which is flanked by an earpiece, secondary camera and a couple of sensors as well as a row of capacitive navigation keys. However, the good part is that the navigation keys on the Stellar 520n are backlit, unlike many offerings in this segment. The keys are based on Android guidelines, with the first key offering access to recently-opened apps, home key allowing you to jump to the main screen and the return key for going back to the previous screen.
The right spine houses the volume rocker along with the power key, while both the microUSB port and a 3.5mm audio port can be found up top. Both the left and bottom edges are completely barren.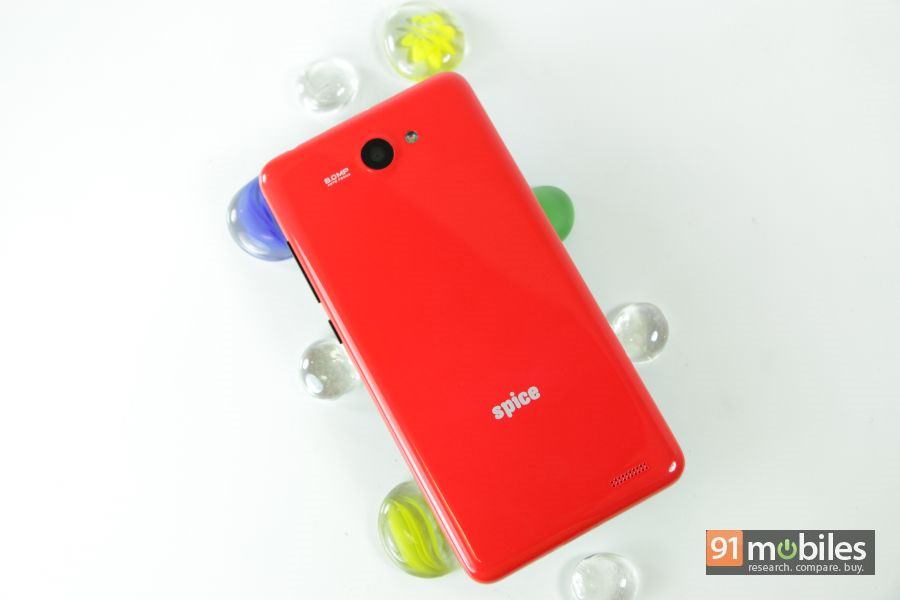 The rear cover extends along the edges of the Spice Stellar 520n, much like Lumia smartphones. The rear is home to the primary camera along with an LED flash, Spice branding and a speaker mesh. Prying open the rear panel exposes the battery compartment, and slots for a pair of SIM cards and a microSD card.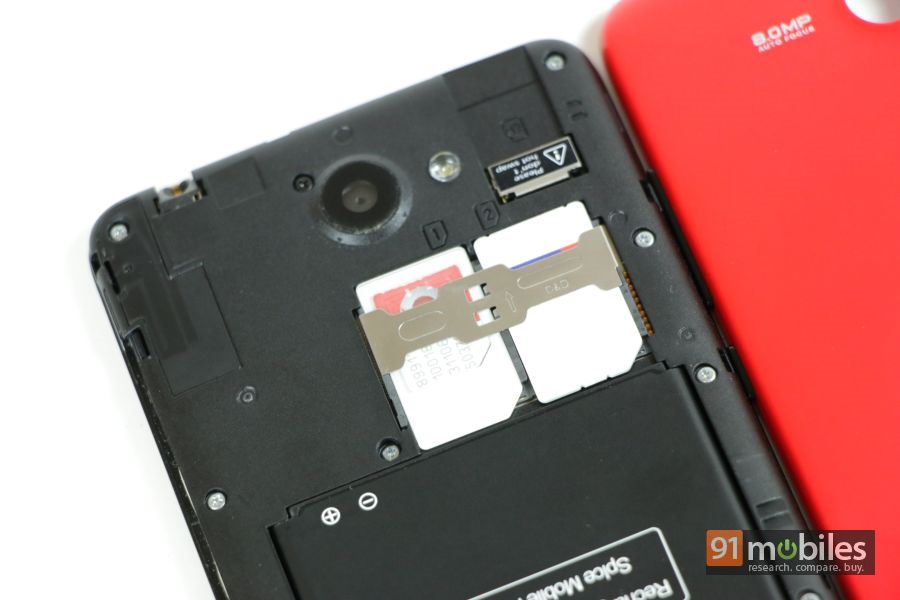 Thanks to the rounded corners and tapered edges, the Spice Stellar 520n nestles in the hand well. Even though it's not extremely lightweight or thin, the device can be held comfortably for long duration, although the glossy back cover is prone to slippage and smudges.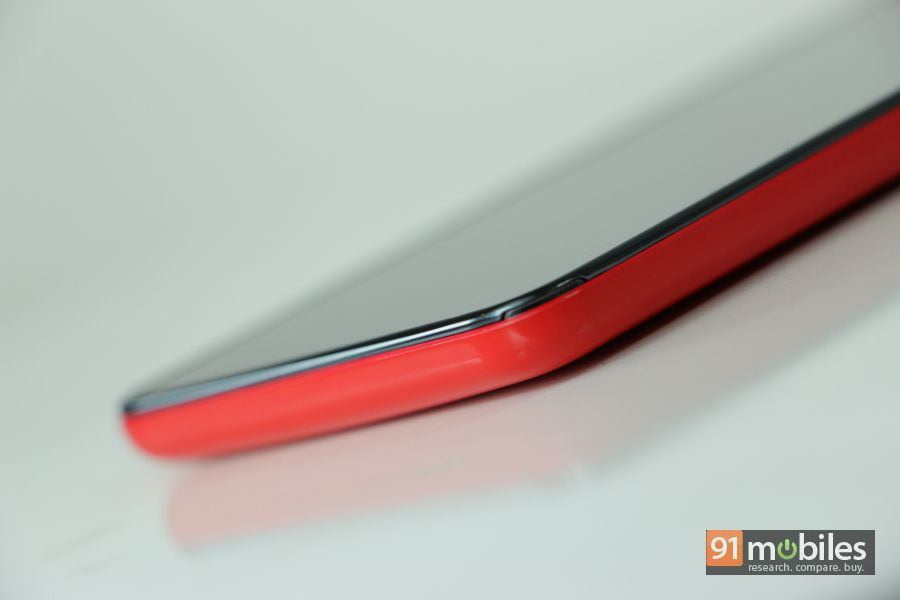 Up until now, there is nothing that sets the Spice Stellar 520n apart from its peers. However the company has bundled not one, but two rear panels. While the default cover is in red, you can change it to yellow or white to reflect your own style whenever you want. Apart from that, you also get a flip cover to protect the device, as we noted in our unboxing as well.
The best-in-class display
Back in May, when the Moto E was launched, it set a benchmark in this segment with its resolution of 960 x 540 pixels. That, combined with the phone's display panel measuring 4.3-inches, the device offered a decent pixel density of 256ppi – much higher than its competitors. However, Xiaomi's budget blockbuster, the Redmi 1s, managed to steal Moto E's thunder with its 4.7-inch HD display.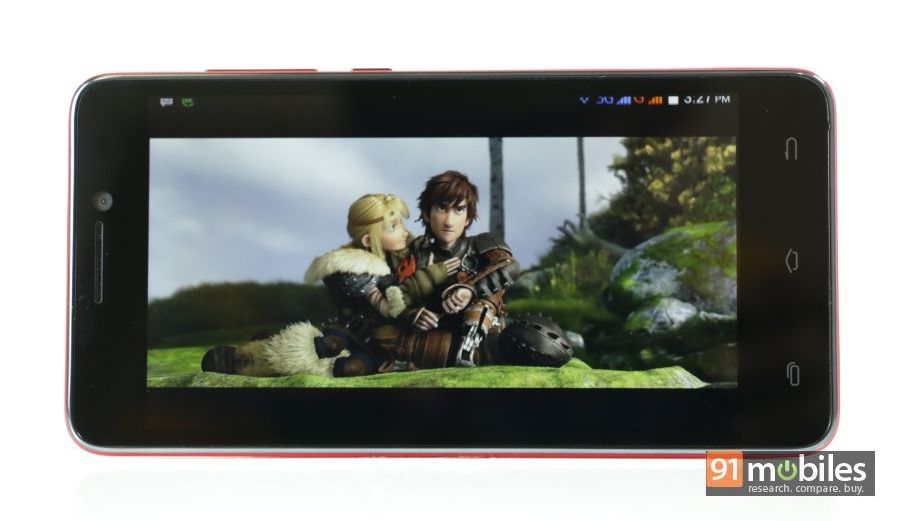 The Spice Stellar 520n goes a step further with an IPS display panel of 5-inches throwing a resolution of 1,280 x 720 pixels, which is only matched by the Huawei Honor Holly in this price bracket. With a pixel density of 294 pixels-per-inch, the smartphone reproduces good colours and clear visuals. The viewing angles are also nice, and while brightness levels might not be the best, they're decent enough and don't render the screen illegible outdoors.
Sadly, the company has decided to forgo any kind of protection for the display of the handset, and hence it's suggestible to use a screen protector. Thankfully, the device comes bundled with a screen guard.
Offers a pure taste of Android KitKat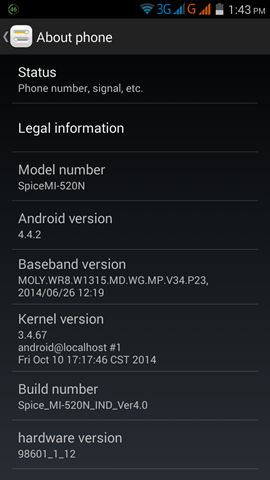 The Spice Stellar 520n ships with Android 4.4 KitKat out of the box. Apart from the custom icons, the device delivers a near-stock Android experience.
The handset comes preloaded with a number of apps such as AskMe, Hungama, OLX, WhatsApp, etc. along with its own apps such as Spice Cloud and SpiceGang. It also offers the SwiftKey keyboard for typing, which is popular for its swipe-to-type capabilities.
However, we also noticed some redundancies in the Spice Stellar 520n when it comes to apps. The device offers two apps each for accessing Gallery and Camera. While both the Gallery apps don the same interface, one of the camera apps is Google's latest app available from the v4.4 and up, whereas the other app is the stock camera app.
The device also offers scenes (a fancier word for themes) in the form of Default and Work. These tweak the interface, though don't change the look extensively, and there's no option to configure them as well.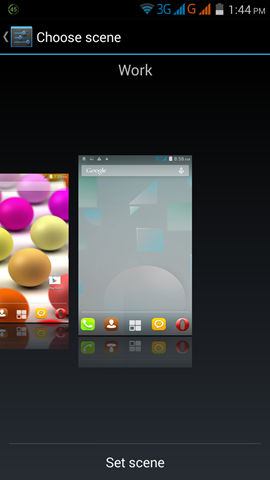 Spice has also tried to offer some advanced features in the hand of the user, such as Permission Manager, Auto-start Management, etc. With Permission Manager, you can take a look at all permissions a particular app can access and can control them as per your preferences. You can also view the same list the other way around, i.e, filtered by permissions rather than apps. Auto-start management, as the name indicates, lets you configure which apps can start automatically at boot.
The camera performance is a letdown
An 8-megapixel autofocus camera adorns the rear of the Spice Stellar 520n, and is supplemented with an LED flash. At the front, the phone offers a 2MP camera. As we mentioned earlier, the device gets two camera apps, and since both of them are stock, you get the usual options when it comes to settings and modes.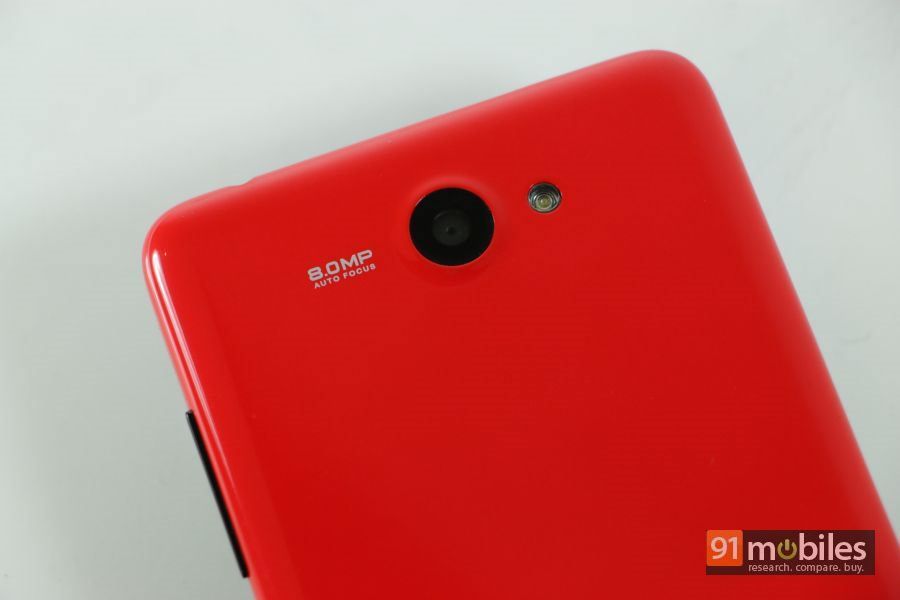 In terms of pure image quality, the camera fails to impress. Even though the megapixel count raised our hopes, the images are average at best. There's a lot of graininess as soon as you start zooming in to the image, although colour reproduction is fine. Images taken during low-light conditions also share the same fate and the LED flash isn't able to help matters either. We also found that the Spice Stellar 520n takes a considerable amount of time to focus on the subject.
Take a gander at some of the shots captured using the Stellar 520n's primary shooter.
The 2MP snapper at front is decent for shooting selfies or making video calls. When it comes to video recording, the main camera can shoot videos in 720p, but sadly, it saves them in the old 3gp format. You can also record videos in 640 x 480 pixels via the secondary camera.
Equipped with four cores to set things in motion
To power the Stellar 520n, Spice has made use of the popular MediaTek MT6582 chipset, which offers four Cortex-A7 cores running at 1.3GHz. The SoC gets help from Mali-400MP4 graphics processor, and works in conjunction with a gigabyte of RAM. Day-to-day performance while transitioning between screens, opening and closing apps, browsing heavy websites, etc. was very smooth and there were no trace of lags. It's the gaming performance though, that was a different matter altogether. While playing games like Riptide GP2, the experience was jerky and the rendering wasn't as smooth as we'd have liked it to be. However, if you scale down the graphics performance, the experience turned out to be much better. Like most phones, the device started heating up when we played a processor-intensive game for a considerable amount of time.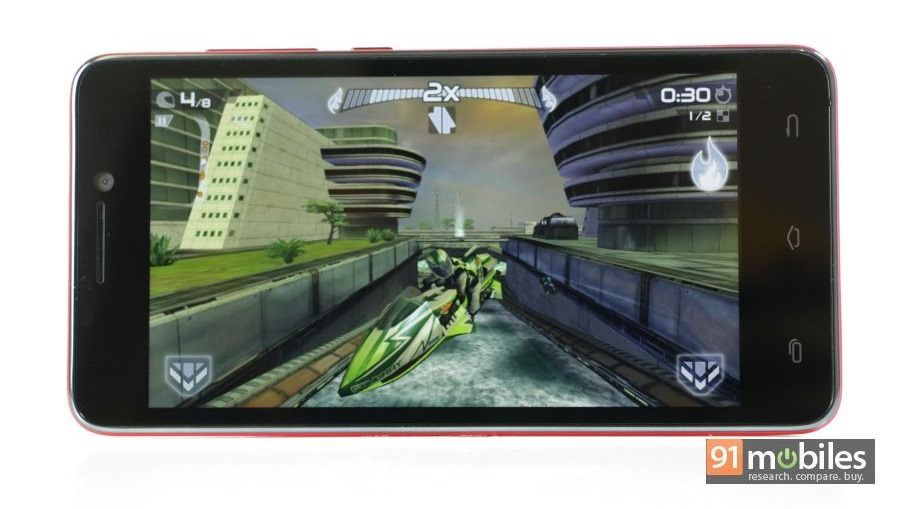 For storage, the mobile is supplied with 8GB of onboard memory, which is divided into two separate partitions. While one partition offering 2.7GB of space can be used for installation of apps and games, the other offers a little over 3GB for storing personal data and media. In case, there's a need for more, you can slide in a microSD card of up to 32GB in the expansion slot. Sadly, the Spice Stellar 520n misses out on USB OTG support, which means that you can't use your flash drives with it.
In terms of connectivity, the dual-SIM smartphone has support for 3G networks apart from the standard set of options, including Wi-Fi, Bluetooth, Wi-Fi and GPS.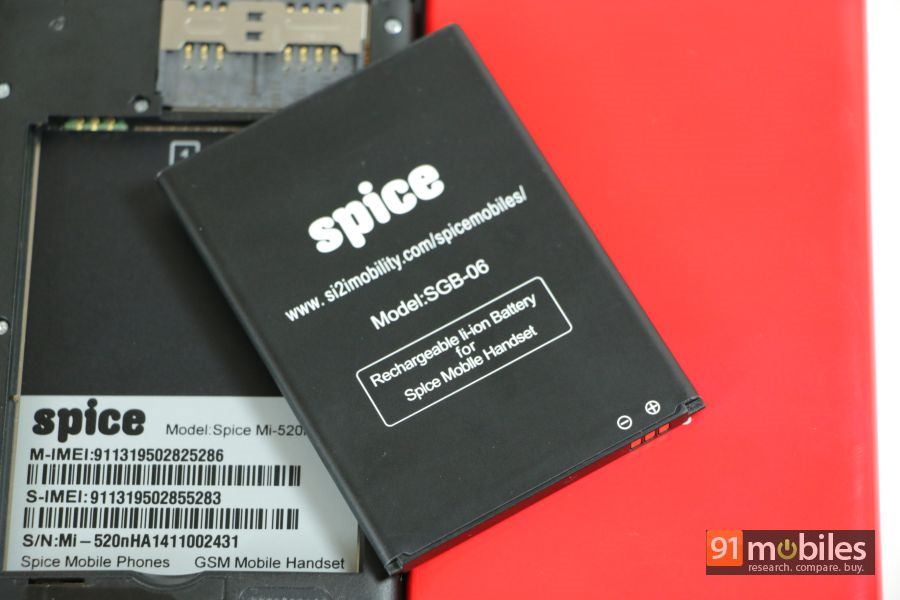 Juicing up the Spice Stellar 520n is a 2,000mAh Li-ion battery. Even though the battery rating seems to be decent, its output is anything but. In our daily usage, the phone barely managed to last an entire working day, that too when battery-draining things like 3G and GPS were used judiciously. Talking about pure numbers, the smartphone played back a 720p video on loop as part of our standard test for slightly over five hours – which is lower than even the average results we have achieved with other devices.
That said, the phone does have an app called Battery Doctor for increasing battery's efficiency by changing to different modes or closing the apps running in the background.
Verdict
Keeping in line with its target segment, the brand has priced the Stellar 520n strategically at Rs 6,999. While there's no doubt that the segment is choc-a-block with devices from both the Indian as well as international manufacturers, Spice's offering does manage to differentiate itself from them. It offers a large display, without compromising on the sharpness, along with decent hardware. The inclusion of replaceable back covers along with a flip cover makes the smartphone even more lucrative. It also offers sufficient amount of storage, which is a major concern with many devices in this price band, including its predecessor, the Stellar 520 (first impressions).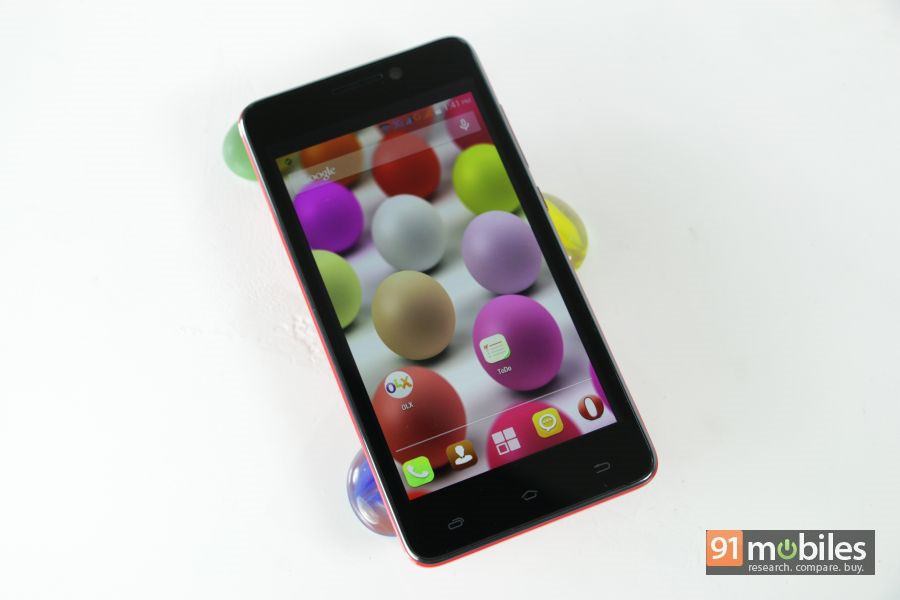 However, the Spice Stellar 520n isn't perfect by any means – especially when it comes to its camera quality. Gaming isn't smooth either and battery life is extremely poor. In our opinion, Xiaomi's Redmi 1s (review | FAQs) continues to lead this segment by a fair margin, and the Huawei Honor Holly (review) also gives a tough competition to this device offering exactly the same set of specs, but double the built-in storage. If you're concerned about latest Android updates, then the Android One trio (review) or the Moto E (review | FAQs) are also worthy choices.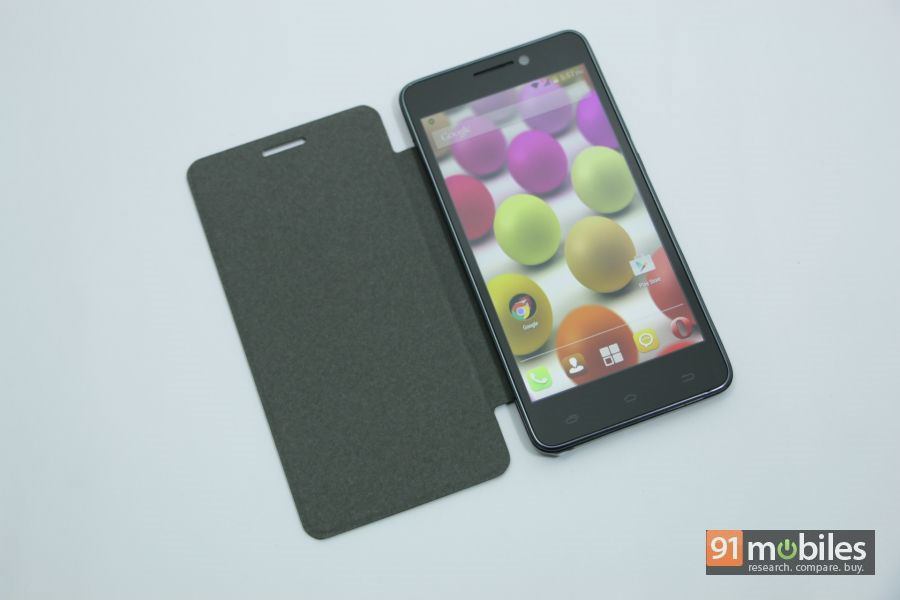 In all, the Spice Stellar 520n is a great effort by the brand, but fails to impress us as a whole.
Price: Rs 6,999
Editor's rating: 7 / 10
Pros
Gorgeous display
Colourful back panels
Decent internals
Cons
Below-par camera
Poor battery life
Photos by Raj Rout