"The Spice SmartPulse is India's first dual-SIM smartwatch"
Compared to the mobile phone market, which was limited to only a handful of companies during the initial years, the wearables market, especially smartwatches, seems to be an open playground for all. Within just an year, we've seen a massive increase in the number of smartwatches being launched. However, the market is still in the nascent stages and has a very long way to go before these devices become must-haves for the masses. Indian smartphone maker, Spice Mobiles became the first homegrown vendor to enter this segment with the SmartPulse (first impressions), which is a unique take on smartwatches. We've been using the watch for last couple of weeks, and it's time to see whether it can compete against the likes of multinational brands like Samsung and LG. Read on to find out.
Specs at a glance
Dimensions of 41.7 X 53.7 X 13.6 mm
Weighs 52.5 grams
4cm display bearing a resolution of 320 x 240 pixels
VGA camera with LED flash
Dual-SIM slot with 2G support
Bluetooth
MicroSD card support up to 8GB
420mAh battery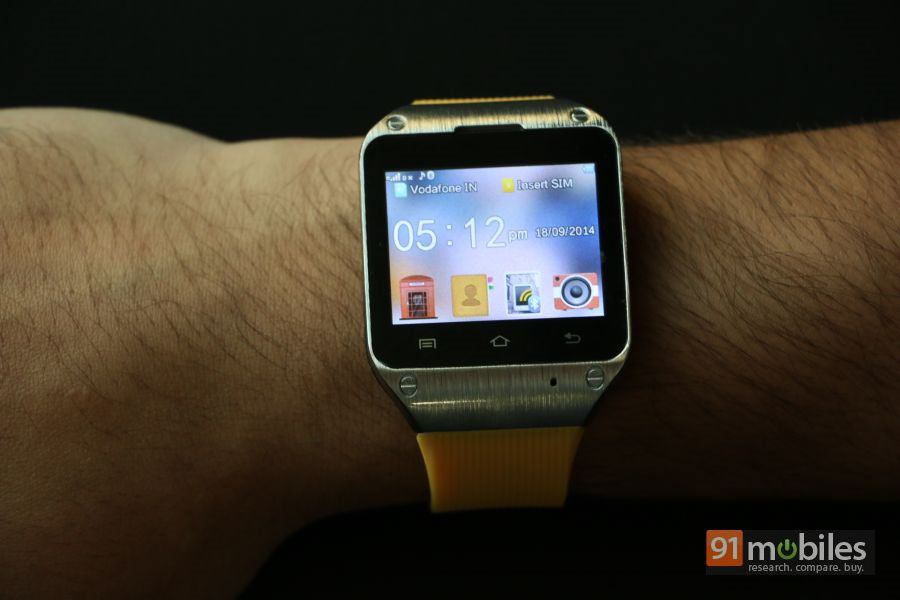 Bears a striking similarity to the first-gen Galaxy Gear
We're yet to see a smartwatch design that blows our mind, though the upcoming Moto 360 (first impressions) and ASUS ZenWatch definitely hold promise. Most of the current ones have a rectangular watchface and the SmartPulse is no different. In fact, at first glimpse, you might mistake it for the Galaxy Gear, Samsung's first smartwatch introduced last year. The watch even has metallic screws on top of the faux-metallic edges around the display panel, and the touchscreen is also of almost the same size at 1.6-inches. While the looks are attractive, build quality isn't too great – mainly because of the plastic construction.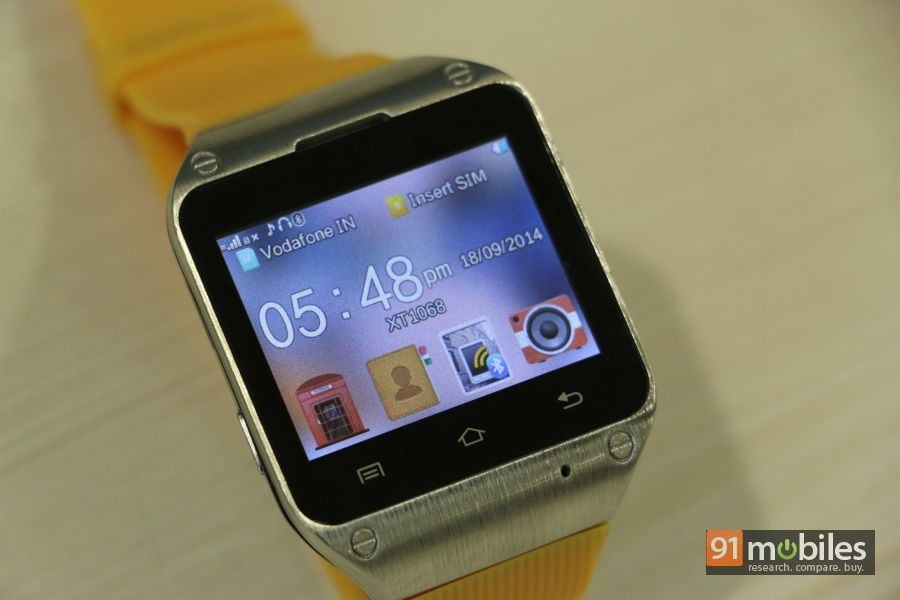 The display is surrounded by a noticeably wide bezels, and what catches your attention is the standard Android devices-like capacitive navigation buttons below. These buttons allow you to access options, open the menu or jump the home screen, and go back. Above the display, you'll also find a speaker and a microphone down below it.
The display on the SmartPulse is quite good and you can easily view text and images. Brightness levels are also nice and it's readable outdoors, though not very clearly. We do miss an option to control the display settings though.
The Spice SmartPulse follows the Galaxy Gear not just in the design department, but in features too, as it also comes with a VGA camera. There's a flash too. While the Galaxy Gear had the 2-megapixel camera on the strap, the Spice smartwatch gets it on the right side. On the left edge, you'll find a power button to put the device to sleep or wake it up, alongside a micro-USB port.
Of course, you can't expect much from the VGA camera, and that's evident with the photos we clicked with it. Another problem is the camera placement, as it's very difficult to place your hand in a position ideal for capturing the intended scene. Here's a look at a few images captured with the watch.
Unlike most smartwatches, the Spice's offering bears a rear panel that can be removed. Removing the cover and then the battery, you will be greeted by two SIM card slots and a microSD card slot. Yes, we're talking about two proper SIM slots, inside a watch. While one of the SIM slots accepts regular-sized cards, the other one gobbles up a micro-SIM.
Now coming around to the band, the SmartPulse sports rubberised straps with the usual buckle-lock mechanism. If the default black strap doesn't match your personality, then you can swap it with the blue and yellow straps available in the retail packaging of the device. Though the swapping can't be done at home without the right tools, you can pay your neighbourhood watch shop a visit for this purpose.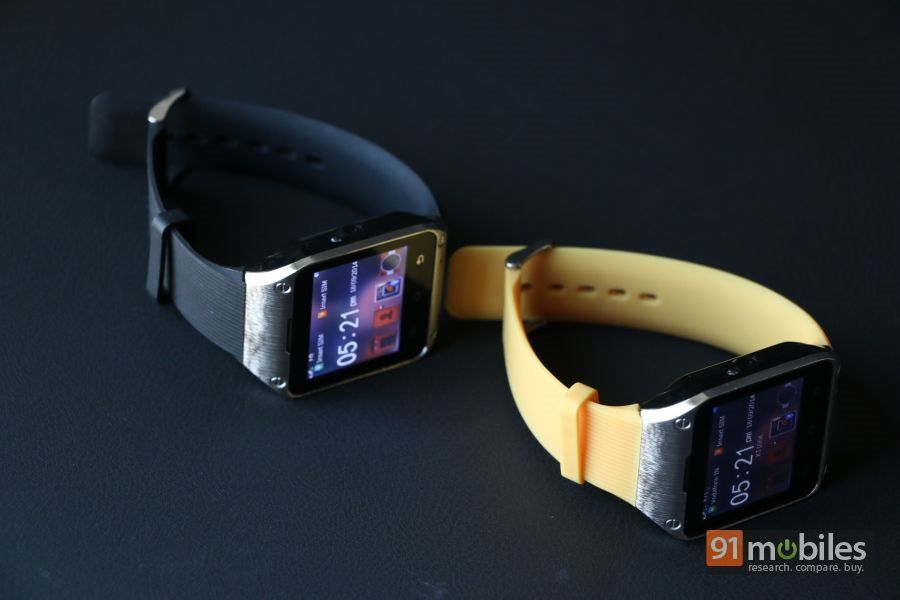 In terms of wearability (pun intended), the smartwatch doesn't come across as bulky at 52.5g, and sits nicely on your wrist. Even though the rear is glossy, we didn't find that problematic.
Works great as a standalone phone, that too on your wrist
While the device is being dubbed as a smartwatch, it also has another use-case – the ability to use it as a regular phone. Yes, the Spice SmartPulse can be hailed as India's first (maybe the world's first too) wristwatch with dual-SIM capabilities.
That means you can use the watch independently to make and receive calls as well as messages. While it might look odd to bring the device near your ear while handling calls, it comes in handy at times when you have to reach inside your pocket or bag to pull out your phone. Sadly, the speaker's output isn't loud enough to use the SmartPulse regularly for calls. You can make use of the bundled micro-USB based earphone for this purpose, although it's quite awkward to connect a wire to a wristwatch. That's where another freebie comes to rescue – a Bluetooth headset. The headset can be paired with the watch to take calls instantly and it won't look weird as well.
Making calls isn't very difficult with the number pad, but typing on such a small screen with the T9 keyboard (you can change it to QWERTY or handwriting recognition mode as well) was bit of a task when writing messages. It isn't too accurate and it takes a lot of time to draft even a simple text message. You can also browse the internet via GPRS or EDGE, since the SIMs can connect to 2G networks.
The watch is based on a proprietary OS, which we believe is based on Java. This means you can perform many other tasks on it, just like any feature phone. The interface is also similar since the main screen gives you the option to make calls, view your contact book, set up Bluetooth connectivity and launch the music player… along with displaying the time and date, and indicate the network, Bluetooth status etc. The menu has a 2 x 2 matrix of different apps like File Manager, Settings, Tools, and Fun among others. So, you can use things like a calculator, alarm, stopwatch and others. There's a game called Magic Sushi in the device as well, which is like the popular Candy Crush Saga game, but it's very difficult to play as you are required to touch on a specific area for moving the sushi.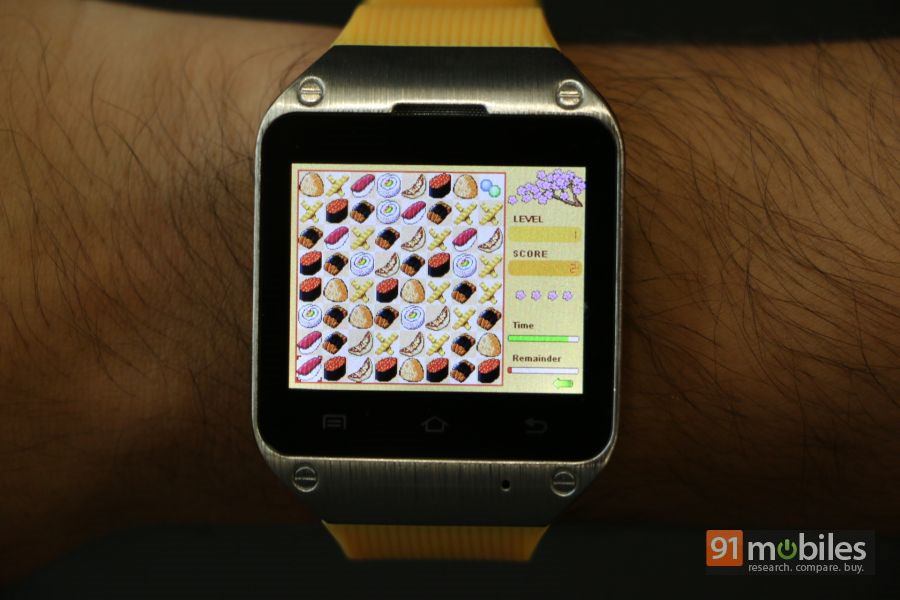 While the internal storage of the watch isn't worth mentioning, the good part is that it's expandable with the use of a microSD card (supports up to 8GB). So you can store images, music files and even videos and play them from the Spice SmartPulse itself. However, the formats supported by the watch are very limited.
Misses out on the essentials as a smartwatch
While there is no need to connect the SmartPulse for using it as a phone, it needs to pair with a compatible smartphone to work as a smartwatch. It can pair with Android devices running v4.3 and up, and the connection happens via Bluetooth. While the pairing is immediate, the device needs an app to start working its magic. You can download the BTnotifier app developed by Spice or use the MediaTek SmartDevice app for this purpose.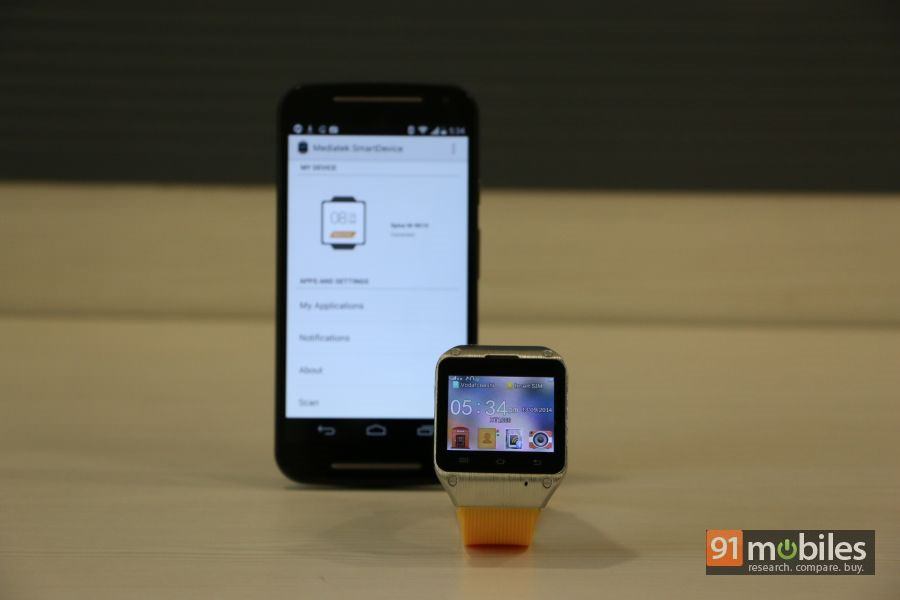 One of the basic usages of a smartwatch is that it brings notifications to your wrist, and it's even better if you're able to reply to them as well. Another important point to note is that there has to be some intelligence into notification mirroring too, else you won't be able to make out what they're about. For instance, when there are a couple of WhatsApp messages, it should show the notifications separately instead of just bunching them together.
Sadly, the Spice SmartPulse falters in most of these areas. It merely acts as a mirroring device for notifications from the connected smartphone, not very different than the popular Pushbullet app which mirrors them to your computer. This results in multiple notifications from a single app being stacked together and thus you have to check the smartphone to read them. There's no option to reply to these notifications as well.
We might have been okay with the problems stated above, if at least the device delievered all notifications. But that's not the case, as the SmartPulse has a limitation of five notifications, and it can't show any more. Another problem we faced was that there's no way to move to the next notification before deleting the first one. It'd have been better if there would have been an option to scroll through all notifications.
Apart from the ability to mirror notifications, the device also allow you to remotely control your smartphone. This allows you to capture an image remotely or stream music. However, there's a limitation in both cases. Remote capture only works if the paired device is unlocked and the watch essentially acts as a shutter button. You still have to view the smartphone's screen to make sure the intended subject is framed properly or not. For music streaming, the SmartPulse pulls the music from the connected device via Bluetooth and plays it on its speaker, which, as we have already pointed out, isn't loud enough and churns out muffled sound. We'd have appreciated if there would have been an option to play music on the connected phone and control it remotely through the wristwatch.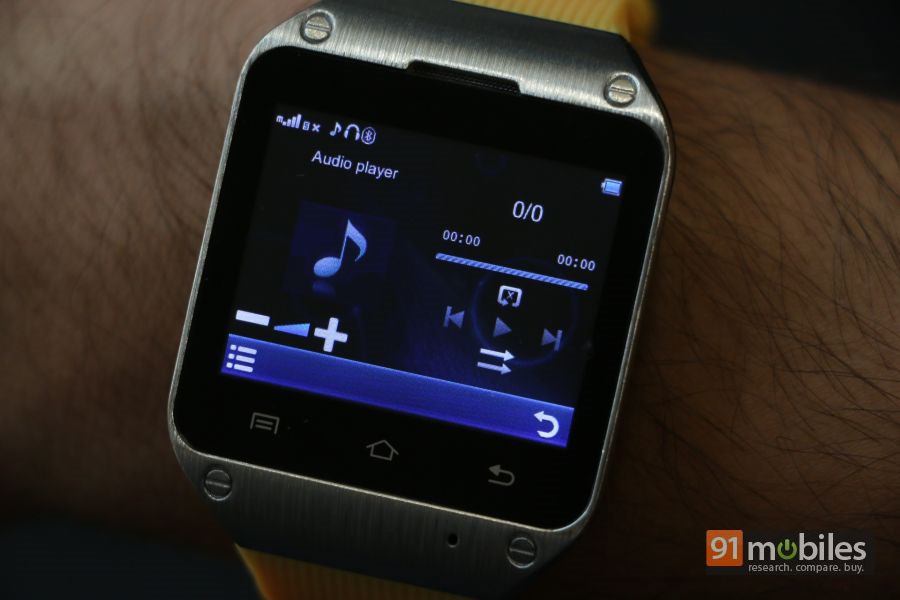 Overall, the smartwatch aspect of the Spice SmartPulse left us wanting for more. We felt that the device has cut far too many corners when it comes to offering a smartwatch's functionality. Even the user interface isn't very intuitive and it's very difficult for a first-time user to pair the device with their phone and start using it instantly. The problem is highlighted even more when compared to the refined experience offered by devices like the Samsung Gear 2 (review) as well Android Wear-based options like the LG G Watch (first impressions) and the Moto 360. Our wishlist also includes an always-on display, since you always have to hit the power key for glancing at the time. Another issue we faced that the connection kept breaking intermittently for no apparent reason.
An average performer in terms of the battery life
Battery life is an important criteria for any portable electronic device, and even more so for a wearable which you're wearing day in and day out. However, it's very difficult for manufacturers to add big batteries into their wearable offerings. The Spice SmartPulse also faces the same quandary as it's only able to deliver an average life of a little over a day and a half. However, it's not too bad considering we had popped a SIM card inside the device and had been using it as a backup phone.
Another good thing is that you don't need a separate charger for the watch since it has a universal micro-USB port.
Bang for your buck?
Let's step back for a second and ask ourselves the real purpose of a smartwatch? Well, there's no real answer – at least not yet, since most smartwatches simply mirror notifications of your smartphone on your wrist. You can simply say that the current smartwatches are creating a solution for a problem that doesn't exist. However, let's not jump ahead of ourselves as the smartwatches, or wearables in general, are a work in progress and with the Android Wear and the upcoming Apple Watch, things will only get better.
But coming back to the device at hand (quite literally), the Spice SmartPulse comes across as a solid offering, at least on paper. However, in real life we had mixed results with it. Its phone functionality was handy, but we felt something was amiss when it comes to delivering a smartwatch's functionality.
Interestingly, all our observations go for a toss when we bring the pricing of the SmartPulse into the picture. Unlike most smartwatches which cost nearly the same as a full-fledged smartphone, Spice has priced its offering very affordably – almost one-third of the asking price of the other options in the market. The device carries a sticker price of Rs 3,999, which makes it a pretty good choice if you want to experience a wearable without spending too much. Sure, you might not get all the smartwatch functionality you desired for, but at least it'll work reasonably as a standby phone.
Price: Rs 3,999
Editor's rating: 7 / 10
Pros
Dual-SIM functionality
MicroSD card support
Extremely affordable
Bundled goodies
Cons
Not intutitive enough
Connection breaks intermittently
Limitation of five notifications
Photos by Pratik Vyas