An entry level Smartphone has been launched by S Mobility with Dual-SIM features in the Indian Market recently. The Company has launched its Stellar Xtacy Mi-352 as a part of its stellar Series recently.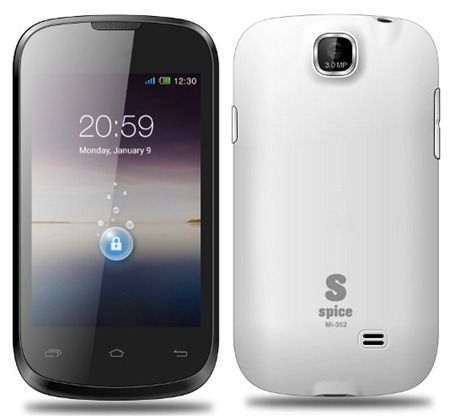 Spice Stellar Xtacy Mi-352 running on Android 2.3 (Gingerbread) Operating System features a 3.5-inch HVGA Display. The Stellar Xtacy Mi-352 has been powered with a 1GHz Processor along with 256MB of RAM. The Android Smartphone offers Dual-SIM Connectivity features.
The Stellar Xtacy Mi-352 houses within itself an Internal memory of 512MB along with a flexibility of expanding the External Memory via Micro SD card. The Smartphone also exhibits 3G Connectivity Features.
The other various features that accompany the newly launched device manufactured by Spice under the Stellar Umbrella include a FM Radio and a bunch of sensors.
Spice Stellar Xtacy has been accompanied by a 2MP Camera along with a 1300mAh Battery. Spice has list the Stellar Xtacy Mi-352 at MRP: INR 6999. However, the Android Smartphone is available at online retailer Saholic with a Price tag of Rs. 4634.
Spice Stellar Xtacy Mi-352 has got a highly affordable price from its manufacturer in order to give a tough competition to its rivals like Smart A2 and the A30 from Micromax.
We would like to remind you that S Mobility has already got a lineup of devices under the Stellar tag which includes Stellar Horizon Mi-500, Stellar Virtuoso Mi-495, Stellar Mi-425 along with Stellar Craze Mi-355. now, it seems that the Tech Company is looking forward to expand its territory more through the launch of its new innovation, the Stellar Xtacy Mi-352.