"The Xperia Z3 Compact is every bit as formidable as its big brother. But is it worth the price?"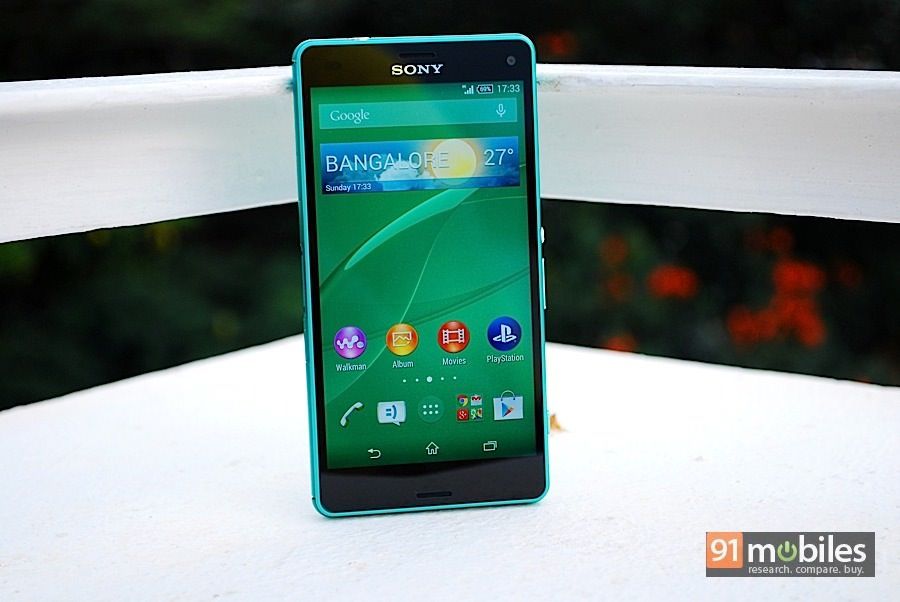 If you're in the market for a flagship smartphone that's smaller than 5-inches in size, you'll be hard pressed for choice. At a time when displays are only getting bigger, the choices in the small-screen category are waning miserably. Even Apple has decided to hop on to the trend, bumping up the 4-inch screen size it had held on to for dear life to a roomier 4.7-inches with the iPhone 6.
That said, bigger screens aren't for everyone. While several manufacturers, including Samsung and LG, have been launching mini counterparts of their flagships, they've always been dressed down variants. Sony, on the other hand, has adopted a different approach. The Xperia Z1 Compact (review) was almost an exact replica of the Xperia Z1, shrunk to a smaller size. While the company decided to give the mini version of the Xperia Z2 (review) a miss, it's back now with the Xperia Z3 Compact. We've been testing the smartphone for over a week now, and here's our thoughts.
Specs At A Glance
4.6-inch, 1,280 x 720 pixel IPS display (319ppi)
2.5GHz quad-core Qualcomm Snapdragon 801 processor
2GB RAM
20.7-megapixel primary camera, 2.2MP front
16GB storage (expandable by another 128GB)
USB OTG, 3G, dual-band Wi-Fi 802.11 a/b/g/n/ac, Bluetooth 4.0, A-GPS, Wi-Fi Direct, Wi-Fi Hotspot, DLNA, NFC, USB 2.0, TV-out via MHL
Android KitKat 4.4.4
2,600mAh battery
FM Radio
OmniBalance with a twist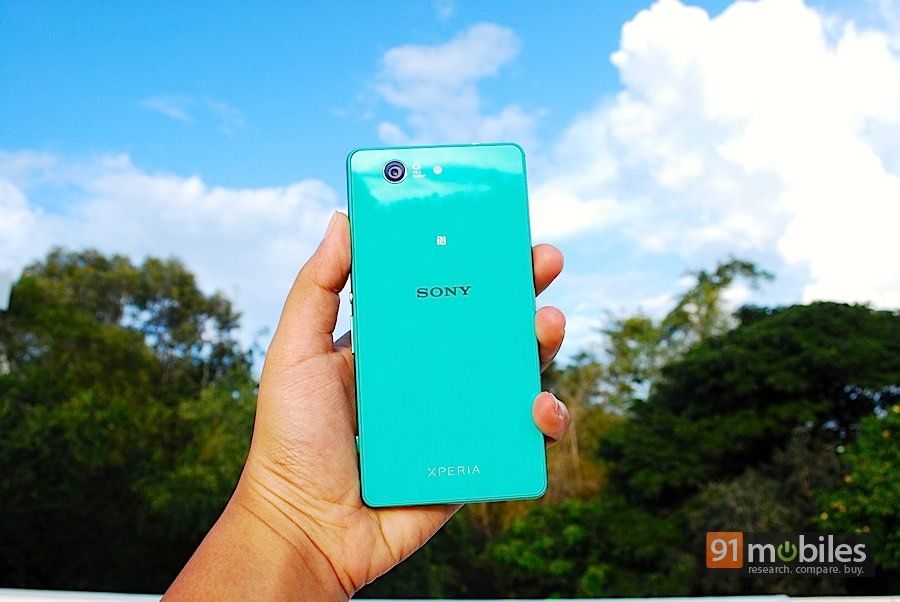 The Xperia Z3 Compact carries forward Sony's OmniBalance design ethos, but adds subtle changes that give it a fresh, new look. The blocky, rectangular design and curved corners remain, but edges are now tastefully rounded. While the Z1 Compact's edges were fashioned out of aluminium, the Z3 Compact's are made out of a translucent high-grade plastic, with durable corners for protection. The sides adopt the same hue as the rear panel (in our case, a lovely sea green), but in a lighter, almost shimmery shade. The result looks sexy and feels comfortable, and as we experienced, safeguards the phone from accidental drops too.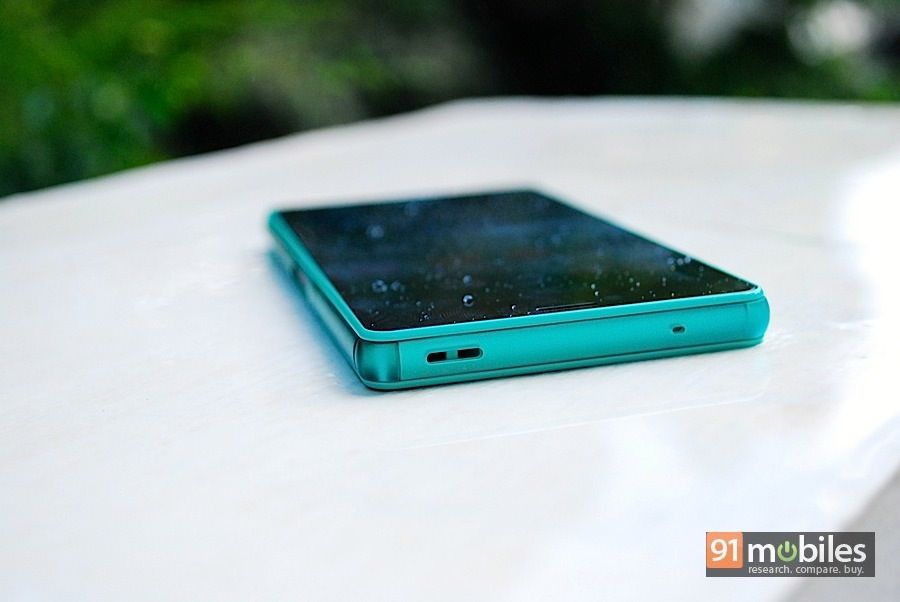 The edges aren't only for embellishment though, and are jam packed with ports and buttons. The top holds the 3.5mm audio jack and secondary microphone, while the bottom conceals the loudspeaker. The right edge houses the power button in the centre, followed by the volume rocker and dedicated shutter release button. The left features the dock in the centre, and is flanked by flaps on either side. While the one on the top houses the micro-USB port and microSD card slot, the one at the bottom conceals the single nano-SIM card slot.
The bezels around the display are quite thin, and contribute to keeping the size of the smartphone down. On top, you'll find the Sony branding, earpiece, front camera, notification LED and sensors, while the bottom only features the primary microphone. There are no Android buttons on the fascia, and these have been moved up to the display.
The back panel is made of toughened glass, and houses the 20.7MP primary camera, encircled in a metal frame, with the LED flash alongside.
Following its lineage, the Z3 Compact is IP65/68 certified for water and dust resistance. Provided all the flaps are securely fastened, the smartphone can withstand low pressure jets of water, and can be submerged under 1.5 metres of water for up to 30 minutes. This means that the phone will not only survive getting drenched in the rain, but can also be taken for a swim to take underwater snaps, thanks to the presence of a dedicated camera shutter key.
While the Xperia Z3 Compact might not be the slimmest smartphone (it measures 8.9mm around the waist), the smaller size makes it extremely comfortable for one-handed use.
Decent display, but fails to dazzle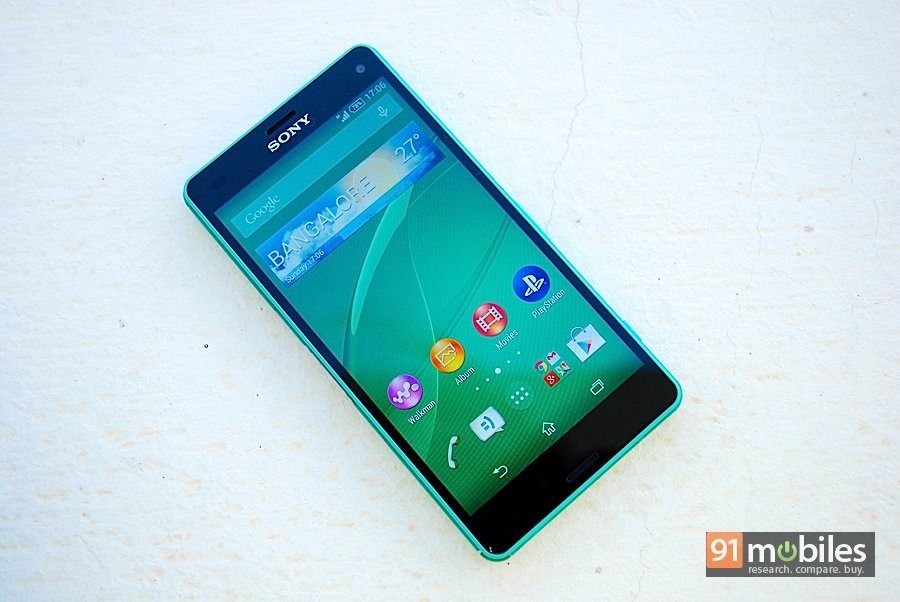 The Xperia Z3 Compact is slightly larger than the Z1 Compact, featuring a 4.6-inch display with a resolution of 1,280 x 720 pixels. Given its price, we would have expected full HD resolution, although that comes with compromises on battery life. The IPS screen comes with Sony's TRILUMINOS tech to produce natural colours. By default, Sony's X-Reality mobile engine is turned on, which helps to produce clearer images. If you want more pop though, you can opt for the Super Vivid Mode in settings. You can also adjust the White Balance to your preference.
We had no complaints about the colours and vibrance of the display, but it's definitely not as sharp as we'd like. Zooming into web pages reveals jagged edges around text, and maximum brightness is on the lower side.
Responsiveness however was top notch, and the screen is as smooth as butter.
Same ol' Sony


There's nothing very exciting in the way of software. The Z3 Compact runs Android 4.4.4 KitKat as a base, with Sony's custom UI on top. This user interface is a standard across Sony smartphones, changing the look of stock Android without affecting its simplicity and smoothness.
To begin with, you get the custom lockscreen with a shortcut to the camera. There are tons of widgets to customise your homescreens with, and the usual 'Small Apps', which let you open tiny floating windows of select applications. The app drawer has a sidebar that slides out from the left, giving you options to organise, search and uninstall apps. It also features shortcuts to access the Play Store and Sony Select.
While most manufacturers are opting to cut down on bloatware, Sony still hasn't learnt its lesson. The third party apps alone include AVG Antivirus, OfficeSuite, NeoReader, Kobo, Evernote, Facebook, BIGFLIX, LinkedIn and LINE. The plus side is that most of these can be uninstalled.
Then there are a plethora of Sony's additions. You get the usual Sony Select, Socialife, PartyShare, PlayStation, Smart Connect, TrackID, What's New, Wisepilot for Xperia and Xperia Lounge. There's also Sony's Lifelog app which pairs with the SmartBand activity tracker, as well as Sony Music, LIV Sports and Sony LIV. Most of these apps unfortunately, you can't delete.
Delving into settings, you'll find a wealth of other options. You can enable various themes to customise the user interface, and Clear Audio+ to optimise sound. There's also Simple Home, which modifies your homescreen to an easy to use layout. The power management section gives you access to Sony's STAMINA mode, as well as the Ultra STAMINA mode for when you're in a pinch. Display settings let you enable tap to wake up, and Smart Backlight Control to keep the display on when you're holding the smartphone.
There are also a bunch of connectivity options you can configure. These include mirroring your smartphone's display on another Xperia device or a TV, connecting to another Xperia device via Bluetooth or NFC, wirelessly pairing your handset to your PlayStation DualShock controller, and even controlling your phone from your car unit's display.
Snap to your heart's content


Like the Z1 Compact, the Z3 Compact gets the same 20.7MP 1/2.3-inch Sony Exmor RS sensor at the back. While we certainly don't need any extra megapixels, Sony has upped the ante by equipping the camera with 4K video recording capabilities, as well as ISO up to 12,800, the highest available on a smartphone. The front 2.2MP fixed focus camera remains the same.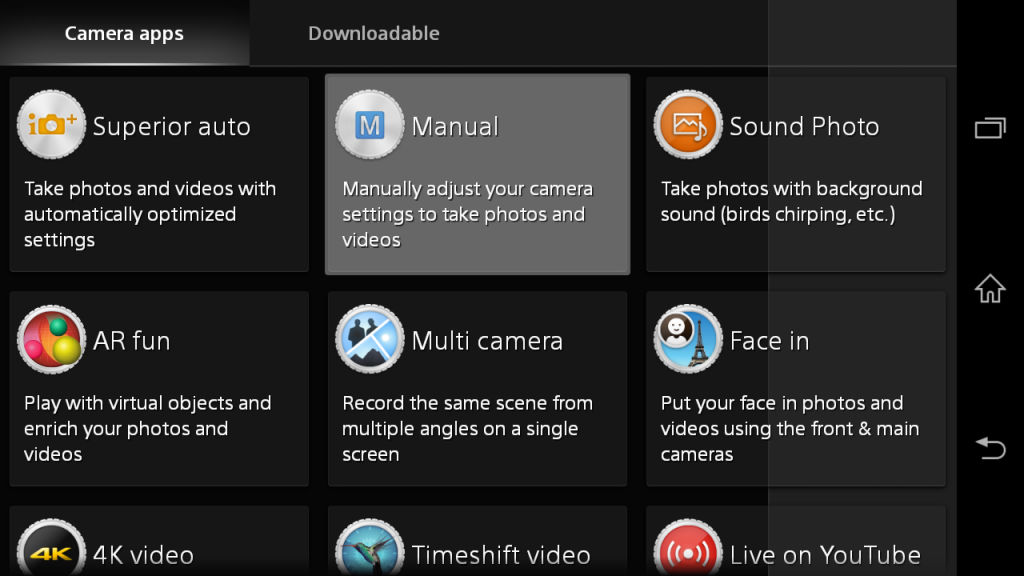 Sony's camera app always integrated with several other apps, but on the Z3 Compact we noticed a few new ones, including Multi Camera, Face In, Live on YouTube, AR Fun and more. As always, you can download several other apps from Sony Select.
The camera UI is the same, with the onscreen shutter and video controls, access to gallery and modes on the right, and the various settings on the left. By default, the camera shoots in Superior Auto. For shooting in full 20.7MP resolution, you'll need to switch to manual. But here too, you can only use Scene modes and HDR when you change the resolution back to 8MP. The camera settings let you enable a self timer, Smile Shutter, Focus Mode, ISO, Metering, White balance and more.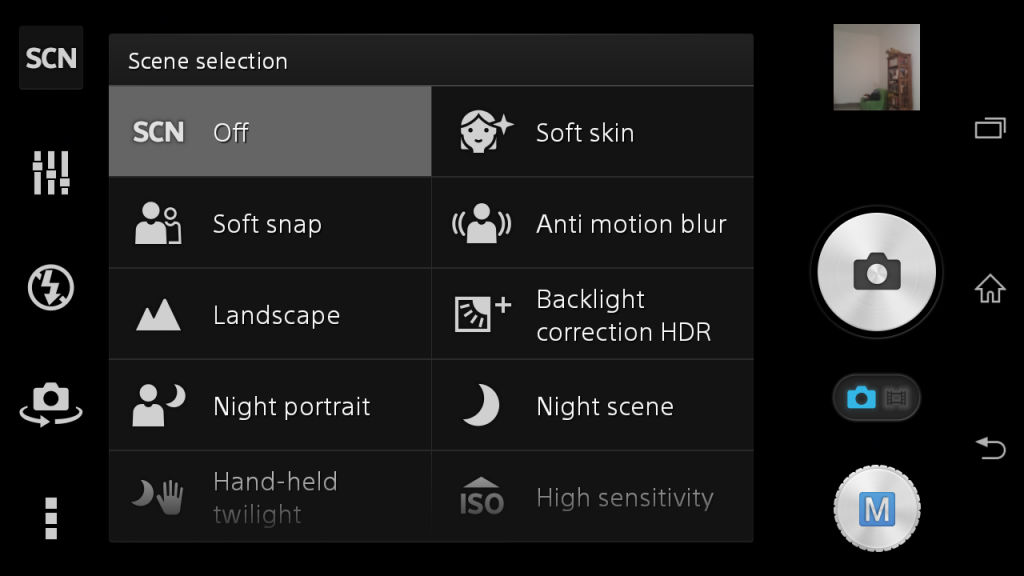 In terms of camera performance, the primary shooter can pretty much replace your point-and-shoot. It can get you some fantastic results in daylight, whether taken in macro or landscape mode. Colours are reproduced naturally, and are vibrant without being oversaturated. The true prowess of the camera comes is noticeable when you tweak settings or use the various scene modes, but for most of these you'll need to stick with a lower resolution, which is fine for social sharing. We did find that the camera tends to struggle with focus sometimes, especially when taking a macro shot. In low light, the images display a fair bit of noise, while night shots suffer from light flares and leaks. The front camera, despite being fixed focus, can capture a sharp, shareable selfie. Suffice to say, it's fine for video calls.
Here are a few image samples from the primary camera. Click on the thumbnails to view them in full resolution.
A zippy little performer


Don't let its size fool you, the Xperia Z3 Compact gets the same hefty internals as the Z3, consisting of a quad-core Snapdragon 801 processor clocked at 2.5GHz, and an Adreno 330 GPU. The available memory has been toned down from 3GB to 2GB, but this is still more than adequate for daily use.
The smartphone raced through everyday tasks, with no lags or unexpected app closes. It works equally well for multi-tasking or playing graphics heavy games like Riptide GP2.
The 2,600mAh battery may be smaller than the 3,100mAh unit on the Xperia Z3 (review), but thanks to the Z3 Compact's smaller display size and resolution, is every bit as capable.On a day when we used the smartphone heavily, which included about 2.5 hours of screen on time, use of social networks and the camera, and even running a few benchmarks, the phone still managed to last us until the end of the day. If you're not a heavy user, it should easily last until the next day, in line with Sony's promise of two-day battery life. Our standard battery drain test, where we continuously loop a 720p video with brightness and volume set to 50 percent, lasted for 10 hours and 45 minutes, which is a very good result.
The Z3 Compact is available in a 16GB storage variant, the user available memory is a tad over 11GB. The microSD card slot supports expansion by an additional 128GB.
While we had no complaints about call quality, we did notice that the proximity sensor tended to act up when we were on a call, frequently turning on the display and activating other apps. This isn't what you'd expect from such a premium priced handset, and we hope that the glitch was only on our pre-launch review unit, and not the commercial ones.
Verdict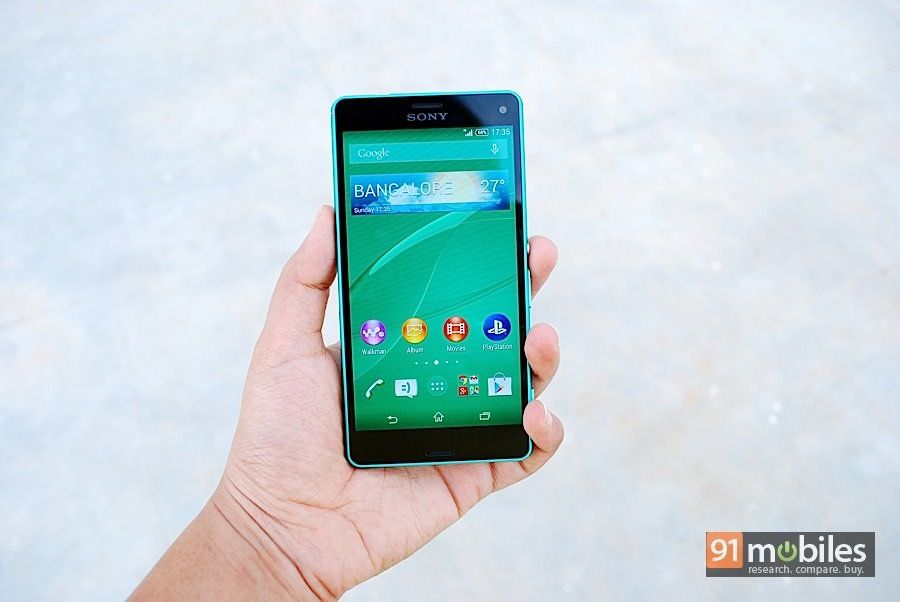 Sony has launched the Xperia Z3 Compact at a strategic time. With its display size of 4.6-inches, it's already being hailed as an "iPhone 6 killer", thanks to its similar proportions. Since the new iPhone hasn't been launched in India yet, we can't really comment on how far that's true. On its own accord though, the Xperia Z3 Compact is a truly powerful device, scoring on almost every aspect barring the slightly underwhelming display. Our only concern about the smartphone has to do with its price. We're not sure how many folks will be willing to shell out the big bucks for it, considering that the other flagships like the Samsung Galaxy S5, LG G3 and HTC One (M8) are all available online for much less.
But if you simply must have a small-sized Android flagship, the Xperia Z3 Compact is your best bet. If price is an issue thought, you could always consider the Xperia Z1 Compact, which is still a very capable device.
Price: Rs 44,990


Editor's Rating: 8/10


Pros:
Good build, classy looks
Capable daily driver
Impressive battery life
Great pair of cameras

Cons
Underwhelming display
Too many pre-loaded apps
Steep pricing

Video by Pratik Vyas
Competitors for Sony Xperia Z3 Compact