"Does size matter? Find out in our review."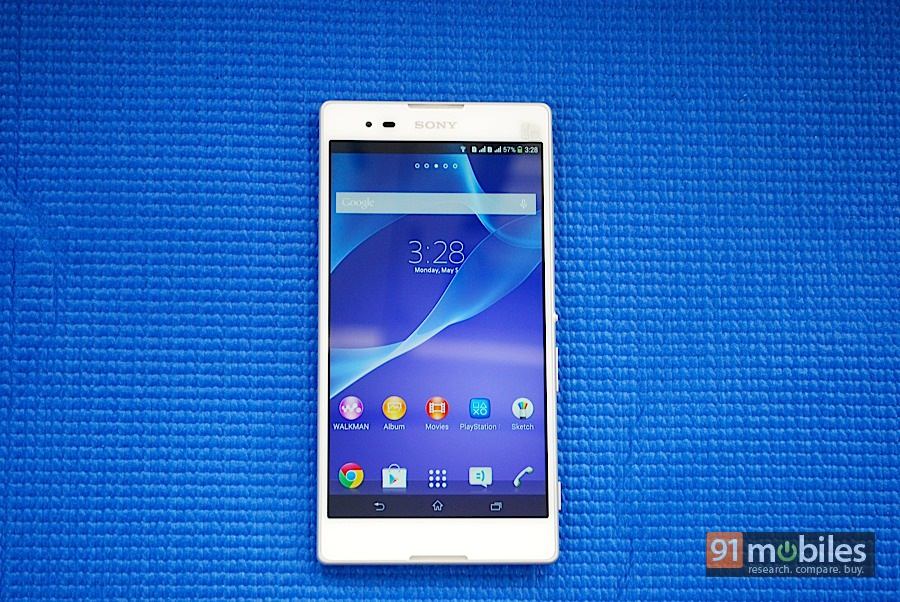 Having a large display on your smartphone has its perks. It's great for watching videos, playing games, viewing and editing photos and even browsing the web. But these are all multimedia-based activities, and while phablets excel in this respect, they're often cumbersome for essential functions, like dialing a number or using the keyboard, especially using a single hand. The Sony Xperia T2 Ultra Dual is a new mid-range phablet, and while it offers attractive pricing and specifications, its 6-inch display is on the larger side, even for phablet fans. We've had the device with us for a week now, and have been using it as a primary phone to test the waters. (Note: the T2 Ultra Dual is not waterproof, like certain Sony flagships). We've already given you glimpses of the T2 Ultra Dual in our unboxing and slideshow, and here's the full review.
An XL size that's still a good fit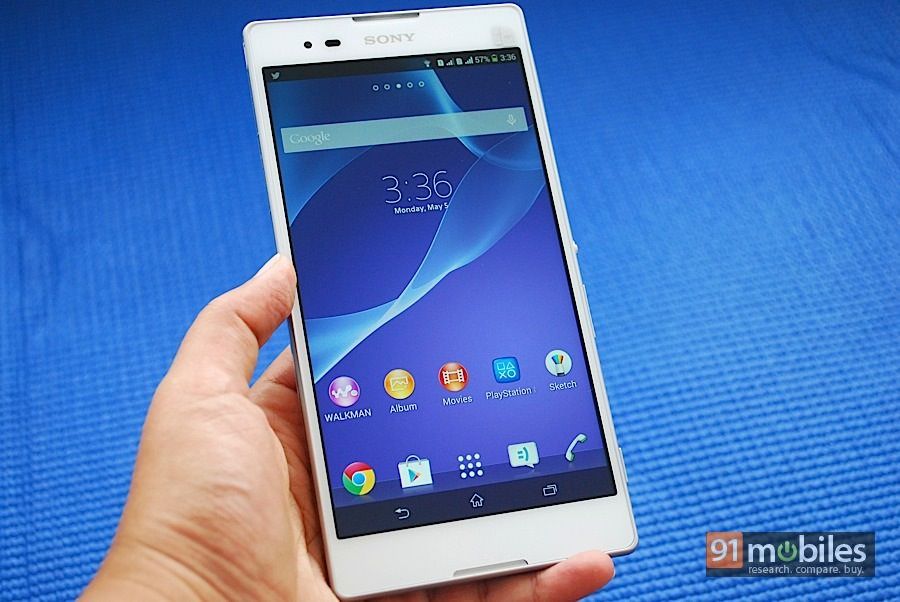 For a 6-inch phablet, Sony's done a good job with the Xperia T2 Ultra Dual's proportions. Even though the smartphone is wider than most, its thickness of 7.65mm and weight of 172 grams ensure that it's not unwieldy.
The T2 Ultra Dual gets Sony's OmniBalance treatment, resembling an angular slab with rounded edges. Since this is a mid-range phone, it doesn't get the premium glass and aluminium casing of the Xperia Z2, and sports a glossy plastic unibody design with chrome detailing instead.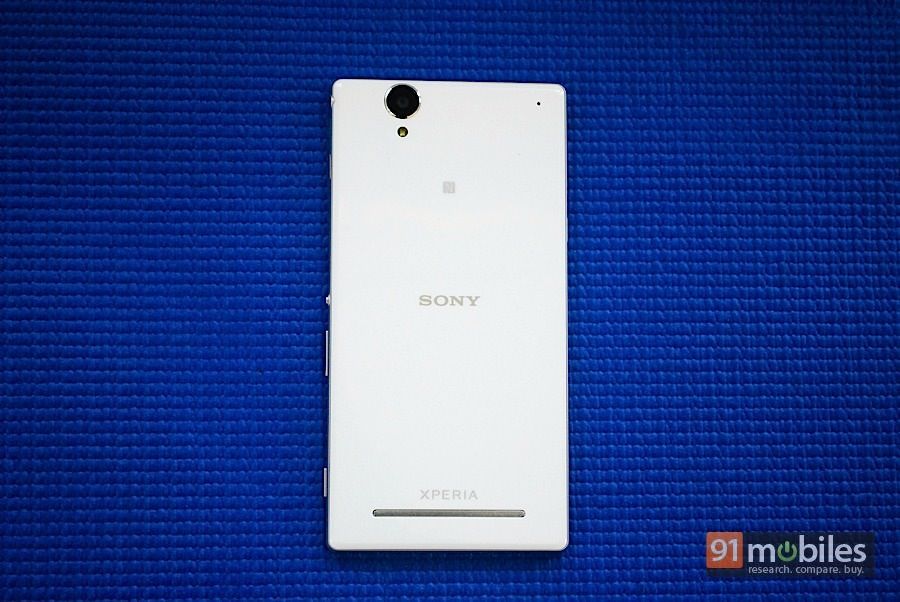 While the plastic does the job of keeping the weight manageable, even our white unit was full of smudges and scratches by the time we finished testing it, so we can't imagine the fate of the black and purple variants.
The front panel is dominated by the 6-inch display, and while Sony has trimmed down the bezels on the sides, they are quite thick on the top and bottom. The top panel houses the 1.1MP front camera, proximity and light sensors, and a multi-hued notification LED. There are identical metallic speaker grills on the top and bottom, but while the top houses the earpiece, the bottom conceals the main microphone. There are no Android keys on the fascia, and Sony's moved them up to the display instead.
At the back, you'll find the 13MP primary camera and LED flash, secondary microphone responsible for noise cancellation, an NFC logo and a wide loudspeaker at the bottom. The back cover is non-removable, and conceals the 3,000mAh battery.
All four sides have a chrome trim, but the top and bottom are devoid of any ports. On the left rim you'll find a micro-USB 2.0 port for charging and data transfer, and a microSD card slot behind a pull-out flap. On the right, you'll find the 3.5mm audio jack, classic Sony power button, volume rocker and dedicated camera key.
The right spine is also where the dual micro-SIM cards are housed behind a flap. The SIM cards fit on flimsy plastic trays, which are so fragile we were worried they might snap while removing them from the slot. Given the overall premium-ish feel of the phone, this was a let down.

Vivid display that's low on pixels
The 6-inch display sports a respectable resolution of 1,280 x 720 pixels, but due to the large size, pixel density gets whittled down to 245ppi. However, the screen gets Sony's Triluminos display technology and Mobile BRAVIA Engine 2 treatment, which enhances image quality for photos and videos. The Triluminos tech ensures more natural looking colours, and you won't find the saturated shades present on Super AMOLED displays like those on Samsung phones. The display looks sharp overall, but if you zoom into text or images you'll be able spot uneven edges. Sunlight legibility was also a concern, with the screen almost impossible to view in bright light. This also makes taking outdoor snaps difficult.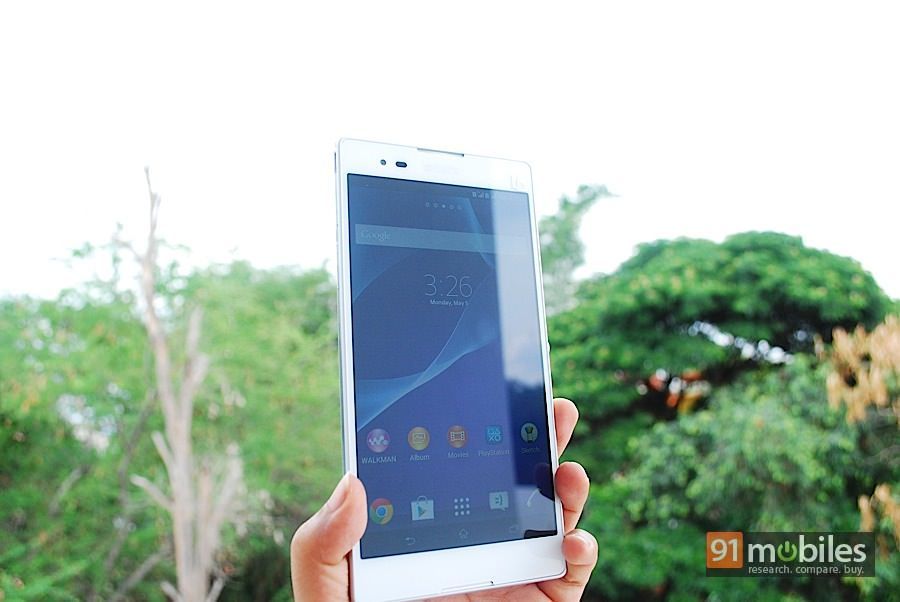 The good news is that the screen is very bright, with good viewing angles and colour reproduction. It was extremely responsive, and Sony's even included a Glove Mode, should you need it.
Loaded with features, but not a selfie machine
Sony phones are known for their excellent optics, and on the T2 Ultra Dual you get a 13MP primary snapper with an Exmor RS sensor and LED flash, and a 1.1MP front camera for video calls and selfies. We appreciate the dedicated camera key, but this one gave us spongy feedback, and required a firm press to activate the camera.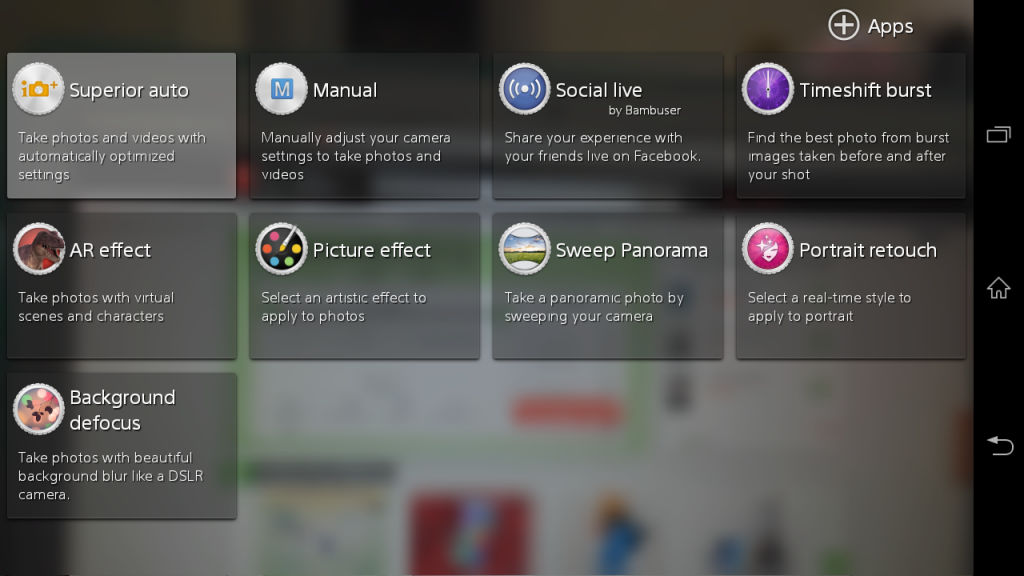 The Xperia camera app is packed with a whole lot of extras. By default, it shoots in the Superior Auto mode which automatically selects one of 36 scenes based on the subject. However, for the full 13-megapixels resolution, you'll have to shoot in Manual – all other modes shoot 9MP images.
Apart from auto and manual, you get some interesting additions like Timeshift Burst, which captures 31 frames in 2 seconds, starting even before you press the shutter, so you can pick your favourites. There's AR Effect, which adds augmented reality effects to your snaps, like dinosaurs and fish, which you can move around and interact with before you shoot. Portrait Retouch is for selfies, and literally touches up your face, adding eye makeup and a suntan depending on the effect you use. It's fun to play around with, but the front camera gave us extremely grainy results, so we doubt you'd want to flaunt them as a profile picture.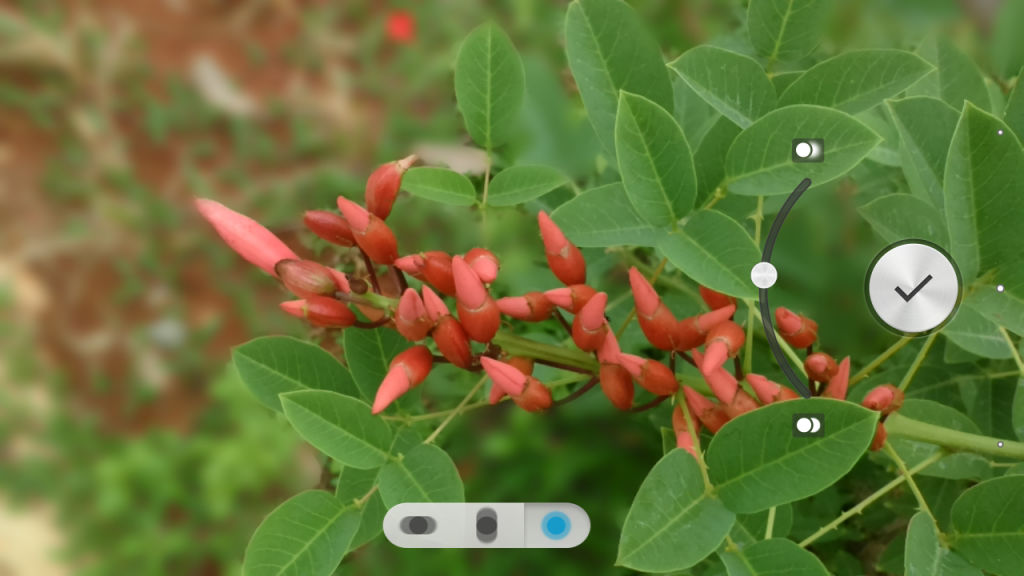 There's also a Sweep Panorama mode, and the most interesting of all, Background Defocus. When it does work, the mode creates beautifully blurred backgrounds, making it great for portraits or macros. Once you select the object in focus, it takes two shots, one after the other, and merges them to create the final result. You can increase or decrease the background blur via a slider before you save your final image. Unfortunately, you have to be holding the phone very still for the camera to process the effect, and most times required a few attempts before it worked. The camera shoots video in 1080p at 30fps, and the results were pleasing, with loud and clear sound.

Here are a few image samples from the T2 Ultra Dual. Click on the thumbnails for the full view.
Overall, daylight images were crisp and detailed, although colours did tend to look washed out in some cases. Slight noise is evident in bright conditions, and in low light, images are very grainy. The camera app tended to freeze on occasion, mostly when using special effects like Background Defocus.
A UI that's not too shabby, with plenty of extras thrown in

The Xperia T2 Ultra Dual runs Android 4.3 Jelly Bean, and Sony has announced that a KitKat update will be available soon. Sony's Xperia UI sits on top, and is a customisation we actually like. While it does offer extras and altered icons, it isn't as over-the-top as, say Samsung's TouchWiz or HTC's Sense UI. Stock Android apps like photos, videos and contacts have been altered, and Sony's own apps have also been added to the mix. You'll find the Socialife News app, which is basically the new Timescape, Reader for ebooks, PlaysStation Mobile for gaming, Sketch for drawing and Walkman for music. There are also a few third-party apps preloaded, like TrackID, Pixlr Express, McAfee Security, and OfficeSuite.
As seen on other Xperia devices, swiping to the left of the app drawer opens up a sidebar where you can search, uninstall and manage apps. It also provides shortcuts to access the Play Store and Sony Select, the company's own content aggregator for Xperia devices.
Sony had added a few customisations to improve one-handed usage on the T2 Ultra. These include double tapping the home button to bring the notification bar to the bottom of the screen, and docking the keyboard to the left or right for typing with one hand. The centred dial pad is useful for one-handed usage too.
Tapping the active tasks key next to the home button will bring up Small Apps, seen on select Sony smartphones. It opens up small floating windows of utility apps like a calculator, calendar, notes, recorder, and browser, which you can use on top of full-screen apps, similar to Samsung's Pen Window. You can dock up to five apps at a time, and even install different ones by downloading them from the Play Store.
Glitch-free performance, and a battery that keeps on running
The Xperia T2 Ultra Dual is fitted with a quad-core Qualcomm Snapdragon 400 processor ticking at 1.4GHz, paired with 1GB of RAM. Performance was commendable for day-to-day tasks, with apps loading quickly and freezes a rare occurrence. The only time we noticed any slowdown was when using the camera app.
Internal storage is an average 8GB, expandable up to 32GB with a microSD card. Only 4.68GB is user-available, so you'll definitely need the extra storage.

The phablet handles games like Riptide GP2 and Dead Trigger 2 with ease, relaying the detailed graphics without any visible jitters.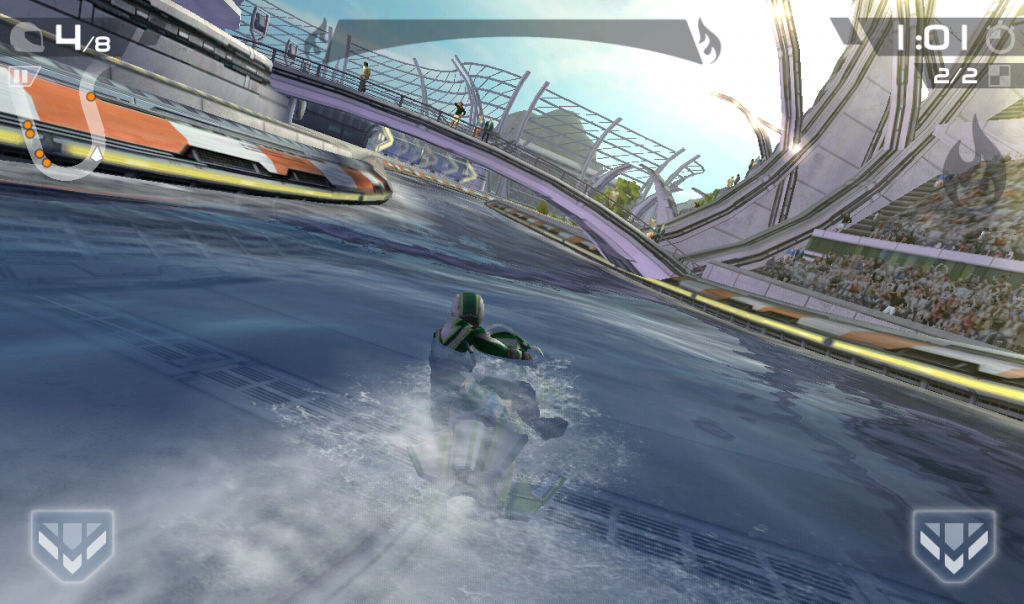 Videos relayed beautifully on the large display, with plenty of detail and natural colours. However, we did notice a few frame drops when playing 720p and 1080p videos. The speaker relays soundly, but volume levels were a bit on the lower side, so we'd advise using headphones.

The phone's 3,000mAh battery easily got us through a day and a half of heavy usage without requiring a recharge. With moderate usage, you can stretch it up to two days. In our standard video loop test, the T2 Ultra Dual gave us 15 hours and 50 minutes hours of juice, which is one of the best we've seen on a smartphone so far, surpassing the Samsung Galaxy Note 3 Neo which gave us a little over 14 hours. Sony has thrown in some power-saving modes to help you extend battery life further. While it's nothing like Samsung's Ultra Power Saving Mode, there are a few options for you to choose from, depending on how long you need to keep the phone running.

For security, you can also access my Xperia to remotely locate or erase data on a lost phone.
In terms of connectivity, Sony's thought of everything. You get everything from dual-band Wi-Fi, Wi-Fi Direct, DLNA, Bluetooth 4.0, NFC and micro-USB 2.0.
The Xperia T2 Ultra Dual comes with Sony's dual-SIM management technology to let you keep both SIMs active, and features a call forwarding functionality for when one SIM is unavailable. In settings, you can rename each SIM card and set custom ringtones for convenience.
Call quality was a mixed bag for us, and sound was often muffled unless we had our ear directly over the earpiece. Users on the other end complained that our voice sounded distant, probably because the microphone was a good couple of inches below our face.
Verdict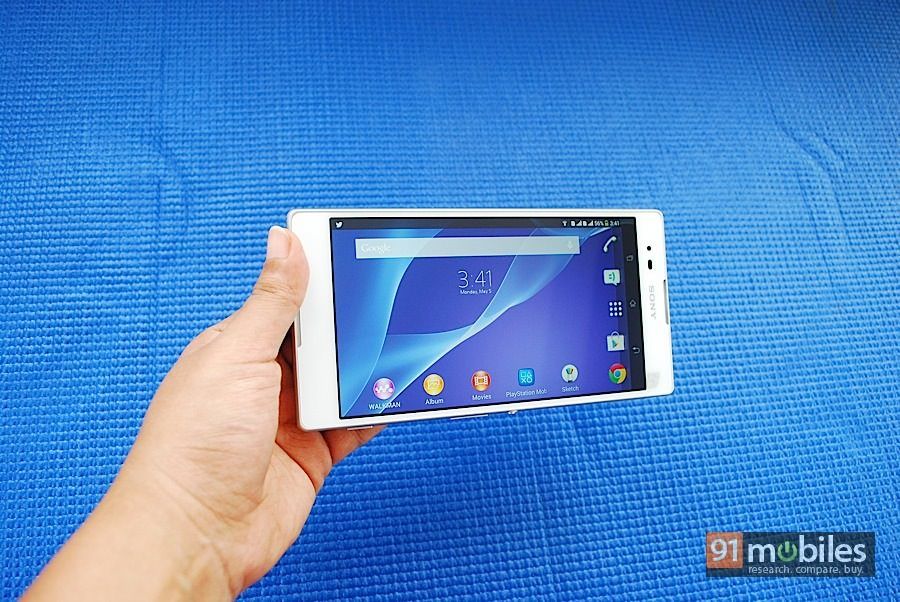 Despite its size, the Sony Xperia T2 Ultra Dual is a very usable smartphone. The large display makes it ideal for media viewing and gaming, and slim frame makes it easy to handle. After using it as our primary phone, we can tell you that the phone performs day-to-day tasks without a hitch, doesn't heat up and has a battery life that surpasses most of the competition. The smudge-prone back cover and poor front camera are our only gripes, and if you can get past these, the Sony Xperia T2 Ultra Dual should be on your shortlist of phablets.
Editor's rating: 8 / 10
Price: Rs 25,990
Pros:
Slim and lightweight
Smooth performance
Good primary camera
Excellent battery
Cons
A bit too large for our liking
Low sunlight legibility
Smudge- and scratch-prone casing
Poor front camera