"The Xperia C5 Ultra marries two of the most in-demand features and offers them in a single package"
Large-screened smartphones, also called phablets, have been popular for a fair bit now. It doesn't take a rocket scientist to understand why – obviously there are are quite a few out there who find devices that feature cellular communications with the added advantage of large screen real estate offer the best of both worlds. In that sense, a phablet is great value for money – saving you the hassle of lugging around multiple devices, and giving you a smartphone that doesn't compromise when it comes to content and media consumption while you're on the move. The Sony Xperia Z Ultra that came out way back in 2013 was a true evangelist of the phablet category – bringing loaded specs encased in a slim, waterproof body, along with a massive 6.4-inch screen that fell just a little shy of venturing into tablet territory. Much water has flown under the bridge since then, but the popularity of large-screened smartphones has only grown further. Yet another trend that appeared sometime in the middle was the selfie phenomenon that took the world by storm and made manufacturers focus on the capabilities of the front cameras on smart devices. Sony has had options addressing both these trends – with the likes of the Xperia T2 Ultra (review) for phablet aficionados and the Xperia C3 (review) and C4 (first impressions) catering to selfie maniacs. With its new Xperia C5 Ultra though, the brand has married both in a single device.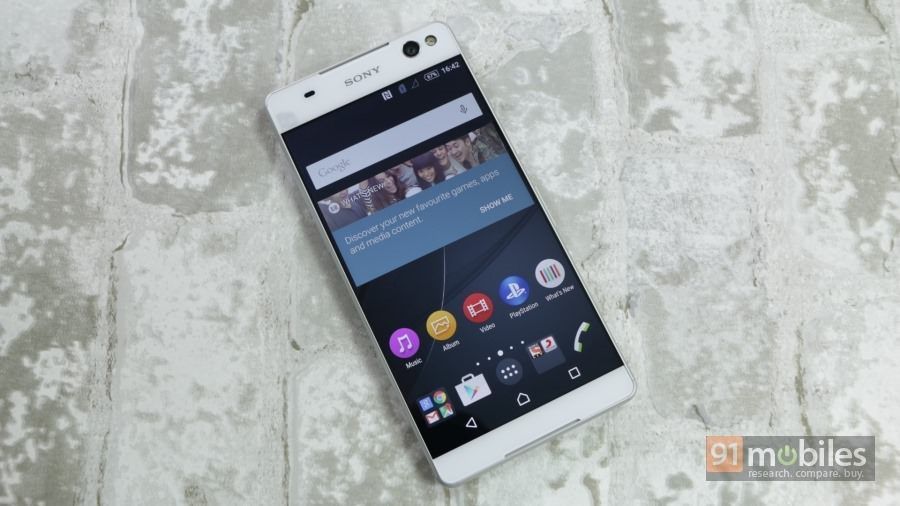 Technically, we would categorise any phone with a screen larger than 5-inches in size as a phablet, but many devices with even 5-5-inch screens these days boast manageable dimensions… blurring the classification. However, with its 6-inch FHD display, the Xperia C5 Ultra is unmistakably a phablet – no confusion there. That said, Sony has managed to keep the device from getting too unwieldy to handle, thanks to rounded spines and extremely slim bezels.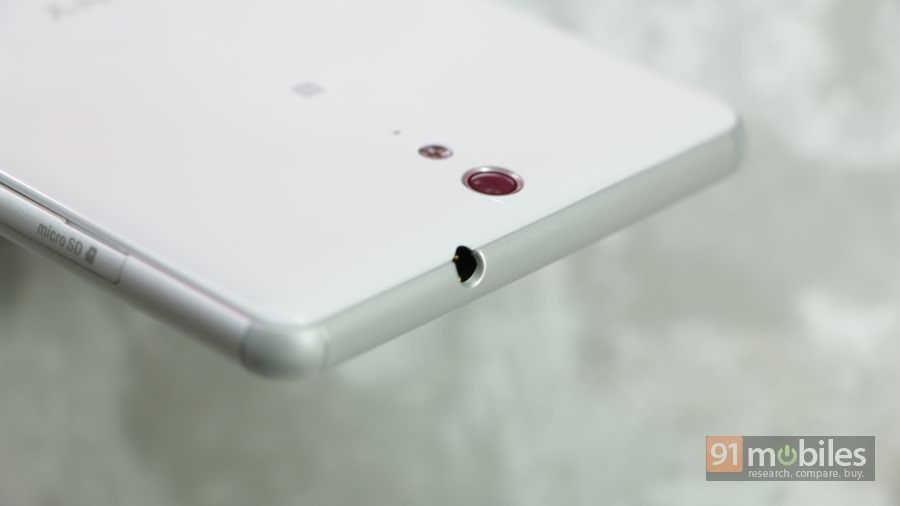 The overall design doesn't stray too far away from Sony's OmniBalance methodology. Apart from the large screen, the fascia sports the earpiece along with the usual sensors, notification LED on top. On the top right corner, you'll see the main highlight of the device – the large, chrome-ringed lens for the front camera, boasting a resolution of 13-megapixels. It's accompanied by a dedicated LED flash of its own – so selfie lovers should find it very promising indeed. There are no hardware keys for navigation below the screen, but you'll see a slim, elongated grille that hides the front-facing speaker and balances the design of the top earpiece perfectly.
The metallic frame that runs around all four sides is rounded, and fairly comfortable to hold… especially since the thin side bezels keep the width of the phone down to manageable levels. The four corners sport bumpers that should be able to withstand a few drops. On the left spine, you'll find a flap that hides a microSD card slot, along with a slide-out tray that accepts a pair of nano-SIMs. The right holds a circular metal power key, in keeping with Sony's standard design. Below that, there's a volume rocker, and a dedicated camera shutter key further below. The top and bottom are home to the headset socket and micro-USB port as usual.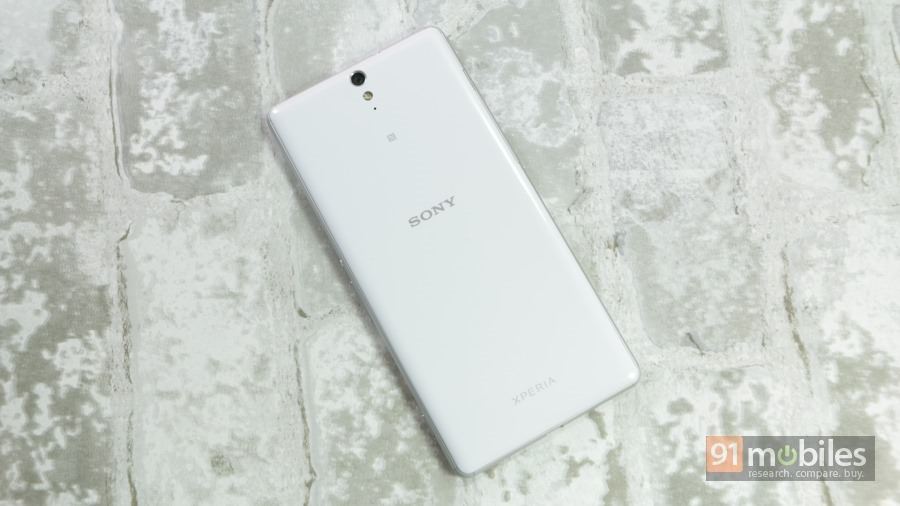 Switch to the rear and you'll be greeted by the glossy, plastic back panel. As you can see, our review unit comes in white, but you can also opt for black or mint hues. The real panel isn't removable, and you'll see the primary 13-meg snapper on top, with an LED flash, the secondary microphone, an NFC logo, along with Sony and Xperia branding as you drop your gaze further below.
The Xperia C5 Ultra runs Android Lollipop, with Sony's custom skin on top. As usual, Sony's tweaks are subtle and retain most aspects of Google's Material Design. There are five homescreens by default, with a couple of them loaded with apps and widgets. There's a customisable camera widget that's very useful for shooting, giving you direct shortcuts to specific modes. As usual, you'll find a slide-out sidebar in the app drawer that lets you sort apps as per your preferences, and access the Play Store as well.
For personalisation, you have the option of choosing one from different colour schemes, but you can also download more themes. The option for this is available under the appropriate head in device settings, and leads you to the Play Store, with both free and paid themes available. The screen enhancement options include a Super-vivid mode along with Sony's Mobile BRAVIA Engine 2 for photos and videos. The white balance for the screen can also be tweaked manually, and there's a glove mode present as well. Another available feature is Smart backlight control that detects when you're holding the phablet in your hands and prevents the screen from dimming. The full HD display looks quite crisp, and the tweaking options should be useful for those who'd like to tune it as per their individual tastes.
There are a bunch of battery-saving modes, including a Stamina mode and the more aggressive Ultra Stamina mode. These should be useful in a crunch, though we hope that the sealed 2.930mAh battery packs in enough juice to last through the day. For ease of use, you can enable a one-handed mode that shrinks the UI to either side of the screen, while newbies would appreciate the provision of a simplified home launcher as well.
The manual mode lets you tweak settings like image resolution, ISO and white balance, or choose one from a long list of scene presets. Clearly, there's a lot packed in there for photography enthusiasts, and combined with the dedicated hardware key for the camera, the C5 Ultra sure takes its photo-capturing prowess quite seriously. A few quick test shots we captured using the front and rear shooters looked good enough, but we'll have more to say on this when we test the camera performance properly.
A smorgasbord of apps can be found preloaded, both third-party as well as Sony's own. These include Sony LIV, Jive, What's New, NeoReader, Clean Master, Amazon Kindle, BIGFLIX, TrackID, OfficeSuite and AVG Protection. A couple of trial games are also around. No surprise then that just a little over 8.5GB is available to use out of the box out of the internal 16GB storage, though thankfully, many of these can be deleted to make space.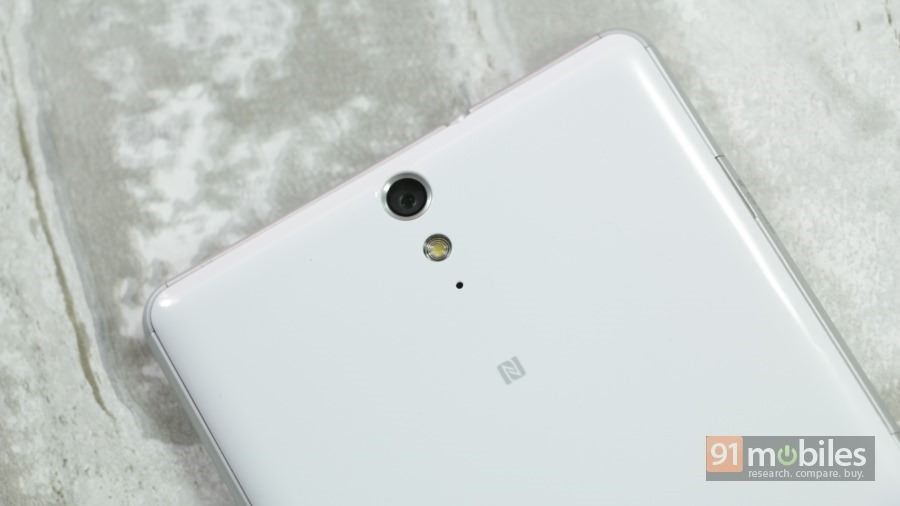 The C5 Ultra uses a 64-bit, 1.7GHz octa-core MediaTek MT6752 CPU for horsepower, along with 2GB of RAM. Overall operation seemed smooth in the brief time we played with it, but as always, we'd like to reserve our comments for the full review. The connectivity options look quite loaded, and apart from dual-SIM support and NFC, also include 4G, Miracast and DLNA. With its price tag of Rs 29,990, it doesn't really come cheap and has rivals like the OnePlus 2 (review), Google Nexus 6 (first impressions) and Samsung Galaxy A8 to contend with, but as far as selfie chops are concerned, possibly the OPPO N3 (review) makes for more direct competition. More in our full review – in the pipeline as you read this.
Photos by Raj Rout