"Sony's Vaio Flip 13 is a stylish hybrid with a unique twist, or should we say flip?"
In the older days, laptops could be broadly categorised into desktop replacements and ultraportables, with the so-called 'thin and lights' also being somewhere in the picture. Sure, gaming-centric laptops and rugged ones were there as well, but these were too specialist in nature and aimed at smaller audiences. Then came the netbook boom, followed by ultrabooks. It's not so easy to classify laptops these days, thanks to the advent of what we call hybrids. These are the ones that sport touchscreens, and usually take on the roles of both a conventional laptop and a tablet, depending on your preferences. There are some that can be converted to a tablet by rotating the screen, while in some cases, the screens can be detached completely. There are others that are primarily tablets, but offer keyboard docks that change them into full-fledged notebooks, A few can dual boot into Windows and Android too. Get it? Don't fret if you can't get a grip on it – it can be tough to understand for most. If brands like Transformer and Yoga are anything to go by, you'll know that many of the new portables available these days try and outdo each other by offering some innovative capability, with corresponding use case scenarios presented as part of the marketing hype. All that's now missing is flexible displays, and who knows, we might just see a new sub-brand called 'Contortion' jumping in the fray too. Sony's latest offering in this very space is just called
the Vaio Flip
, and we think it's a simple, yet apt moniker. The hybrid is available in 13-, 14- and 15-inch screen sizes – all with different specifications, and what we have with us for review is the Vaio Flip 13, the 13-inch variant.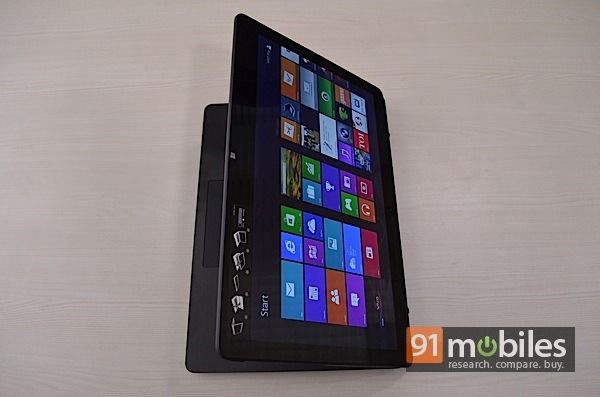 Stylish Vaio build with a few interesting twists
First up, you'll immediately notice how stylish the notebook looks. Done in black brushed metal, it exudes pure class, and is quite svelte too, though it collects smudges like nobody's business. Lift it up, and you might be surprised how light it feels. It tips the scales at 1.31kg, which is great for a notebook, but not so much for a tablet. A couple of USB 3.0 ports, an SD card reader, an HDMI-out, and a power key are placed on the right, while an audio socket is on the left, along with a large heat vent. A volume rocker is tucked away on the top shoulder, accessible when using the device as a tablet. When doing so, you can also make use of a dedicated windows key placed at the bottom of the screen. As you can make out, Ethernet and VGA ports are missing in action. A pair of small speakers are placed on either side of the device, and you'll also find a large air vent on the left.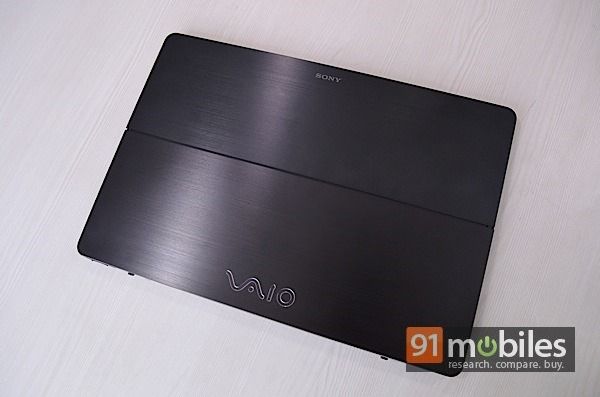 Smack on the middle of the lid, there's a thin gap which might be mistaken as a part of the design, but is actually an innovative hinge that uses a diaphragm for flexibility. It's this very hinge that enables the Vaio Flip's flippiness, so to speak. To see the circus in action, you need to open the lid, just like a conventional laptop, and what you'll obviously get is the laptop mode. This is when you'll notice the generously-proportioned touchpad and the island-style backlit keyboard.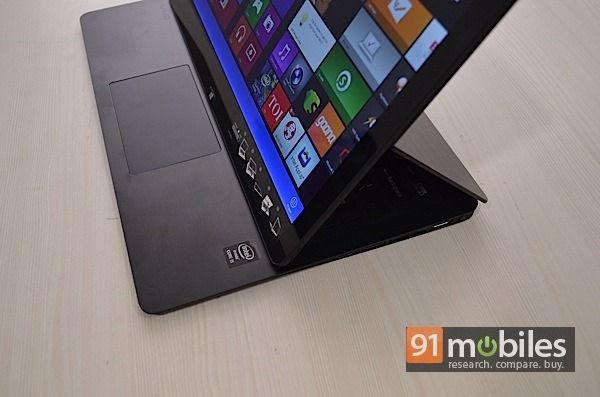 Slide the release key present on top of the keyboard to the left and then you can flip the screen around on the hinge to the other side. The screen moves freely when in mode, but when flipped over completely, sticks to the other side thanks to intelligent use of magnets. The screen orientation changes appropriately, and you're now in viewer mode. Close the laptop lid, and voila, you now hold a tablet in your hands, complete with an 8-megapixel camera at the rear! Nifty? We sure think so. Useful? Completely depends on the kind of usage you want to squeeze out from it.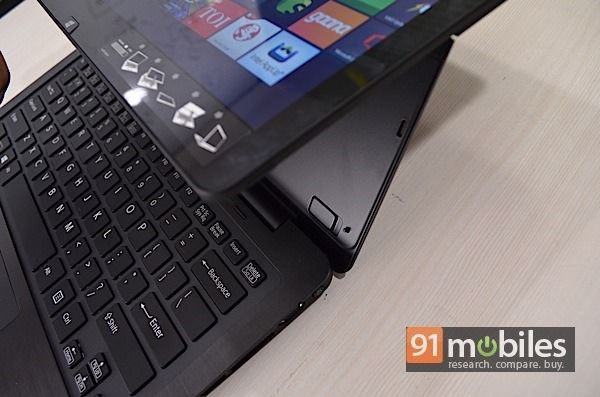 The use case scenario that Sony is presenting for the Vaio Flip, apart from the obvious laptop and tablet usage, is the viewer mode that lets you watch a movie together with a partner or give a presentation to a client. In the viewer mode, the screen is right in front with the 'unsightly' keyboard mostly hidden from view. Coming to the tablet mode, it isn't the usual fold-flat affair you may have seen earlier, but the display actually slants slightly towards the user, with a small gap between the lid and the keyboard.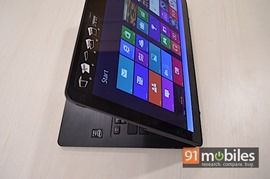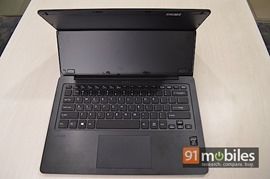 Your money gets you quite a bit
The Vaio Flip 13 is pushed along by a fourth-generation Intel Core i5-4200U processor which is clocked at 1.6GHz, and is helped along in its efforts by 4GB of RAM and integrated Intel HD 4400 graphics. 128GB SSD storage is also on offer – we'd have preferred more of course, but flash storage does have clear advantages over hard disk drives in terms of performance and reliability. The machine runs Windows 8 in all its tiled glory on the 13.3-inch 1,920 x 1,080 touchscreen. The OS can be upgraded to version 8.1 free of cost from the store. The device boasts a slew of Sony's proprietary tech which includes Triluminous and X-Reality technologies for the display and Clear Audio Plus, XLoud and Clear Phase for audio. The Clear Audio Plus equaliser settings seem to be quite useful, especially since the sound from the built in speakers is tinny.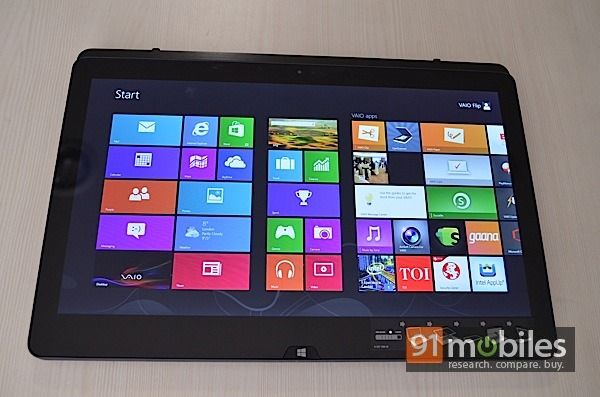 Sony's also preloaded a bunch of software goodies like
Vaio Clip
for saving image snapshots,
Vaio Paper
for note-taking, and
Vaio Care
for maintenance and diagnostics. The
Vaio Control Center
is a utility that gives you useful system info and the ability to save different network profiles for separate networks you may connect to at work or at home. There's also
Sony Jive
that offers free music downloads for three months. Third-party offerings included cover
ArcSoft Camera
,
Gaana
and
Bigflix
for movies.
Breezy performance, but a few tiny gripes
In terms of performance, the low-voltage processor isn't really a powerhouse, but thankfully, the SSD storage it uses keeps things quite smooth and we didn't face any performance hiccups. The screen is extremely crisp and vibrant, if only a tad too reflective for our liking. Full HD videos play smoothly, but tend to make the laptop a little hot – not uncomfortably so, if we may add. This however, makes the fan spin up audibly and mars the experience a tad. The 8-megapixel camera is a bit of a letdown, but we'll not really hold this against it as a 13-inch tablet isn't our idea of a useful shooter you can whip out at a moment's notice and take spur-of-the-moment shots. The real bummer is the so-so battery life – expect about five to six hours of use on a single charge if you're mainly running productivity-related tasks. Push the hybrid further towards the heavy stuff and the battery life you get will drop substantially.
As far as usability is concerned, we love the large touchpad that supports multi-touch gestures, but the keyboard could be an issue for some, at least till the time you get accustomed to it. While the keys are spaced out well, they lack the depth required for comfortable typing. As we mentioned earlier though, a little bit of patience and spending some time using it should take care of this, but it's still worth making a note of. One thing that certainly bodes well for it overall is the small power brick – not only is it compact and lightweight, it also features a USB port that can be used to charge your smartphone and other USB-powered gadgets. Handy if you're travelling and don't want to lug around different chargers with you.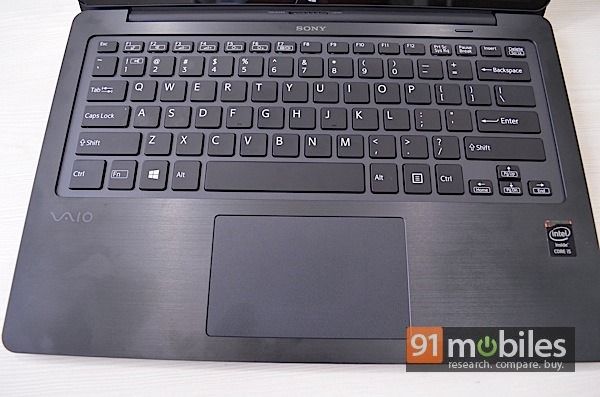 Verdict
Vaio, which actually stands for Video Audio Integrated Operation, later changed to Visual Audio Intelligent Organizer, is truly an iconic brand. It's hard not to think of its
impending sale to a Japanese investment fund
as we write this, but there's still some time till that deal reaches its conclusion. Keeping that aside, the Vaio Flip 13 manages to impress us for the most part. While it does have a few issues such as low connectivity and an average battery life, it scores on looks, build quality and an innovative design that promises versatility.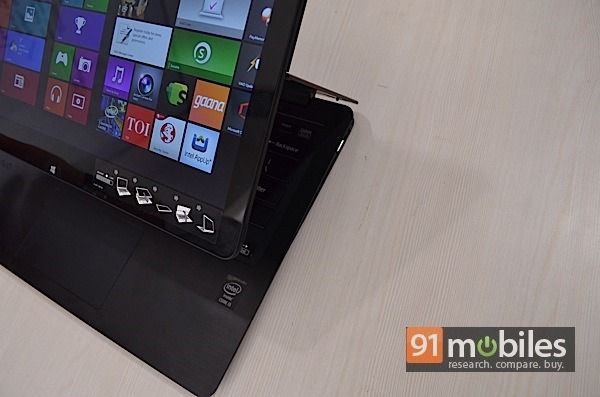 Rs 1 lakh is a lot of money to pay, but it's a Sony after all (for now at least) and what you're paying for is the brand appeal, along with the innovation this device offers. Early buyers also get a free pair of headphones worth Rs 12,990, free one-year accidental damage cover and extended two-year warranty at a discount. Of course, it'd only make sense to consider it if you intend to make use of its full flip capabilities. If not however, Sony's own Vaio Pro 13 that offers similar specs but without the flip design could be a better bet, since it's priced lower at Rs 84,990. If versatility and flaunt-worthy design are what you're looking for though, we can definitely recommend the Vaio Flip 13.
Price:
Rs 99,990
Editors rating:
8/10
Pros
Swanky design
Innovative flip mode
Versatility
Smooth performance
Cons
Limited connectivity
Average battery life