Sony has launched its new 2013 models under the VAIO range of devices. The newly unveiled device, Sony VAIO Duo 11 Ultrabook sports exciting features of a laptop that can be transformed into a tablet.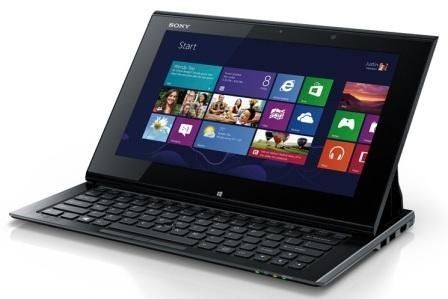 To add to its uniqueness the PC-cum-tablet sports a 11.6-inch touchscreen and a HD Webcam along with a weight measure of 1.305 kg. The Sony VAIO Duo11 Ultrabook features a full HD touch panel with backlit keyboard along with a display screen resolution of 1920 x 1080 pixels.
The Vaio Duo 11 Ultrabook has been powered with third generation Intel Core i5-3317U Dual-Core Processor along with Intel HD Graphics 4000 Graphics Card.
The hybrid PC-cum-tablet exhibiting tremendous specifications is a device that is upgradable to Windows 8 Pro 64bit with 512 GB maximum SSD. The PC/tablet provides its users the flexibility to upgrade the device upto 8GB memory.
The highly versatile functional Tablet has got a "digitizer" stylus pen included that can be used on the display screen in the PC mode as well as in the tablet mode. The stylus hints towards the portable functionality of the VAIO Duo 11 Ultrabook beyond the PC mode.
Taking into consideration the outstanding specifications exhibited by the Sony VAIO Duo 11 Ultrabook, it may be said that the Company has put all its effort to come forward with a device that may lead in the list of desires of the Tech freaks who are looking forward to move towards the hybrid PC/tablet segment of gadgets.