"This SmartBand monitors not only physical, but your digital activities too"
The battle for one of the most prime pieces of real estate on your person, your wrist, is heating up. Wearables may still be a fledgling domain, but there's lots of action happening as you read this. Unfortunately for us, we have yet to see that action in India, but things are looking up. Samsung and Sony are the only two brands that offer smartwatches currently in India, though the Android Wear-powered LG G Watch (and Samsung's Gear Live) have just made their debuts. In the activity tracking space, there's the Samsung Gear Fit, and the innovative GOQii is also incoming. Sony's new SmartBand SWR10 has also jumped in recently, launched along with the smartphone flagship, the Xperia Z2. Sony's also offering the SmartBand free with the Z2, and we hear it might also come bundled with the upcoming Xperia T3. Available separately as a retail product, the Sony SmartBand is priced attractively at Rs 5,990.
More than a pure activity tracker though, the SmartBand is dubbed a 'life tracker'. With so much going on in our lives on any given day, we were quite keen to figure what this band can do. So here goes.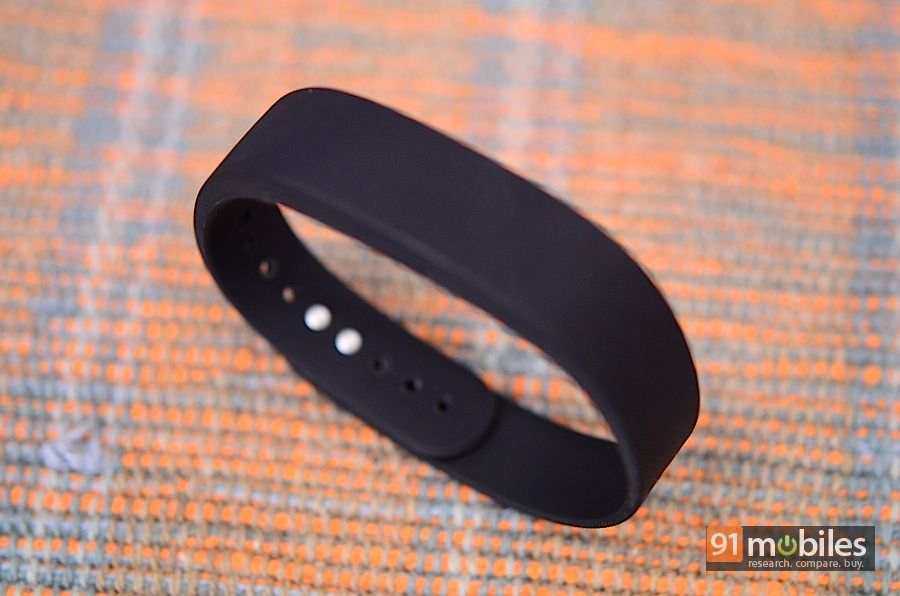 In essence, the Sony SmartBand SWR10 is a basic band that wraps around your wrist, and is meant to be worn 24×7 to let it do its job. It doesn't sport a display, so you can't even use it to view time. This also means that if you're in the habit of wearing a watch, you'll need to wear this on your other wrist – making it a fairly intrusive piece of tech. Using Bluetooth to work its magic, the SmartBand supports NFC for one-tap pairing. Since it's meant to be worn all the time, it's apt that the SmartBand is IP58-certified and is impervious to water, so wearing it in the shower shouldn't be a problem. While the device works to its fullest potential when paired with a Sony Xperia smartphone, it's rated to work with any Android device running KitKat and supporting Bluetooth 4.0 LE. We tried it out with a Google Nexus 5.
The hard and the soft of it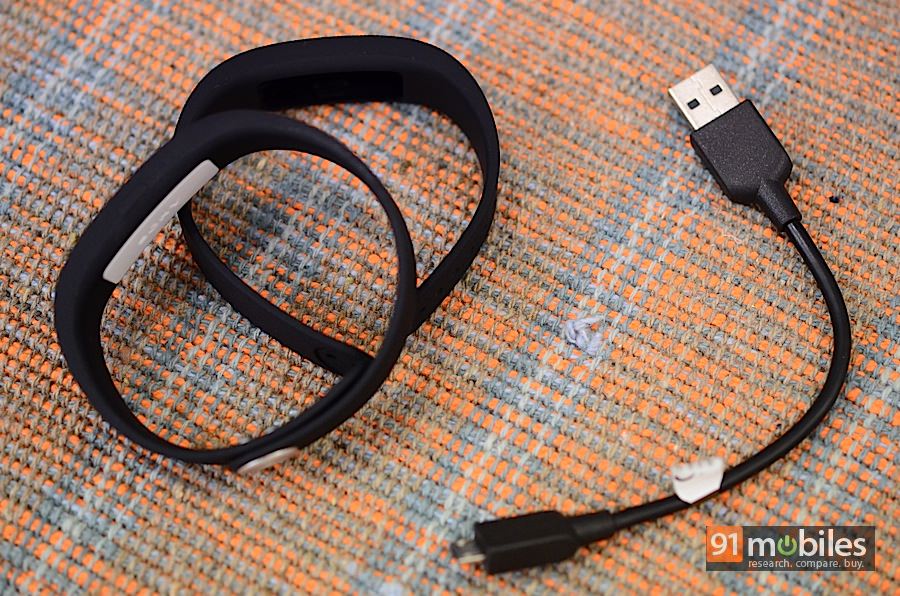 The retail box consists of not one, but two bands, both in different sizes to suit users with different wrist sizes. A tiny USB to micro-USB cable is also included for charging. By default, you can only buy the band in black, though an accessory pack with three differently-coloured bands should be available to buy soon.
The band itself is made of soft rubber, and isn't much to look at – at the least the one in black. This is a thumbs-down straight off, since it's a wearable after all and style is a vital aspect of any wearable gadget. On the other hand, the sedate black band should blend in more easily into the lifestyles of most users regardless of age or profession, as compared to something more flamboyant.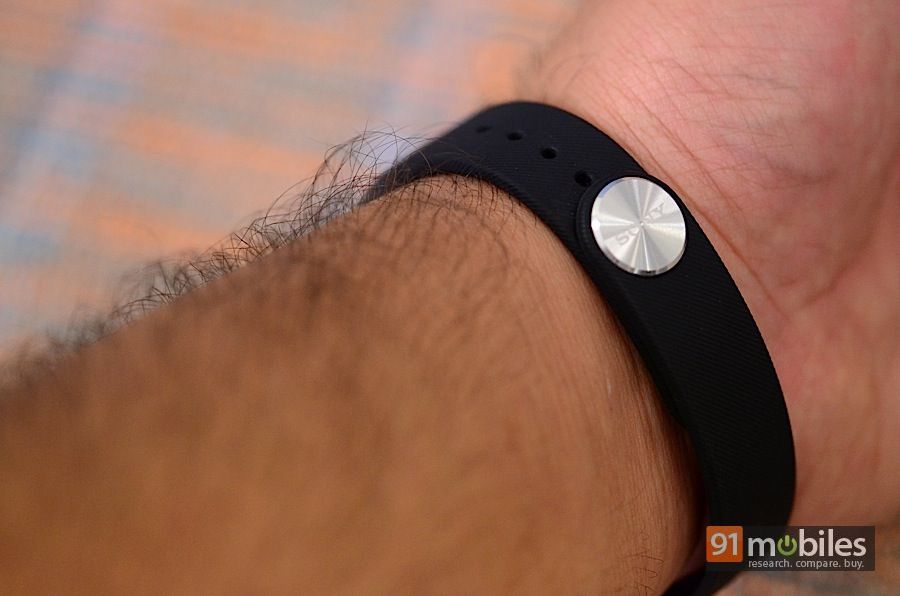 A shiny buckle carrying Sony branding and a concentric circle pattern is responsible for keeping the band on your wrist by means of two studs that lock into provided holes.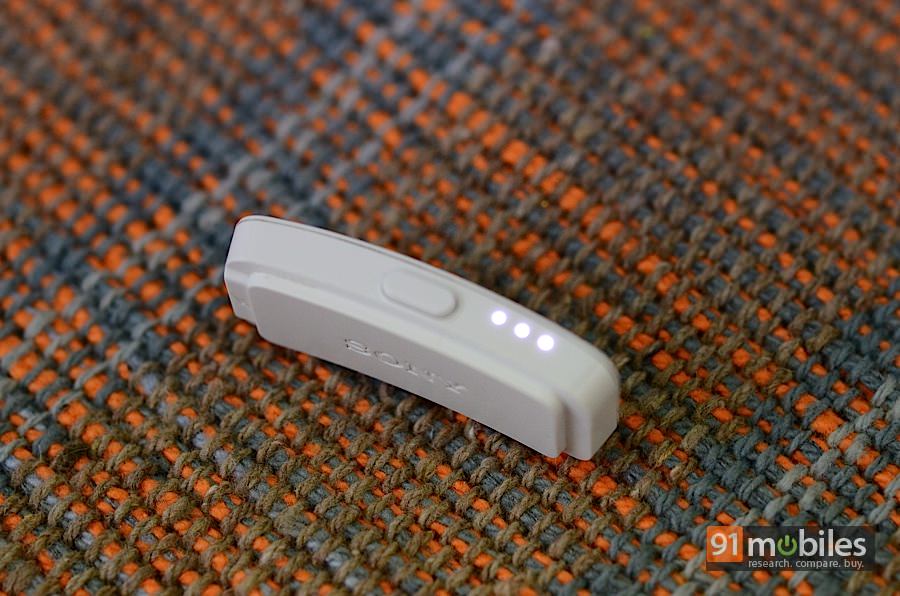 The other bit of hardware is its heart, dubbed the 'Core'. This is a small curved piece of plastic resembling a USB flash drive, sporting a micro-USB port at one end and a button along with three LEDs on the side.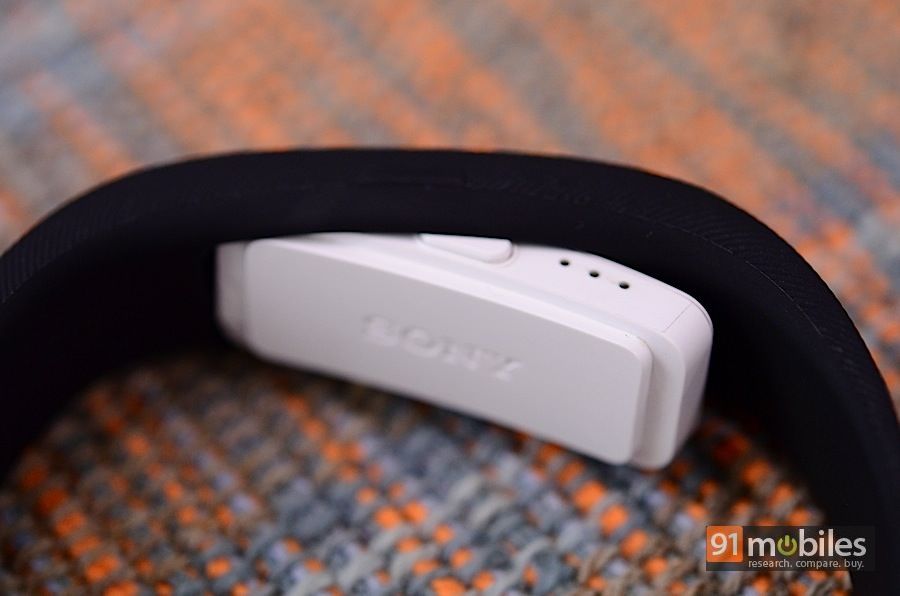 The Core goes inside a cavity in the centre of the band, facing the bottom and touching your wrist when you wear it. The button is still accessible via the band, while the three LEDs shine through as well. Despite the open micro-USB port, the Core is waterproof too.
Any device like this is useless without companion apps, and the SmartBand requires not one or two, but three software bits to be installed on your device. The first is the Smart Connect app which enables connectivity, while the second is the SmartBand plugin for the same app which lets you control settings specific to the band. The third and final piece of software is the Lifelog app that gives you a bird's eye view of your activities. On a secondary note, the aforementioned Smart Connect app comes preinstalled on Sony Xperia devices and is also available on the Play Store as a free download for other Android phones. It's a handy app that lets you automate a few actions based on the accessories you connect and the time when they're connected. For instance, you could set it to put your device on silent and turn off Wi-Fi when you plug in your charger at night, or launch the music player when you plug in your headphones.
What it can do
The SmartBand operates in two basic modes – day mode and night mode. The device will track activities if it's in day mode, and monitor sleep if it's set to night mode. You can toggle between the two by long-pressing the lone button on the side of the band, or specify timings wherein it will switch automatically… useful if you're a creature of habit and go to bed at more or less the same time each night.
As an activity tracker, the Sony SmartBand can log steps taken, number of calories burnt, the amount of time spent walking or running, and track your sleep patterns too. The band also relays notifications in the form of vibration alerts, and also alerts you when you get an incoming call. Note that notifications are disabled it the band is in night mode. It will also alert you if you leave your phone or tablet behind. Since it monitors sleep, you can set it to wake you up when you're sleeping lightly. Next, the SmartBand can also be used to interact with a few apps on your handset, letting you control music playback or click a picture using your phone's camera remotely.
All these settings are managed via the Smart Connect app, which also displays the remaining battery status in terms of time. You can specify the timings for the auto night mode, set the vibration notifications on or off, and also drill down to specify the apps that will relay notifications. Next, you can set multiple Smart wake up alarms by specifying half-hour windows within which you'd like to be woken up. Since the device can monitor whether you're in deep sleep or light sleep (based on movement), it vibrates to wake you up within the specified half hour window when you're sleeping lightly. You can also toggle out-of-range alerts and incoming calls alerts from within the same app.
The Applications menu entry lets you choose the app you'd like to control through the band, and by default it's set to Media Player. There are a few other apps such as Camera (for remote shutter release) and Find Phone (to help locate a misplaced phone) that can downloaded from here too. The media control works by way of hitting the side button on the band, and then tapping the band's face once to play or pause, twice to skip to the next track and thrice to skip to the previous one.

Coming to the Lifelog app, it's a nicely-designed piece of software that needs you to sign in and create a profile, asking you to enter details such as date of birth, gender, height and weight. You can also manually enter stride length for walking and running to let it measure these activities better.
The app is divided into two halves, with the timeline on top, and dedicated icons for each activity at the bottom. The timeline displays the user (that would be you), standing and holding a phone in the hands, or walking running or sleeping, as the case may be at a certain point in time. Since it's a 'life logging' app, it also logs your activities and time spent using your phone, logging stuff like the time spent on communications (Gmail, WhatsApp etc), playing music or videos, playing games, reading or browsing. The communications bit can also include calls and messaging, but that only works with Sony Xperia smartphones. Each of these activities get their own icons in the timeline, and if you wish, you can move back in time, so to speak, within the app to see what you were doing at a certain time on a specific day. It also places an icon for each photo you shoot using your device's camera, and even logs if you capture a screenshot or receive a new image via apps like WhatsApp. If you kept GPS enabled, it will even display your position at that time on a map.
Tapping on an individual icon on the timeline displays the details. You can even hit a play button on top that scrolls the timeline automatically. If you tap on one of the activity icons on the bottom half of the app, you can view more details about that activity and tweak goals in terms of the time, number of steps, calories burnt etc too. The band can log physical activities even when it's not connected to your smartphone, so you can leave your phone behind when you go out for a jog, and it will sync the data back when you come back and it's reconnected via Bluetooth.
Since it's actually a life logger, it also lets you add 'life bookmarks'… in case you want a memorable occurrence to be captured as part of the Lifelog app. Finished a long-overdue task? Met someone exciting? Bought a new gadget? Read an awesome review on 91mobiles? Just Lifelog it. To do this, you can hit the '+' button placed on the top bar of the app, or as a quick shortcut, just double press the side button on the band, which creates a new entry in Lifelog along with the time and location. You can enter the details later.
Worth a buy?
The Sony SmartBand has its hits and misses. While it seems to be reasonably accurate, at least as a pedometer (tested by counting steps the old-fashioned way), it's not really an all-out fitness tracker. Iif you want one of those, options like the Fitbit Flex or the Nike Fuelband could be worth a look, though they aren't available in India officially. The SmartBand fares better when considered as a lifestyle accessory – so consider it that way and you should be fine.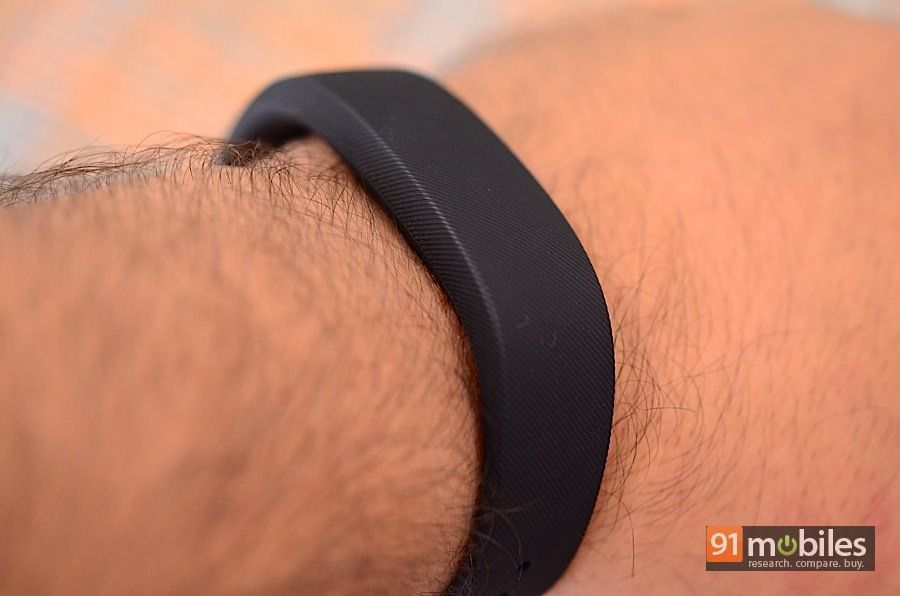 We love the simple functionality of putting the SmartBand into night mode by a double press on the side, combined with the auto night mode in case you forget to do so manually. The battery life is pretty good, lasting us about four to five days on a single charge. The vibration-based notifications and out-of-range alerts work quite well, and we just faced a few disconnects while using it. Connecting it was a simple matter of tapping it against the phone and letting NFC work its magic. The media control functionality was a bit of a hit and miss though.
Where the Lifelog app lacks is the social sharing aspect, an area that could potentially lead to competition within friends to reach goals, and the possible gamification of this. Secondly, the ability to control third-party apps is rudimentary at the moment, and needs improvement, not to mention more functionality… perhaps like rejecting calls or switching the smartphone to silent mode. Since there's no display, maybe a way to distinguish different notifications in the form of customisable vibrations (or different LED colours?) could also be extremely handy.
As it stands, especially in India, the Sony SmartBand doesn't really have proper competition. Its pricing of about Rs 6,000 is also quite attractive. It may not be a must-have, but it certainly could be useful for those whose lives revolve around their smartphones. And that covers many of us.
Price: Rs 5,990
Editor's rating: 7 / 10
Pros
Logs physical and digital activities
Water-resistant
Neat UI on the Lifelog app
Smart wake up alarms
Good battery life
Attractive pricing
Cons
Ho-hum design
Misses out on social sharing
Media playback is iffy
Needs support for controlling more third-party apps
Needs a way of distinguishing different notifications