After the Dell's convertible tablet, we have another Windows 8 running combo from the house of Sony. Sony Vaio Duo, as the device is called is actually a tablet with a slide out keyboard underneath. Sony is branding this feature as 'Surf Slider'. Additionally, you can also use the stylus provided along with to take notes.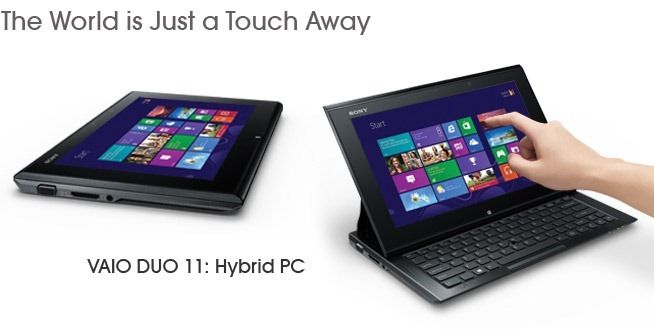 Sony Vaio Duo 11 sports an 11.6 inch Full HD LED backlit capacitive touch screen running Windows 8 64 bit operating system. It powered by Intel Core i5-3317U processor clocked at 1.6 GHz boosted up to 2.6 GHz accompanied by 6GB Ram. The configuration is enough to ensure the smooth operation of Windows 8 OS.
While the specifications are sufficient enough to replace a full fledge notebook, the absence of touchpad may refrain you from getting comfortable enough. Though Sony has mention it compatibility with an external mouse, we really wonder if the market is ready to grasp these kind of products at this point of time and that's too for a hefty price tag. Sony Vaio Duo 11 is priced at Rs 89990. Frankly speaking, at this price point I would prefer purchasing an high end tablet and an ultrabook separately.
Sony has equipped this tablet with "Rapid Wake + Eco" feature which enable the device to wake up from sleep mode in a matter of 2 seconds. on the other side, the robust data protection technology will ensure no loss of data while entering into the sleep mode.
No doubt it's a great device. An economical price tag could have done the magic.