Sony announced the launch of the two Tablet S and Tablet P in India. If we can recollect, Sony unveiled the two tablet in the month of April 2011 during an event held at Japan. Also, the official website of Sony showed up the device with an expected market price last month. Looking at the devices, each of the tablet is unique in design aspects and capabilities as well.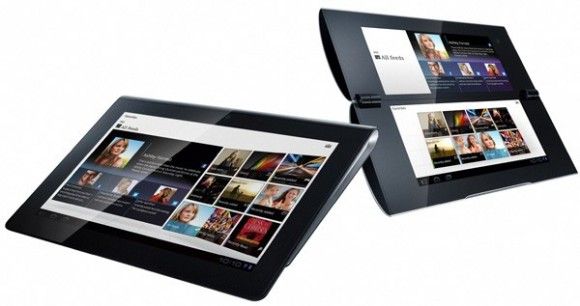 Sony introduced the devices as Sony S1 and Sony S2 and later, with an unknown reason renamed them as Sony Tablet S and Sony Tablet P. The first device Sony S is a wedge-shaped tablet comes with an 9.4 inch LCD touchscreen display. This slate powered with 1 GB of RAM, 16GB of internal memory and an external memory slot with a threshold up to 32GB. The device comes in an ergonomic smart design that can fit in the hand and shift the weight closer to your palm. While viewing in the side angle, the device looks like a magazine folded to the half. Sony Tablet S comes with an amazing TruBlack™ panel which displays vibrant colors and truly amazing image quality. The device comes with Wi-Fi connectivity, infra-red remote control which is capable of controlling TV, Blu-ray Disc™ player, HiFi system, and even the set-top box. Sony Tablet S comes with DLNA which can share the videos, photos and music clips to home entertainment devices. The tablet runs on Android OS and comes with two cameras 5.0 megapixel (front) and a front-facing, which can capture images and record videos. Mr. Masaru Tamagawa, Managing Director, Sony India, said, "Sony Tablet exemplifies our strategy of combining hardware, software and network services. It offers customers a device which meets their demand for seamless, on-the-go access to the internet, digital entertainment content and social networking services." He added, saying, "IT Market in India is growing at a very fast pace and we expect the tablet to gain rapid momentum in the near future. At the moment, we want to build a strong business foundation for Tablet." Similarly, the Tablet P comes in a dual-screen design which provides an optimal entertainment experience and portability. One can watch video on one screen while using the other to control it, or check e-mail while using the other screen as a keyboard. Models with Prices:
| | | | | |
| --- | --- | --- | --- | --- |
| Models | Type | Storage Capacity | Availability | Price |
| Tablet S | Wi-Fi | 16 GB | Available as on date | Rs. 29,990/- |
| Tablet S | 3G + Wi-Fi | 16 GB | Mid-Jan 2012 | Rs. 33,990/- |
| Tablet P | 3G + Wi-Fi | 4 GB | Mid-Jan 2012 | Rs. 36,990/- |
Also on sale are accessories for the Tablet, ranging from Screen Protector, Cradle, Cover, Leather Carrying Case, USB Adapter Cable, Safeguard, Shell, AC Adapter and Bluetooth Keyboard.
Users, buying either of the Sony tablet will get an exclusive offers like –
Videochaska:
Offers latest episodes of shows from Sony Entertainment Television and SABtv in superior quality with interactive social sharing feature
Star Player
is a premium online video-on-demand service. It offers Indian video entertainment on multiple digital devices to users for a beyond TV experience anywhere and anytime
Big Flix
is a premium Movie on Demand entertainment destination for full length movies across different languages and genres. Sony Tablet users will be upgraded to BigFlix+ membership where in the entire catalogue of 500+ movies will be available for them. (Free 2 months subscription) With
BollywoodHungama.com
, Sony Tablet users will get access to latest Bollywood news, films, hindi songs and movies online.
Meragana.com
offers the world's largest library of Indian Karaoke Music. (Free 1 month subscription)