The Consumer Electronic Show is now becoming a common arena for announcing flagship devices and even some special devices. After the event get started there are a dozen of big announcements we witnessed for the day. Also, this includes a major flagship device introduction and of-course a few Software or Operating system related. Now, Sony takes privilege in announcing the new Sony SmartWatch and the Smart Wireless headset Pro at 2012 International CES. The SmartWatch what looks like the successor of Sony Ericsson LiveView auxiliary display announced quite a period of time ago. The Sony SmartWatch is a watch like looking auxiliary that enables to interact with the Android smartphone either Xperia Arc S or Sony Xperia S. This device will accompany the user in checking emails, messages on the move without getting out your device from pockets.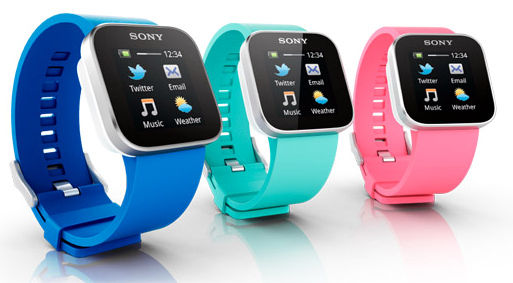 The new Sony SmartWatch comes packed with a OLED touchscreen display with 9 distinct touch points. The device measures 36mm x 36mm x 8mm in size and weighs 15.5 grams. This device interacts with the smartphone using Bluetooth technology and one can go roughly one week between charges with low usage. Sony Smart Watch can store upto 255 widgets and a totally customizable and the device comes in a dust and splash proof (supporting IP54). Some of the important widgets take care of Facebook, Twitter updates, Time and date, SMS, email, Call handling, Music handling etc. This device comes with wrist band in different colors and this can even be used as a clip. Though there aren't specific dates announced, Sony SmartWatch is expected to hit the market somewhere in Q1, 2012 and will cost $149.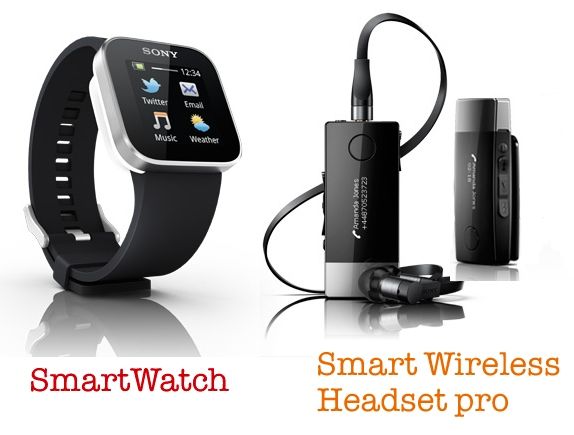 Next comes the Smart Wireless Headset Pro, a Bluetooth stereo headset that works as a standalone Mp3 Player and FM Radio. This device comes packed with display indicating battery status and also works as Called ID. Sony Wireless Headset Pro which works as a Mp3 player houses and external memory slot and this can accommodate a microSD card up to 32GB. As aforesaid, the device comes with an FM-Radio and 3.5mm Audio-jack. Sony Smart Wireless Headset Pro is compatible with most of Sony Ericsson smartphones and selected range of Android smartphones. The device fully charged lasts for 13hours of continuous music playback.