If you are owning a an iPhone 4 or an iPhone 5 and you feel irritated of typing on touch screen, we have something great for you.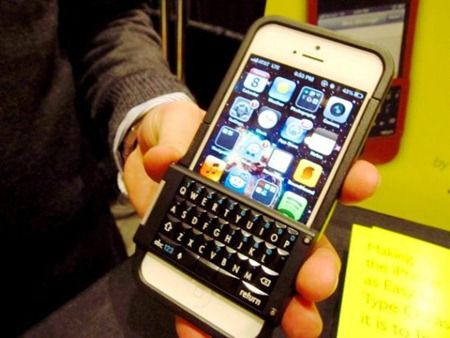 SoloMatrix has designed a physical QWERTY Keyboard case for Apple's iPhone 4 & iPhone 5.
SoloMatrix has introduced Spike TypeSmart Keyboard as an attachment to iPhone, which lets its owner to experience a physical touch like one experiences in Blackberry Phones.
SoloMatrix Spike is a protective case which has physical keys on it and can be overlaid on an iPhone's touchscreen.
This attachment does not uses any wires, docks, Bluetooth or any application for its usage. Whenever one presses a key, it makes a contact with the screen and it creates a grounded state. This keyboard case has a number key which pushes the number menu present on iPhone's on screen keyboard.
This attachment is worth considerable if you want a compact and light weighted keyboard case for your iPhone.
The iPhone 4/4S version of this attachment is set to be launched in February and its iPhone 5 version will also be following it.
You can use this physical keyboard while texting, web browsing, playing games, enjoying applications and other uses.
You won't feel down by using this attachment and will enjoy typing on your iPhone. So, if you want a Blackberry mood on your iPhone, SoloMatrix Spike is for you.
The iPhone 4/4S version will be launched at a price tag of $49.95 and one can order this attachment through its official website.