"Smartspends aspires to become your personal expense manager and does succeed in its attempt for the most part"
It's not easy to keep a track of your money these days. There's so much we spend on – movies, dinners, shopping, fuel, bills and more. Many a times, we can't even remember how we spent our last salary. Try Smartspends, a smarter way to log your spendings. It's free and all you need is an Android smartphone. How does it work? How well does it work? Let's dive in and find out.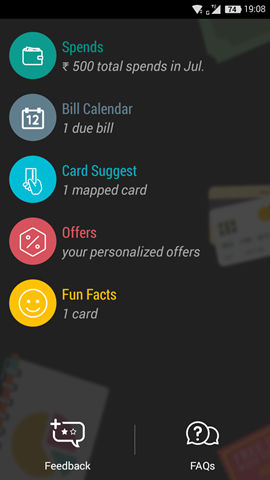 When you first open the app you are required to sign-in with your Google account. Next, you are greeted by five sections each with a different logo and colour to complement it. The first category is "Spends". The Spends feed basically tracks your day-to-day transactions and highlights a total of your expenses till date. The idea is simple, you need to create a "Cash Tracker" on daily or monthly basis. There are pre-configured tags like Lunch, Fuel, Grocery, etc. for the daily tab and some other tags like Bills, EMI, Rent, etc. which are exclusive for the monthly section. By adding these tags once, you can budget your expenses on a daily / monthly level. You can keep adding new items as you go about your day, and it will simultaneously integrate them. This way you can monitor how you spend your pennies.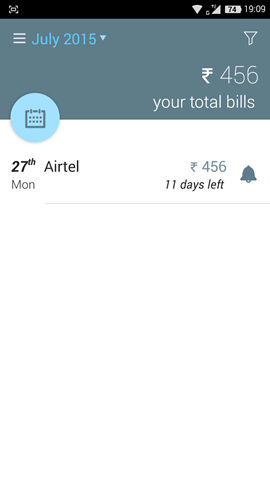 Next, there's a "Bill Calendar" which automatically (by scanning your text messages) aligns your to-be-paid bills for your attention. You will be notified on how many bills are due for the month. Also, the app shall remind you four days prior to the deadline, to make timely payments. Below this, you have a very useful features named "Card Suggest", under which you are required to add the last four digits of your credit card number. The app would then suggest which card to use in what store, both offline and online. It will give its recommendations by surfing all the offers and promos applicable on the card(s) at the given outlet.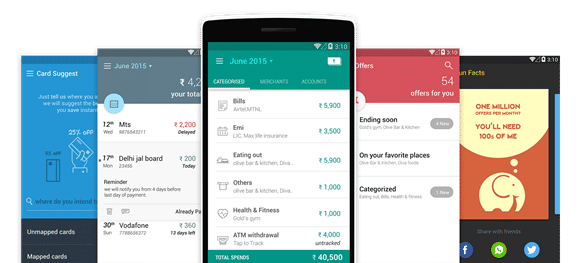 Another section present is "Offers", which hunts down the best ongoing offers for your favourite stores. Be it Pizza Hut, Flipkart or Amazon, the app knows it all. Finally, to make things lighter, the app also feature a "Fun Facts" section, which gives you a daily dose of deals-related humour, which can be shared with friends over Twitter, Facebook and WhatsApp.
Smartspends aspires to become your personal expense manager and does succeed in its attempt for the most part. It incorporates elements from various money managing apps and tries to give you a different experience than most of these. Its UI, partner database and features like Card Suggest give it a refreshing feel. But the app is not perfect. Firstly, there seems to be some disconnect within the various sections of the app itself. For instance the Bill Calendar should automatically be incorporated in the monthly spends. Furthermore, the Card Suggest feature does suggest you deals and discounts based on your selected store, but it doesn't automatically tell you what all discounts are valid on your credit card. Even though there's a separate Offers section, the app still doesn't incorporate credit card offers. Barring these gripes, Smartspends does what it intends to do well. The new app will be in direct competition with apps like Walnut's Expense Tracker and Money View which have been popular for a while.

Download Smartspends