Technology has changed our life's by making it easier and better, and not just communications technology, but also information technology, automobile technology, etc.. Talking about automobiles which already are very advanced with hundreds of microchips in them providing useful features like ABS, airbags, Automatic Transmission (AT), etc., now recently launched Mahindra e2o is taking it a step further. Mahindra e2o, previously known as Reva NXR is one of India's first electrical vehicle. e2o is not just environment friendly and economical (compared to diesel or petrol vehicles), but also smartphone savvy. Let's see what makes it revolutionary from the perspective of mobiles!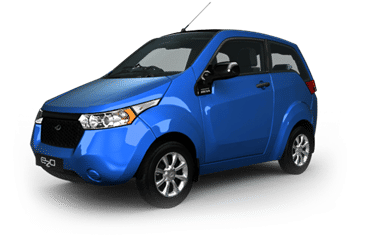 Confused, whether buying a pricier Mahindra e2o than other hatchbacks really increase your savings? 'Life with e2o' is an Android and iOS application, which tells you about the savings you will have from the car. You can real time track your daily drive or simulate your daily km run for seeing comparison of costs of battery-powered Mahindra e20 and a normal fuel-powered hatchback. It also educates you about the charge cycles, helps planning for long trips, etc.
It's features are:
Comparing e2o efficiency against Fuel cars.
Savings Calculator for Daily, Weekly and Monthly trips.
Real time Trip Tracker through GPS.
Giving information about Battery Usage and Charging Frequency.
The e2o Connectivity App (Android | iOS)
This app is for Mahindra e20 owners, allowing them to connect to their car using this app. It gives them access to a host of convenient features such as remotely controlling and scheduling the air-conditioning, locking and unlocking their cars, checking the available range, etc. However, if you are not an e2o owner, then you can't use this app as it requires customer details for authentication purposes, you can still check the app through 'trial mode'.
It's features are:
Know current vehicle charge & range till which the car can go.
Managing the e2o's air-conditioning system to pre-cool or pre-heat car by scheduling.
Activate 'REVive'- to provide reserve battery juice when the car goes out of charge.
Remotely control e2o's charging- start or stop car charging.
Remotely locking or unlocking the e2o.
Locate charging stations and service stations.
Engage 'Vacation Mode' for e2o when it's not going to be used for few day or more.
Planning your e2o trips.
Vodafone m2m communication
Mahindra has done an exclusive partnership with Vodafone to provide m2m communication services. m2m means machine to machine communication. In simple words, it refers to flow of data between two machines, in this case e2o and your phone (having Vodafone SIM). This connectivity enables Mahindra e2o car owners to access following features, through their phones or internet enabled computer having Vodafone connectivity:
Status of charge in the battery of e2o and how far they can travel with the available charge.
Remotely controlling air-conditioning and setting schedules to pre-heat or pre-cool the car.
Remotely locking or unlocking the car.
Finding the nearest charging stations
Receive alerts about car on various events such as a disruption in charging due to power cuts.
Getting safety-related reminders such as door being left unlocked or a parking brake not applied.
Emergency boost charge through a command on the smart phone to go an extra 8-10 kms.
Most of the features offered through this service can also be accessed through 'The e2o Connectivity App' mentioned above, but the best part about it is that can be used on any phone be it a feature phone or an advanced smartphone.
With such an awesome apps, Mahindra e2o can truly be called 'Connected Car'. Do you think such kind of apps will improve your driving experience?