Phone- a tiny and pocketable gadget has become a 'do-it-all' device performing basic tasks like calls/ SMS to viewing documents, listening music, and much more. Most importantly, it has redefined the meaning of photography allowing one to click anytime/ anywhere and make those captures even more beautiful with apps like Instagram and finally sharing them to the social networks. But, more often then not, phones can be used for casual photography only and I'm pretty sure that you would have always wondered when you'll be actually able to use a smartphone as a camera and not actually depend on dedicated camera for those important photos? Well, it seems that phone manufacturers are understanding this demand, and turning their focus to camera phones, and mind you, these devices are simply not crammed with more number of megapixels, they've features which really blurs the difference between a phone and camera.
The launch of Nokia Lumia 1020 takes forward Nokia's commitment to provide its users the best smartphone experience, especially after its successful camera device called Nokia 808. Samsung with its Galaxy S4 Zoom is giving users yet another reason to buy Samsung product and actually seems to be a marriage between last year's release Galaxy Camera and recently launched S4 Mini. But the real question still remains, would buying one of them solve your photography needs? Let's check out with this shootout-
Specifications at a glance
| | | |
| --- | --- | --- |
| Parameters | Nokia Lumia 1020 | Samsung Galaxy S4 Zoom |
| Dimensions (in mm) | 130.4 x 71.4 x 10.4 | 125.5 x 63.5 x 15.4 |
| Weight (in g) | 158 | 208 |
| Chassis | Polycarbonate | Plastic |
| Display Size | 4.5 inches | 4.3 inches |
| Display Resolution | 768 x 1280 pixels (332 ppi) | 540 x 960 pixels (256 ppi) |
| Display Technology | PureMotion HD+ ClearBlack display | Super AMOLED |
| Processor | 1.5 GHz dual-core | 1.5 GHz dual-core |
| RAM | 2 GB | 1.5 GB |
| Internal Storage | 32 GB | 8 GB |
| External Storage | – | up to 64 GB |
| Primary Camera | 41 MP (effective 38 MP) | 16 MP |
| Flash | Xenon and LED Flash | Xenon Flash |
| Zoom | Digital lossless zoom | Optical Zoom |
| Secondary Camera | 1.2 MP | 1.9 MP |
| Network | 2G/ 3G/ 4G | 2G/ 3G/ 4G |
| Connectivity | Bluetooth 3.0, Wi-Fi, NFC, DLNA, GPS | Bluetooth 4.0, Wi-Fi, IR, GPS |
| Battery | Li-ion 2000 mAh | Li-ion 2330 mAh |
| Price | Not Announced | Rs. 29,990 |
Apart from Camera, which is the USP of both devices, notable differences between Lumia 1020 and Galaxy S4 Zoom is-
Nokia Lumia 1020 looks and feels like a phone with good camera because of its nominal thickness of 10.4 mm and pocketable weight of 158 g. However, Samsung Galaxy S4 Zoom seems to be a digital camera offering phone functionality because its 15.4 mm thick and has a considerable weight of 208 g.
Lumia 1020 have a 2 GB RAM, which will surely be helpful in multitasking and high-processing applications in comparison to 1.5 GB RAM used in Galaxy S4 Zoom.
Lumia 1020 has a 4.5 inch display compared to 4.3 inch screen in Galaxy S4 Zoom.
Lumia 1020 doesn't allows any external memory.
Lumia 1020 offers wireless charging capability via special back cover.
Camera Capabilities of Nokia Lumia 1020
Hardware
The most highlighting aspect about Nokia Lumia 1020's camera is its 41 MP camera sensor. But, don't go by the 41 MP number, because the camera captures photos at 38 MP or 34 MP depending upon the aspect ratio of 4:3 or 16:9. Nokia's Pro Camera app (more about the app in the section below) saves the captured image in two formats- 34/ 38 MP and an oversampled 5 MP image which can be shared over social networks as well. Though, the default camera app captures images at 5 MP only.
It's BSI (Back-side illuminated) sensor design improves its light sensitivity and thus offers great shots in low light conditions. Fact that the Lumia 1020 comprises of 6-element ZEISS lens also helps as it permits more light to enter in the sensor.
The smartphone also comes with OIS (Optical Image Stabilisation), which is still a rarity amongst phones, but immensely useful as it compensates for the shake in the user's hand while capturing the shot. This results in better images and even videos in poor lightning conditions.
Software
Nokia Lumia 1020 has 3 apps for capturing images- default WP8 app, Nokia's Smart Camera app introduced in Lumia 925 and Pro Camera app specifically created for it allowing to play with advanced camera settings. Users can set any of these apps as default so that whenever camera button is pressed, respective app will be opened.
The Pro Camera app has a simple interface showcasing six camera adjustments at the top- Flash, White Balance, Focus, ISO, Shutter speed and exposure compensation. Users can tap any of them to open a ring-based interface on the right side of the screen. The best part about adjusting these settings is that you can immediately see the effect of the same on the screen, thus even without knowing what those terms may mean, you can see whether they will be helpful to improve the shot or not.
As stated earlier, that the smartphone captures two images simultaneously. The 5 MP photo can be zoomed in to 3x without affecting the image quality and reframe the photo. Interestingly, the original image is always saved, so you can reframe one or more scene(s) from image and save them.
For capturing videos, the Pro Camera app allows users to adjust Flash, White Balance and Focus (Manual, Auto or Infinity). Video shooting also makes good use of OIS and oversampling functionality. While capturing video, one can zoom in up to 4x for 1080p video and up to 6x for 720p video. The smartphone has rich audio recording thanks to a microphone at top as well as bottom. This helps to capture high quality sound even in the noisy environment.
Whilst the Pro Camera app is extremely useful for making full use of Lumia 1020's hardware, one can't have fun and casual photos with it and that's where Smart Camera comes in. We've discussed about the Smart Camera app's feature in our article about Lumia 925. Here's rundown to some of its interesting options- Best Photo (shooting 10 photos at 5 MP resolution and then choosing best out of them), Action Shot (overlaying of moving object on a photo several times to give a sense of motion), Motion Focus (ability to capture the moving object), etc.
There are also some apps present in previous Lumia devices like Panorama (capturing 360 degree images) and Cinemagraph (short animated gifs).
Added Accessories
Nokia has introduced a grip accessory for Lumia 1020, which when attached to it makes it look like an actual digital camera. The grip has a camera button as well as additional battery of 1020 mAh. One can see the battery's status via battery indicator at the bottom.
Camera Capabilities of Samsung Galaxy S4 Zoom
Hardware
Samsung Galaxy S4 Zoom has a 16 MP BSI sensor to capture beautiful shoots. It has 10x optical zoom which can be controlled through Zoom Ring. This Zoom ring also doubles up as a way to enable several key features for capturing images.
Similar to Lumia 1020, S4 Zoom has OIS which reduces blur and stabilizes the image for image as well as video.
Software
As it is with Samsung's most products, Galaxy S4 Zoom's UI is jam-packed with slew of options. The UI is borrowed heavily from Galaxy S4 offering features for both casual and advanced users.
When the app is opened, it's automatic mode is enabled by default. If you would like to adjust the features manually, then there's manual mode and the app also gives option to set the last used mode as default whenever it's opened.
In the app's interface, one can find the battery status at the top right, and option of switching back/ front camera, number of shots left, flash mode at the top left. The bottom has the link to gallery of clicked images/ videos and there's an upwards arrow indication the option of adding colour effects. The right side has the button to initiate image and video capturing, and mode button in button is the Pandora's box of camera features. It has four modes- Auto, Smart, Expert and My Mode. One can also see the settings of a current mode by long pressing.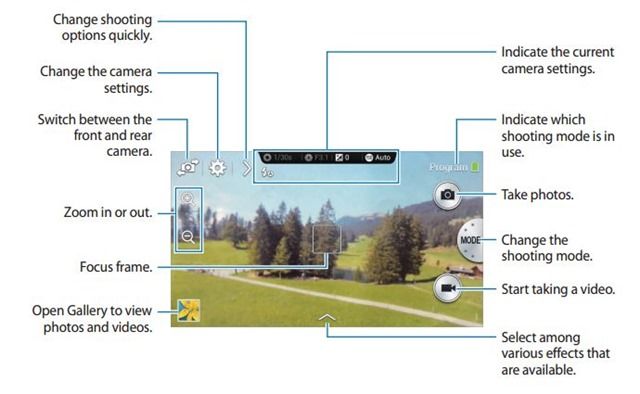 Smart Mode gives way to numerous features like HDR, Macro, Panorama, Burst Shot, Best Face, Eraser, Sound&Shot, Drama Shot and Animated Photo. These modes can be selected from a grid or carousel. Smart Suggest gives the three best options which it thinks are the best for current scene, although user can change them as well.
Expert Mode lets user adjust the camera settings like Aperture, Shutter Speed and ISO. The mode further provides Manual, Program and Custom modes to control more settings. If you're getting confused by so many terms, the mode has a info button to help you with them.
My Mode as the name suggests lets you save your favourite settings from Smart as well as Expert mode. User's can save up to 5 settings to access them frequently.
One will find even more options in the Settings menu such as Auto-focus/ shutter-sound volume, geotagging for file name, rule-of-thirds gridlines, etc. There's an interesting option of Remote Viewfinder which turns the S4 Zoom into a wireless camera being controlled from another smartphone via an app.
The interface of capturing video is almost similar, however users can shoot 1080p video @ 30fps and 720p video @ 60fps.
As mentioned earlier, the Zoom ring performs several tasks. Rotating it will reveal a quick launcher allowing you to directly enter pre-selected modes like Auto, Beauty face, Landscape, Macro, Animated Photo and Night or simply open the gallery.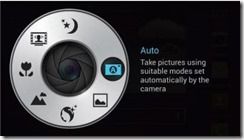 Samsung has also added a feature called In-photo sharing which allows users to share pictures with the person they're talking to via MMS. This can be done using Zoom Ring during call.
Wrap-up
Going by the specifications alone, it's clear that Lumia 1020 holds a distinct edge over Galaxy S4 Zoom. Moreover, Nokia already had a glorious history of cameraphones starting with N-series of phones (N-73, N-82, etc.) and later moving on to N8 and Nokia 808. But user's always crave for more and Nokia has answered them with Nokia Lumia 1020- a combination of Nokia 808 camera prowess with innovative Lumia series of WP. Galaxy S4 Zoom is a great phone on its own, but it's camera quality doesn't exactly makes it to be used as a dedicated camera. Also, not only these devices are in the fray to be a cameraphone of consumer's choice, several rumours suggest that Sony is launching Honami with 20 MP camera in September.
However, we will reserve our final judgement till we do an in-depth review of the devices as this is just spec-based comparison.