Sharp Corporation developed a thinnest CMOS camera module for Smartphones. Sharp claims, this module is the thinnest in the industry with a 12.1 megapixels capability and optical image stabilization. The module codenamed RJ63YC100 comes in just 5.47 mm in height and is intentionally designed for upcoming smartphones. It is expected to start shipping somewhere in the month of December 2011.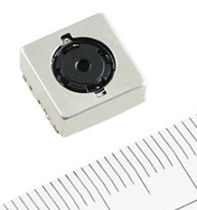 Sharp RJ63YC100 camera module comes with a lens-shift system which controls the lens inside the module. With a high-density packing technology Sharp was able to achieve the industry's thinnest CMOS camera module and this helps a lot in reducing the thickness of a smartphone. The module supports to capture high quality images and with a wide variety of situations. The CMOS allows the user to capture images even in the case of low-lighting conditions. The camera can capture images while on motion and moving objects too. Sharp RJ63YC100 supports video capture at full HD (1080p) with reduced blurring and users can transfer videos to enjoy on LCD TV or on a large screen. Key Specifications:
Model
RJ63YC100
Imaging element
12.1-Megapixel, 1/3.2-inch back-illuminated CMOS image sensor
Module dimensions (including flexible PCB)
11.0 (W) x 11.0 (L) x 5.47 (H) mm
Optical functions
Optical image stabilization; autofocus
Output format
RAW (4-lane MIPI*

2

serial output interface)
Lens F number
F 2.5; horizontal viewing angle: 61°
*1 As of December 1, 2011. For 12.1-Megapixel, 1/3.2-inch CMOS camera modules with optical image stabilizer (based on Sharp research). *2 Mobile Industry Processor Interface; MIPI is a specification for the interface between host processors and imaging peripherals/processors in mobile devices.
The manufacturing unit is backed to produce 100,000 units in a month. A sample unit of
Sharp RJ63YC100
module can be ordered for
12000 Yen
and the shipping starts immediately. The shipping of volume units will start from January 10, 2012.