Sansui has recently launched two new Phones with a Pocket Friendly Price Tag under the "S" Series. The recently launched Dual-SIM Phones have been named as S23 and S30 by Sansui.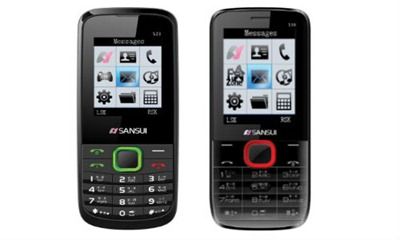 Sansui S23 sports a 1.8-inch Display Screen and has been fuelled up with a 1000mAh Battery. Whereas, Sansui S30 has been complemented with a 2.2-inch Display Screen and has got its power supplied from a 1800mAh Battery.]
Sansui S23 as well Sansui S30 includes FM Radio, LED Torch, Bluetooth, High Quality Sound as its features. Both the Mobile handsets pack a 0.3MP Camera on their Rear Side.
Sansui S23 and Sansui S30 offer their users to store Photos, Music, Videos and plenty of stuff within themselves along with their External Memory Expansion features up to 8GB via Micro SD Card. These phones under the lying under the S-series also exhibit Video Playback and Video Recording features along with FM radio Recording support.
Sansui S23 and Sansui S30 have been priced at Rs.1100 and Rs.1290 respectively.