SanDisk Corporation, the global leader in flash memory storage solutions announced the innovative iNAND Ultra™ embedded flash memory. This is to be built on world's most advanced 19nm process technology and delivers storage capacities from 8GB to 64GB in tiny footprint for tablets, smartphones and other consumer electronic equipments. The iNAND Ultra line of products were the first in the world to move to 19nm (nanometer) manufacturing technology. This allows the equipment manufacturers to design slim and most powerful mobile devices. Also, this provides consumers the ability to enjoy storing more content in their pocketable devices.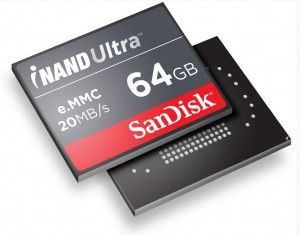 According to the company, the iNAND Ultra solutions were enjoyed by leading mobile device makers around the world. The e.MMC™ (standards-based embedded mobile interface) devices built on SanDisk's 19nm technology will use the company's two-bit per cell technology-SanDisk's tenth generation of multi-level cell products. With the 64Gb of storage capacity chip designed in 11.5mm x 13mm x 1mm size will certainly attract the OEM's (Original-Equipment-Manufacturers) and at in-turn they can introduce devices much sleeker. The new product line (SanDisk iNAND™, iNAND Ultra and iNAND Extreme™ products) feature up to 20 MBPS sequential write and up to 80MB/sec sequential read performance for faster file transfers.

"The iNAND Ultra products will be the first of our three iNAND embedded flash memory families to migrate to leading-edge 19nm process technology in 2012," said Amir Lehr, vice president, Embedded Memory Business. "SanDisk's advanced manufacturing and packaging expertise allows us to support increased storage capacities and smaller device footprint requirements to meet the growing demand for sleeker, more feature rich mobile devices." SanDisk's iNAND Ultra products will initially be made available in 8GB to 64GB of capacity. The samples can be expected by customers (OEM's) in the first quarter of 2012 and volume production will begin in second quarter 2012.