Samsung has again let the wonder about the new Screen with flexibility features it has showcased at the Consumer Electronics Show 2013 ongoing at Las Vegas. The Youm is a Display screen with flexibility features that could bend up to an extent.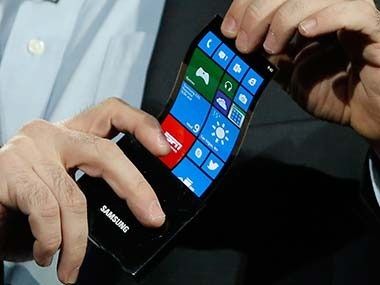 Samsung has displayed a Phone at the CES 2013 that consisted of a small box sized tough enclosure along with a Coloured Screen as thin as a paper attached to an end. Samsung has given a hint towards a day in future when we will be able to fold our big sized Gadgets to make them fit inside our Pocket as we do with our handkerchiefs.
The demonstrated Screen Youm, did not appear enough flexible to be folded into half like a handkerchief but it could be bended like a Tube.
Samsung informed that the Flexible Screen uses diodes which emit light or OLEDs. There is only the requirement of a thin layer of any of these material in order to produce a Screen which bears a Bright Colourful Resolution.
The Company has already used the concept in many of its Devices with glass screens earlier but now to produce a device with flexible Screen Samsung has used the same combinations of Chemicals along with a thin Plastic Screen.
The Concept of Flexible Screens has been in the talks since a long time now. But it seems that Samsung along with Youm is looking forward to materialise the Concept.
However at the CES 2013 Samsung did not inform anything regarding the time when the Gadgets exhibiting Youm Display Features could be made available for the Customers by the Company.