The South Korean tech giant, Samsung is reportedly planning to release a smartphone in 2014 with three-sided wrapped around display, the Bloomberg reports. The three-sided display will wrap around the edges of the phone, allowing the users to read the messages and notifications from an angle. No specific launch date has been set yet, but the sources close to Bloomberg said the phone will be released in the second half of 2014.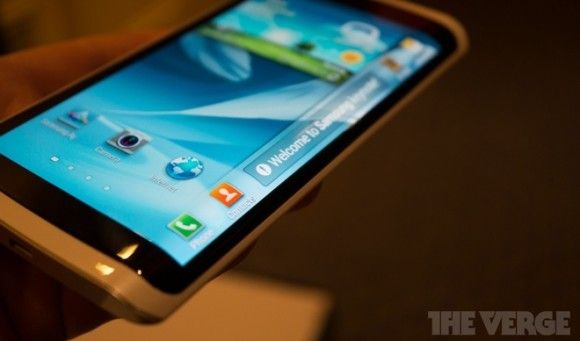 According to the report, the phone will apparently incorporate a screen that wraps around the phone, which will offer three independent displays to the user. Samsung is going to use an upgraded version of its Youm technology, which is powering the
Samsung Galaxy Round
that is curved along the horizontal axis. But, the Samsung Galaxy Round is just the first step and company is planning to release more devices with bendable and foldable screens next year.
The report by Bloomberg was later confirmed by a patent application filed by Samsung, which explains the same phone's design has appeared on USPTO website. This application from the tech giant was actually filed in May this year and was published only a few days back on the website for patents. In related news, Apple is also reported to launch two large screen iPhone devices next year with curved displays. However, report on these devices made no suggestion if these phones will be having more than a single display. Anyways, the future is right here and we are surely going to find some amusing pieces of tech next year, so if you are a gadget enthusiast, stay tuned for more updates.
Via