Samsung hosted its premier event yesterday in Earls Court exhibition center, London at 2PM ET (11:30 IST). Through the event banner, Samsung had already hinted that its all about Galaxy and ATIV series. While the Galaxy series is all about Android, Samsung has been launching the Windows OS powered product under ATIV series from quite a few years. There were a loads of rumors about the Samsung to launch the next version of Note, Galaxy camera and some more variants of Samsung Galaxy S4 (e.g. Active, Zoom etc). What all happened and what not, get a glimpse of the event here and find out your self.
Samsung kicked off the show with a video flaunting how Samsung is focused on simplifying and improving lives using technology. The stage was then taken over by Dr Lee, president, Samsung IT/Mobile division, who thanked the world for a great response to Samsung Galaxy S4. Dr Lee also announced that the Samsung Galaxy S4 range is now complete with the launch of Samsung Galaxy S4 Mini, Active and Zoom, which means we are not going to see any more launches in the Samsung Galaxy S4 series. The company then recapped some features of the Samsung Galaxy S4 series. Which was followed by the launch of new products.
Samsung Galaxy NX
As rumored, Samsung announce the first mirrorless camera powered by Android, 4G capable and compatible with Interchangeable lens already available for the Samsung NX camera series. Samsung Galaxy NX sports a 20.3 MP APS-C CMOS sensor and runs on Android 4.2.2 Jellybean OS. The camera is powered by 1.6 GHz Quad core processor and flaunts a 4.8 inch HD TFT LCD Display. It has a maximum shutter speed of 1/6000 and features some smart camera features like smart presets, smart mode etc.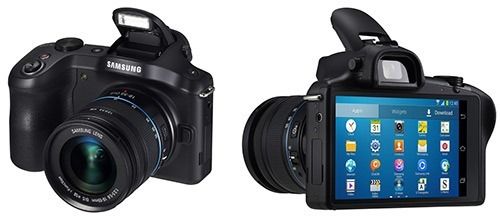 4.8 inch TFT LCD Display
20.3 MP CMOS Camera
Interchangeable lens
1.6 GHz Quad core processor
Max Shutter speed of 1/6000
Smart Mode, Auto preset etc
Samsung ATIV Q and ATIV Tab 3
The stage was then taken over by Patrick Povel, head of ATIV series marketing who introduced the audience with the new members of ATIV family. The first member with a detailed introduction was the convertible ATIV Q tablet. The Samsung ATIV Q is 13.3-inched tablet-laptop hybrid device which runs both Windows 8 and Android Jelly Bean. A button on the front helps you switch the device from Android to Windows and Vice versa. What more, you can even place shortcuts to your Android apps on the Windows screen. Quick list of specification goes as below: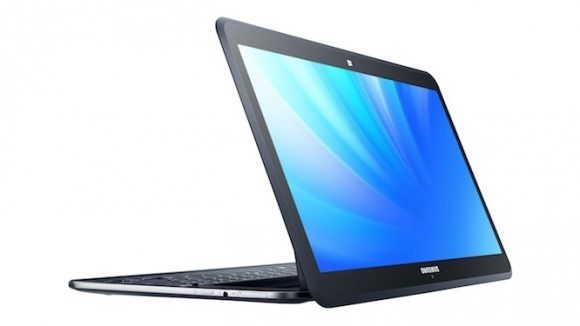 13.3-inch, 3200 x 1800 Pixels qHD, 275 ppi display
Intel Haswell CPU
S-Pen
9 hours battery life
Integrates a physical keyboard beneath the display
Next device on the board was Samsung ATIV Tab 3 which looks like a Windows version of Samsung Galaxy Tab 3. This 10.1 inch device runs Windows 8 and packs a Clover Trail+ processor.
Samsung ATIV Book 9 Plus, ATIV Book 9 Lite and One 5
The launch of tablets were followed by the introduction of some computers in the ATIV series. First of the bunch was the Samsung ATIV 9 plus, an awesome looking high-res Ultrabook. This 13 inch machine is just 13.6 mm thin and weighs a mere 3.06 pounds. As expected, it is powered by Intel Haswell processor and can deliver a battery back up of 12 hours .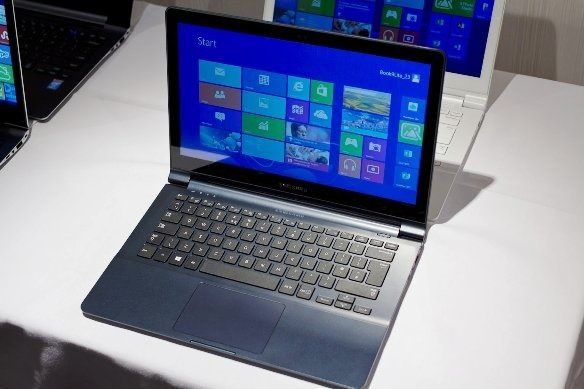 On the other hand, Samsung ATIV 9 lite is an affordable sibling of the ATIV 9 plus packed in plastic case. Its also a bit thicker at 17 mm and weigh a bit more at 3.17 ponds in comparison to the pricier sibling. Disappointingly, it features a low resolution limited at a mere 1366×768 pixels. The device is powered by Samsung's custom Quad core processor, packs 256MB flash based memory and runs the full version of Windows 8.
Samsung ended the show with the launch of an All In One named Samsung One 5 Style. Sporting a 21.5-inch, 1920×1080-pixel, screen, this AIO runs on AMD A6 Quad Core Processor supported by 4GB of Ram and 1 TB of storage capacity.
At the end:
All we can say is, where the heck is Galaxy Note 3

.