Update: Samsung Mobiles has confirmed that Galaxy S would get Gingerbread upgrade.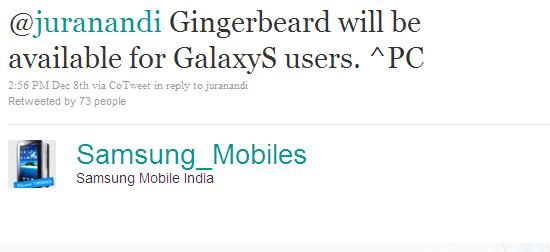 Since the launch of Gingerbread, Samsung Galaxy S handset owners have been eagerly waiting to know when they can expect Gingerbread upgrade to their beloved handsets. Pocket-Link had asked Samsung and
Samsung replied back
with the following comment. "In case a new version of Android operating system is publicly announced and released, Samsung will review the possibility of implementation of such new version to the existing Samsung products with Android operating system ("Update"). Such a review will be based on various factors including, without limitation, the overall effect of such Update to Samsung products, the system requirements, the structural limitations, and the level of cooperation from the component suppliers and the software licensors. If Samsung decides to make the Update available to the users after such consideration, Samsung will use its efforts to develop such Update, which may be released to the users upon successful completion of such development" So, this is in line with our fears expressed in our previous post. The Android OS upgrade is completely at the discretion of Manufacturers! Even the likes of Samsung Galaxy S with enough hardware capabilities to accommodate Gingerbread will take long to roll out OS upgrade because there are too many things to take care..!