Samsung has launched cheaper, Wi-Fi only digital cameras similar to the the Samsung Galaxy Camera.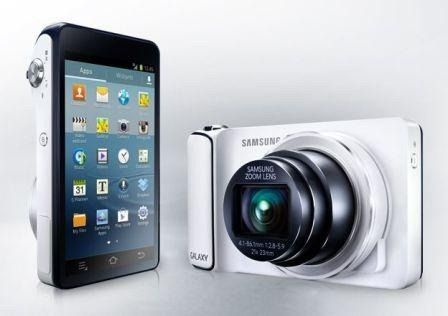 The Samsung Galaxy Camera was the first device of its kind which is built on the Android 4.1 JellyBean platform and has a touchscreen display and offers mobile broadband connectivity features.
Now the Korean Giant has taken a step back and launched low cost digicam devices that will offer all the features of the Galaxy Camera, minus the 3G/ 4G mobile broadband connectivity feature.
The Galaxy Camera has a 16.3MP resolution with a 21x optical zoom, focal range equivalent to 23-483 mm and built-in optical image stabilization. It allows video recording at 1080 pixels.
The Galaxy Camera has a 4.8-inch HD Super Clear LCD (TFT) capacitive touchscreen display with resolution of 720 x 1280 pixels. It is powered by a 1.4 GHz quad core processor with 1GB of RAM. It has 4GB Internal Memory that is expandable up to 64 GB via micro SD card.
Connectivity options on this device include 3G, 4G LTE, Micro SIM, Bluetooth, Wi-Fi, Wi-Fi Hotspot, GPS with A-GPS & GLONASS. It has a 1650 Li-Ion mAh battery. The new range of camera will of course come minus the 3G and 4G options.
The camera comes preloaded with apps such as YouTube, Maps, Talk, Places, Chrome, and the Play Store.
The major drawback of course, is that users need to be in WI-Fi zones to connect to the internet and share their photographs. However, if price is your big concern, the new device is a perfect pick at a lower price and with all the great features of a Samsung Galaxy smartphone and more.