Samsung India has launched a new range of smart TVs in Bangalore on Tuesday. The company's Senior Vice President, Mahesh Krishnan, Consumer Electronics announced 22 new models of televisions in this range. He also added that the TVs will have interactive features which the users could utilize to browse the internet.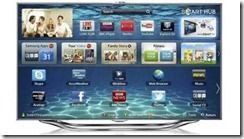 The company will sell an "Evolution Kit", that will be priced at Rs. 17,000, to enable users to update the software and hardware features on select models. The company claimed that the Kit would allow the user to better utilize the processing power of the television. nearly 1000 apps have been developed on the Linux platform to enable seamless transfer of content from mobile devices to the TV and also to allow the television to connect with the social media.
A new Joy range of "Made for India TVs" were also on display at the event which the company said was designed and developed at Samsung's development centers at Bangalore and Noida. Also, an 85-inch Ultra HD TV was unveiled that will be launched later this year.
The Smart series TVs will be priced in the range of Rs. 37,900 to Rs. 3.68 lakhs and the Plasma range will be priced between Rs. 35,500 to Rs. 2.09 lakhs. The smart TVs will come in screen sizes ranging from 32-inch to 65-inches and have been 'tropicalized' to suit the Indian electrical conditions with Triple Protector feature to protect the TV against electrical surges, lightning and humidity.