Samsung is strengthening its mobile portfolio from all the sides. At one side its continuously launching high-end powerful mobile phones, on the other side the company is not loosing its pace in entry level phones as well. Adding to its portfolio Samsung today unveiled three new Dual SIM handsets:
Samsung Star Duos GT-B7722
Guru Dual 25 (GT-E1225)
Guru Dual 26 (GT-E1252)
"The Dual-SIM market continues to be a strong focus area for us. We're looking at enhancing our presence in this segment through Innovation and excellence. The new product line up is an example of the same. Samsung's Dual – SIM offerings range from Duos, Dual – SIM Active Touch, standby and Dual – SIM shift advantage thereby giving consumers a wider choice in economical operator tariff plans and product benefits." Ranjit Yadav, Director- Mobile & IT, Samsung Electronics commented on the occasion.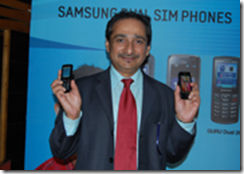 First of the series
Samsung Star Duos GT-B7722
is India's first 3G and 2G touch Dual-Sim Active phone. The phone allows switching between two different 2G & 3G sim cards seamlessly without restarting the handset. The phone has dedicated widgets to manage switching between both the SIM cards. It also features business and SNS tools like Active Sync (for email), Document viewer, multi–language dictionary and offline mode which allows the user to turn off the mobile while he continues to work on other functions. Now comes some pleasant surprises. The Star Duos sports a 5 Mega Pixel camera with LED flash and supports Wi-Fi too. The phone is priced aptly at Rs12,300. Another mobile
Samsung Guru Dual 25
sports a 1.8 inch QQVGA TFT screen and is equipped with a 3.5mm earphone jack. It also has a 800mAh battery with a rated talk time of up to 9 hours. It comes with a price tag of Rs2,020.
Samsung Guru Dual 26
has a 2-inch QQVGA 262K TFT LCD screen and is priced at Rs2,020. Both the handsets are equipped with games, mobile prayer, Indian calendar, 40 poly ring tones, SOS message and Bike mode features.