If the latest patent graphics are to be believed, Android users may soon experience new ways of handling folders on upcoming Galaxy mobiles. The new patent pictures reveals the ideas of stacking of icons over one another, pop up windows of folders, scrolling through folder items in vertical scroll-able menu and many more cool stuffs.
This patent graphic hints a feature where you can make a group of icons by stacking folders in a parallelogram shape. Afterwards, when you try to reach an icon, the stack can itself be dragged in a vertical form instead of opening the folder on a full screen. The another graphic represents a scroll-able vertical popup window to navigate through the group of icons. Interesting, isn't it!!!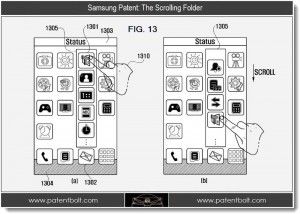 Though the existing user interface of Android features the folders facility but its folder icons does not give an idea of its content. For an unorganized user (like me), it becomes a cumbersome task to organize the icons in the folders and then keep searching afterwards. Seems the recent patent infringement cases thrown by Apple has motivated Samsung engineers to look out for new innovations. Once implemented, these features will certainly add some useful value to the forthcoming Android phones. What do you think of this idea, let us know through comments.