"The Tizen-powered Samsung Galaxy Gear S looks like a stylish and loaded wearable"
The wearables space is getting more crowded by the minute and each day brings more options. Samsung isn't new to the game however, and now offers quite a few options via its Gear range, including the Android Wear-toting Gear Live smartwatch.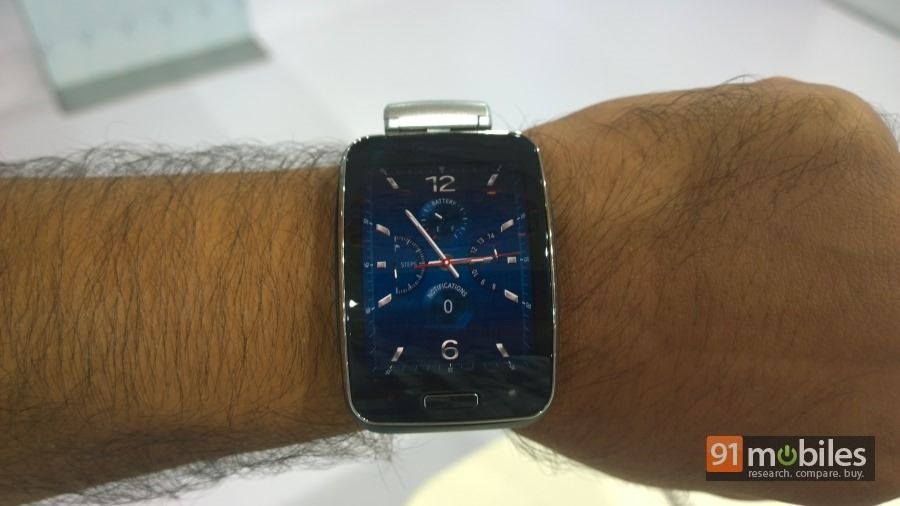 Sharing the launch dais today at the Indian launch of the Galaxy Note 4 (first Impressions) phablet was the new Gear S, a smartwatch-cum-phone that runs Tizen and with its curved display, looks very stylish too. There's no dearth of features and capabilities, and we got our hands on (rather, the device on our wrist) for a few minutes to check it out up close. Here's what we think.
Let's get this straight – we love curves. Before you let your imagination run wild though, we're referring to curvy designs on gadgets, and we'd prefer them any day over blocky shapes some devices feature. The curved 2-inch Super AMOLED screen on the Gear S does pique our interest quite a bit then, and makes the wearable look gorgeous. Rather than just being a typical smartwatch that depends on a paired smartphone to work, the Gear S can actually be used standalone thanks to a nano-SIM slot. And by that, we mean you can actually use it like a proper smartphone for calling and messaging – there's even a virtual onscreen QWERTY keyboard to input text. Apart from the usual Bluetooth, Wi-Fi and 3G are also available as connectivity options.
Features-wise, there's a lot on offer. The built-in GPS means you can just leave your smartphone at home and let the Gear S monitor your tracks as you go for a run. The GPS also enables turn-by-turn pedestrian navigation powered by HERE maps. There's a heart rate monitor for measuring heart rate too. In fact, it's crammed with health-related features like a pedometer and the Nike+ app too. The other included sensors cover an accelerometer, gyroscope, compass, ambient light, UV and a barometer.
Other features include a music player, a news service powered by The Financial Times, weather updates and calendar. Many functions can be controlled using speech too, thanks to the pre-loaded S Voice app.
The Gear S encircles your wrist using a strap that features a clasp mechanism for locking. There's scope for customisation as well, as the strap is changeable and Samsung is making quite a few options available in different colours and styles, including a chic Swarovski-studded one.
The IP67-certified device is dust- and water-resistant, and is powered by a dual-core 1GHz processor along with 512MB of RAM and 4GB storage. A 300mAh battery fuels the device. Our time with the Gear S was rather limited, but hopefully, we'll get to review it soon and figure out whether it works as advertised on not.