Separating your personal life from work is a condition precedent for peace and effectual relaxation. It is for this reason that numerous big players offer dual SIM features for Smartphone's and even entry level basic phones. Mobile networks today offer rates and schemes competitively, where one is a plus the other is a wallet chewer. Getting the best of both will be of best use to users, and so using two SIM's from different mobile network service providers is the most ideal. Samsung has for a long time been manufacturer of this personal life and work life delineating technology. Now the Company specializing in digital media and digital convergence has released its latest couple of dual-SIM phones called the Samsung Galaxy Y Duos and the Samsung Galaxy Y Pro Duos.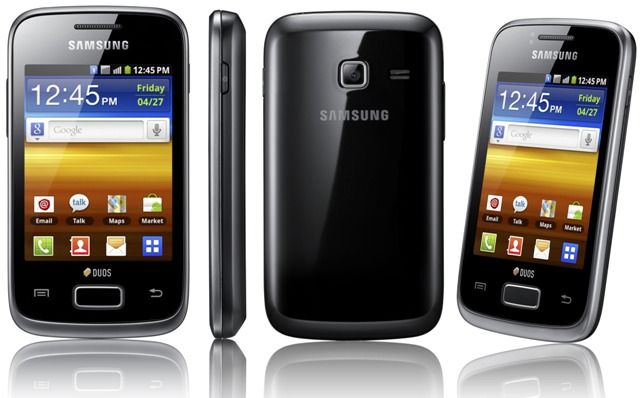 The Galaxy Y Duos has a rather small a 3.14-inch QVGA display screen having a resolution of 243 x 320 pixels. This is a touchscreen, display and is on the more resistant side. The Galaxy Y Duos also has HSDPA modem, and works on an 832MHz processor which runs the TouchWiz with Gingerbread experience. I t has only one back camera which is three megapixels, which means you wont get any fantastic imagery, however even low pixel cameras can render clarity when taken under proper lighting. Sometimes, less detail is more. The Galaxy Y Duos has microSD storage through which you can increase your storage capacity to 32GB. The Galaxy Y Pro Duos also has the same features mentioned above, like the HSDP modem, 3 megapixel camera, microSD slot for bumping up the memory capacity of the device to 32GB, TouchWiz with Gingerbread and the 832MHz processor. The difference between the Galaxy Y Duos and Galaxy Y Pro Duos is that the latter has a much 2.6-inch LQVGA TFT screen. The shrinking down of the display is to accommodate the physical keyboard below, so you have touch and type. Samsung has gone global with these two new Dual SIM featuring models and was made available from January in Europe, Russia, Latin America, Asia, Africa and China.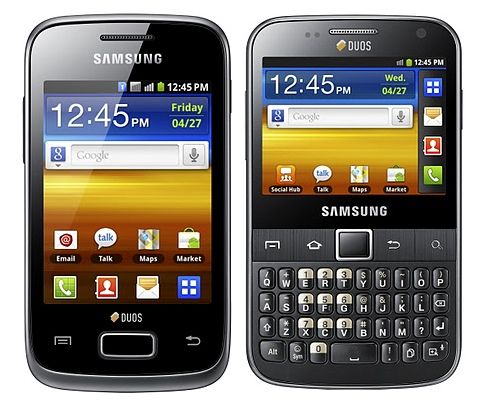 The Galaxy Y Duos and the Galaxy Y Pro Duos were both first announced in the official press release on December 22, 2011 in Seoul Korea. These two phones will sit amongst the Samsung Galaxy smartphone range of devices, possibly in the lower rung, in terms of specification and pricing as this s made to be an economical and budget friendly addition with the benefit of efficiency and practicality. With the Dual SIM capacity you can also diversify and separate your information stored on each SIM. This helps to keep better track of your personal date in a more clear and easy way. It also works to allow you to filter out work calls at non-office hours by turning on flight mode. JK Shin, President of IT and Mobile Communications Division of Samsung Electronics remarked prior to the release of the Galaxy Y Duos and the Galaxy Pro Duos. "With the increasingly tremendous success of the Dual SIM feature phones, Samsung is particularly happy and very pleased to be introducing the first Dual SIM Smartphone's powered by Android. We have been actively exploring this market especially in the recent months and have always been aware of the need to bring in a Dual SIM Smartphone's," Mr. JK Shin continued to say, "With these two new latest dual SIM offering phones namely the GALAXY Y DUOS and the GALAXY Y Pro DUOS, Samsung will be offering more choices for all consumers to opt for depending on their needs and criterion."
The Samsung Galaxy Y Duos is the appropriate phone for budget users or even as a secondary phone for people who want functionality with basic features. The phone is efficient in helping the user sort out various aspects like social life from work life. The phone is also designed to appeal to the younger generation. It looks like a phone of today, and in keeping with the latest styles of combining sleek and light weight. This phone is highly affordable and since it works on Android the argument is all the more in its favor. The device is sturdy made of good quality 11.98 mm polished metal body that does not feel cheap. The phone has a nice shiny encasing which along with the all-touch screen display completes the look. Despite the size of the screen, the contents on the display can easily be read without any strain. The display does well even under sunlight, offering less reflection. Apart from these features the Galaxy Y Duos also enriches the experience with social features like ChatOn which is a prompt cross-platform messenger type communication service that brings in colorful and fun features and a good outlay. The user can additionally remain connected to loved ones across platforms through Social Hub which integrates emails, social network and instant messaging notifications in one place, so you don't have to keep multiple applications open and don't have to go back and forth.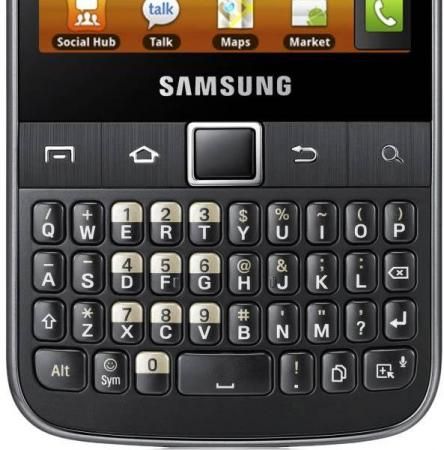 The Galaxy Y Pro is the Company's first smartphone to provide dual SIM features along with a QWERTY keypad. This interesting combination makes it easy to communicate and to type documents like emails and word documents containing large characters. Hence, this phone acts like a work oriented phone too. The size of the screen does not compromise its readability and documents and other information found browsing the internet can easily be read. Since this phone also packs in all the features of the Galaxy Y Duos, it too offers flexibility. The Galaxy Y Pro Duos also provides utility based features like Polaris. Polaris is an Office based application that offers your standard Office document requirements like Microsoft Word, Excel, PowerPoint and PDF files. You can also create and edit documents using Polaris. Find My Mobile Service is an added boon for users. Through this users can remotely lock the phone at anytime, as well as trace the phone or remotely wipe its contents in case of loss or theft. Social Hub Premium is available where integration of Social networking messages and emails and synchronization between the phone and users' Google, Yahoo and MSN accounts is made available. Both these phones satisfy the requirements of any smartphone with the addition of special features that add to the usefulness as well as value for money aspect.