Samsung does not leave any audience unattended to. They have been launching all possible kind of handsets and smartphones across the globe. Dual-SIM, Dual-core smartphones, Android smartphone, windows smartphone, full-qwerty..you name it. But so far Samsung did not have a single rugged smartphone in its arsenal. Samsung seems to have this uncanny ability to spot successful models, to copy-cat the same and to give it in a different flavour. No wonder Apple is after Samsung. Motorola Defy was a long-standing successful rugged smartphone. Samsung wants to have a foot on that market segment too – rugged smartphone segment. So, Samsung announces it's first water-proof, dust-proof and scratch-proof smartphone called Galaxy XCover ala Motorola Defy.
Pictures of Samsung Galaxy Xcover to the left and Motorola Defy to the right – very sure we are not the only one seeing very close similarities between these handsets.
Anyway, coming back to the specifications part, Galaxy Xcover offers lot of meat – Android Gingerbread OS, 3.2 MP rear-facing camera, 3.6 inch scratch-resistant touchscreen display, 7.2mbps HSDPA 3G and IP67 certification for the ruggedness. Apart from this, there is no further information about what kind of processor is being used, what kind of RAM is available, what kind of display screen is employed and host of other things. So, we will have to wait to get further official information from Samsung. Motorola Defy was launched in October 2010 and runs on Android 2.1, sports 5MP camera, 3.7 inch scratch-resistant display, 7.2 mbps 3G, IP67 certified and is being sold for Rs. 13,999 in India. Except for the operating system, there is literally no further difference as of now. Ofcourse, keeping in mind the requirements for gingerbread the processor and RAM should be superior to that of Defy. While we await the information of specs and price, do you think Samsung is trying to imitate too many things and not coming up with original stuff unlike Motorola, HTC or Apple?
What is IP67 Certified? IP stands for 'Ingress Protection'. IP number is used for specifying the environmental protection for enclosures around electronic equipments. The IP number is generally comprised of 2 numbers. The first number denotes the protection against solid objects such as dirt, dust, etc., and the second number denotes the protection level against liquid objects such as water. 6 denotes the object is totally protected against dust. Highest possible number. 7 denotes that the object is protected against the effect of immersion between 15cm and upto 1 meters in depth. The highest number is 8 which protects the object for long periods of immersion under pressure. – Source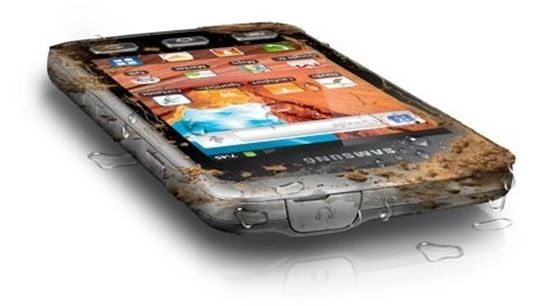 Official Press Release
Water-resistant case meets social networking and Android ™ 2.3: The Samsung Galaxy Xcover
Tuesday, 9 August 2011

The combination of protective housing with IP67 certification, scratch-resistant touch screen display, Android and Samsung Social Hub ™ 2.3 makes the Samsung Galaxy Xcover the ideal device for users with an active lifestyle
Schwalbach / Ts., 9 August 2011 – With the Galaxy Xcover Samsung expands its range of rugged mobile phones for outdoor use. The device combines outdoor skills with the ability of a powerful smartphone.
Whether water, dust or hard surfaces: the Samsung Galaxy Xcover is well prepared against harmful environmental influences. This IP67 certified enclosure protects the unit against dust and dirt there. In addition, the Samsung Galaxy Xcover to a depth of one meter for a period is waterproof up to half an hour. The touch-screen display with a diagonal measurement of 9.27 cm is made of scratch-resistant tempered glass. The 3.2-megapixel camera of the Samsung Galaxy Xcover is supported by an LED photo light, which can be used when needed as a flashlight or signal light.
Smart through social networking apps and running the Samsung Galaxy Xcover with the Android ™ 2.3 platform and is using apps ideally suit her personal needs. Provide wireless connectivity for fast n-standard, and an HSDPA connection with a transfer rate of up to 7.2 Mbit / s.
The Samsung Galaxy Xcover is available from October in the trade.