Samsung on Friday announced the availability of Galaxy Tab in the UK stores from November 1, but exact pricing for UK stores has not been disclosed yet. Samsung said the Galaxy Tab will be available on a range of attractive price packages which will be as widely accessible as possible to all consumers, but declined to elaborate.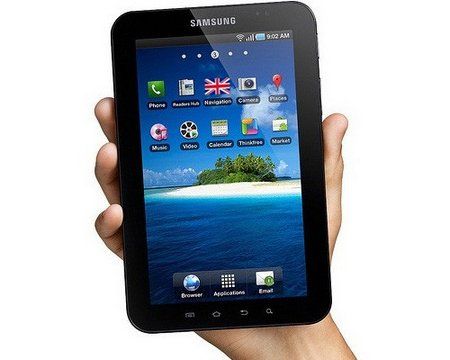 Samsung Galaxy Tab Specification:
7-inch tablet
Android 2.2 (Froyo)
Sporting a TFT-LCD display
3-megapixel camera
Front 1.3-megapixel camera for video chats
1 GHz processor
512 MB RAM
16/32 GB of internal momery
MicroSD card
The Galaxy Tab will be sold at retailers like Carphone Warehouse, Dixons Store Group, and T-Mobile stores, Samsung said in a statement. Samsung added two weeks ago that the tablet will be coming to all four national wireless carriers in the U.S., but in terms of a release date, said only that it will be available here in the coming months. Press Release
SAMSUNG ANNOUNCES UK AVAILABILITY OF GALAXY TAB Android tablet device to hit the shops on 1st November 2010 London, UK, October 1st, 2010 – Following last month's global launch at IFA, Samsung Mobile today announces the Samsung Galaxy Tab (GT-P1000), will be available in UK stores from Monday 1st November. Representing a new category of mobile products for the company, the Galaxy Tab features a 1GHz processor, Google's Android 2.2, Froyo operating system, a front facing camera for video calls and a 7-inch TFT-LCD display. It can be used for everything from watching films and TV, viewing pictures, reading e-books and sharing documents, to talking to friends and colleagues via voice and video call, e-mail, instant messaging, SMS/MMS or social networking. The light (380g) weight of the Samsung Galaxy Tab means it is extremely portable, with its dimensions easy to grip and use, it is perfectly sized for life on the go. Supporting the latest Adobe Flash Player 10.1, the device allows people to quickly and easily surf and view pages on the internet. The 'Readers Hub,' Samsung's unique e-reading application, provides easy access to a digital library, featuring everything from classical literature to the latest bestsellers and reference materials. In turn, films, videos and music are available via 'Media Hub' and 'Music Hub' applications, whilst all personal contact details, e-mail, calendar, social networking and instant messenger accounts, can be combined in the 'Social Hub'. Simon Stanford, Managing Director, Mobile, Samsung UK and Ireland said: "At Samsung we recognise consumers want to experience life without limits. The Samsung Galaxy Tab brings a very unique proposition to the tablet market and from 1st November, gives consumers the ultimate in connectivity and portability that they have been waiting for. It can be enjoyed by anyone – commuters, students, parents, businesses – who want to experience a complete range of entertainment, whether that be watching movies, listening to music, reading newspapers, or simply making a phone call plus much more besides." The Samsung Galaxy Tab will be available in the UK across all major networks, key high street and out of town electrical retailers and online such as Carphone Warehouse, Dixons Store Group and T-Mobile. The Galaxy Tab will be available on a range of attractive price packages, making it as widely accessible as possible to all consumers.