"The Samsung Galaxy Tab S 8.4 looks like a formidable rival to the iPad. We put it to the test in our review."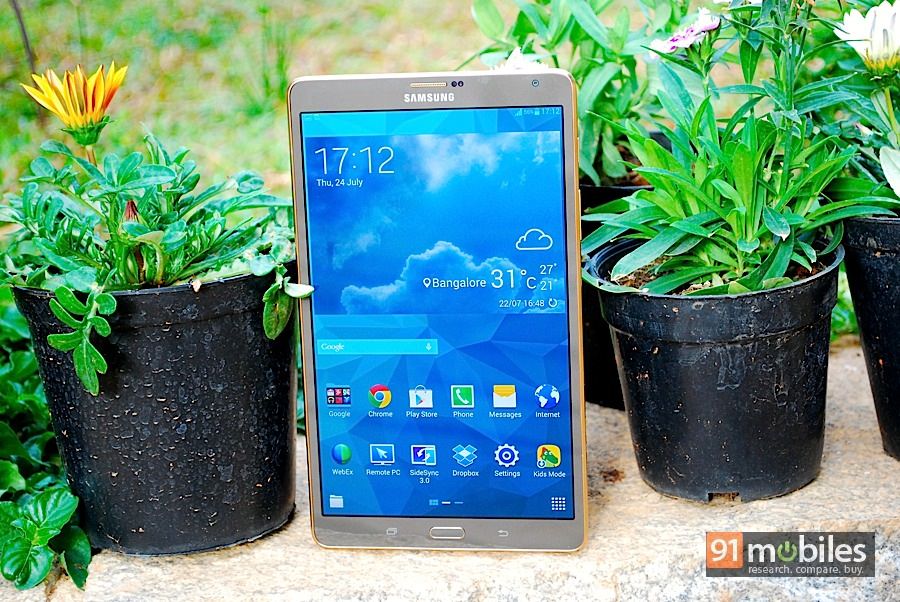 One area where iOS has a definite edge over Android is in the tablet space. Quality hardware aside, iPads also have the support of an app ecosystem that offers plenty of choice for larger displays. While Android OEMs have been churning out new tablet launches every other day, they mostly fall into the mid-range to budget segment, which is fine for most users, but leaves little choice for those who want a premium tablet experience.
One of the leading contenders in the tablet domain is Samsung, a brand which has been consistently updating its tablet line-up since 2010. The one that started it all, the Galaxy Tab, is now in its fourth edition, which is a testament to its popularity. For the more creative types, the Note 10.1 (review) tablets are a great choice, marrying the S Pen's brilliant stylus input with a stunning display and an Exynos 5 Octa chip. Then there are the tablets targeted at professionals, the Note Pro 12.2 (review) and the Galaxy Tab Pro range. So it doesn't come as a shocker that Samsung should be the one to launch a tablet that could potentially knock the iPad off the top slot. The Samsung Galaxy Tab S is loaded with extras, both on the hardware and software front. Available in 10.5-inch and 8.4-inch sizes, the two variants are mostly identical, except for screen size and battery. We've been testing the 8.4-inch model for the last week, and here's our review.
Specs At A Glance
8.4-inch, 2,560 x 1,600 pixel display

8MP primary camera, 2MP front shooter

Exynos 5 Octa processor (1.9Ghz quad-core + 1.3GHz quad-core)

Mali T628-MP6 graphics
3GB RAM, 16GB expandable internal storage
4,900mAh battery
LTE, Wi-Fi, Wi-Fi Direct, Bluetooth 4.0, GPS, MHL
Android 4.4.2 KitKat with TouchWiz
Plastic can be sexy

At first glance, it's quite evident that the Galaxy Tab S is a companion slate to the Galaxy S5. It features the same dimpled back panel, although in this case the dots are more spread out and don't create the 'band-aid' effect the Galaxy S5 has been criticised for. Our unit came in Titanium Bronze, but you can also opt for the Pearl White variant. Both colours feature a brushed-metal gold trim around the edges, which looks very elegant, even though it's made of plastic.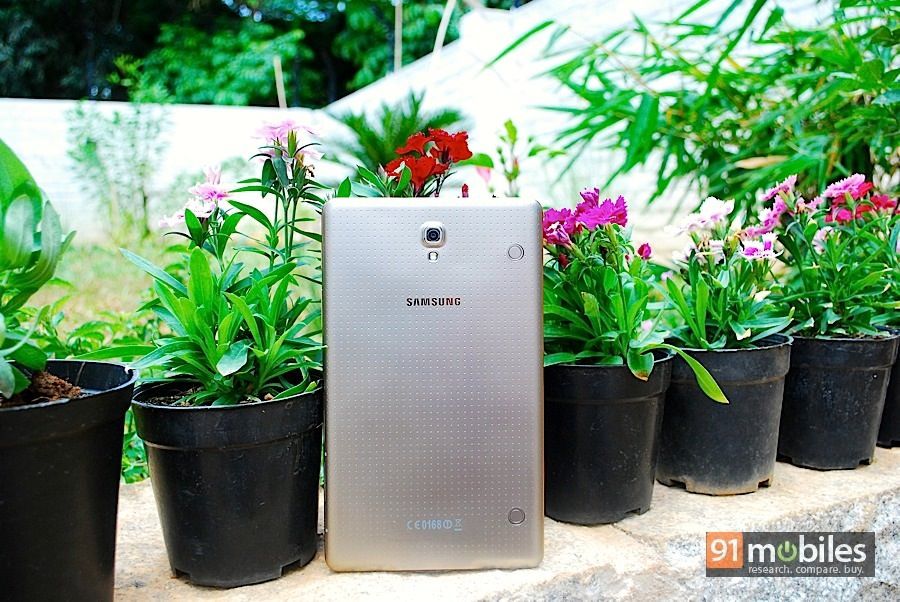 Pick up the tablet and you'll immediately notice how scrawny it is. Measuring just 6.6mm, it outclasses even the iPad Air, which looks positively flabby in comparison at 7.5mm. The only tablet that's thinner than the Tab S is the Sony Xperia Tablet Z2 (first impressions), which shaves a few fractions off to measure 6.4mm.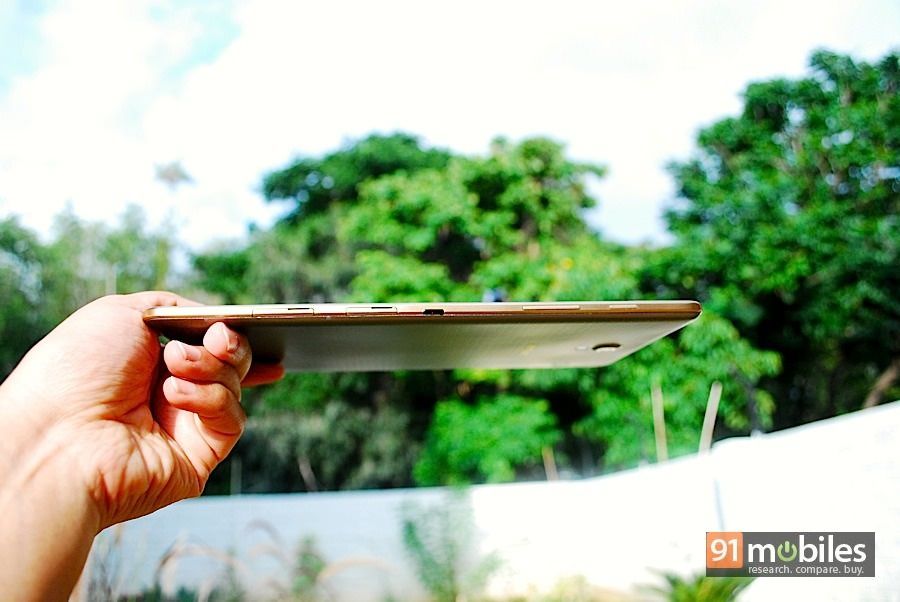 Despite its premium looks, the Tab S is a testament to Samsung's stubborn refusal to adopt any material other than plastic. It's not all that bad though, because the plastic is of a superior quality, and also contributes to its featherlight weight of 298g.
Unlike the 10.5-inch variant, the Tab S 8.4 is more oriented towards being used in portrait mode. It features narrow bezels on the top and bottom. Above the display, you'll find the usual placement of the sensors, front camera, and earpiece. At the bottom are two Android capacitive backlit keys, with a a physical home button in the center that incorporates a fingerprint sensor, as seen on the Galaxy S5. Coming to the port placement, the bottom edge features the micro-USB port, 3.5mm audio jack, primary microphone and loudspeaker grille. The top features a second loudspeaker and secondary microphone. The left spine is bare, but the right is fairly crowded. There's a power button and volume rocker near the top, microSD card slot and micro-SIM card slot concealed behind tiny flaps at the bottom, and an IR Blaster in between.
The dotted back panel is where you'll find the primary camera and flash at top centre. You'll also notice two circles on the left side, which depress when you apply pressure. These are what Samsung calls 'simple clickers', and are meant to attach the optional cases for the Tab S. Unfortunately, Samsung didn't send us the covers, so we can't comment on how well they work.
While the display remained unscathed throughout our testing period, we can't say the same for the back panel, which already had a few nicks when it arrived. There were a few more scratches added by the time we finished testing it. We'd advise using it with a protective case, because it isn't going to look as pretty when the shine starts wearing off.
Stunning is an understatement
There are displays, and there's the display on the Galaxy Tab S. While the iPad's Retina display is excellent, the one on the Tab S is a force to be reckoned with. With a resolution of 2,560 x 1,600 pixels, the pixel density you get on the 8.4-inch tablet is an impressive 360ppi. But it's not just the pixel count that contributes to its brilliance, it's also the Super AMOLED technology, which is the first we've seen on Sammy's tablets.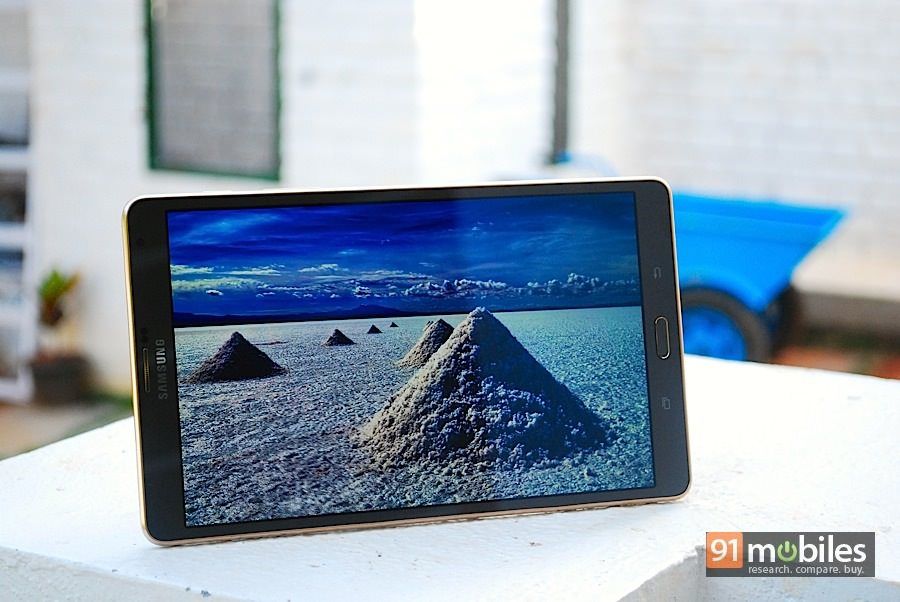 Samsung's AMOLED screens have been around on its smartphones for eons, but on a tablet it's a whole new ballgame. Colours literally pop and come to life, and the brightness can make your eyes hurt if you don't tone it down. Our only complaint was that the colours appear oversaturated. Samsung's also included a feature called Adaptive Display that adjusts the colour range, saturation and sharpness based on the ambient light in the room. You can either choose to leave the setting on auto, or manually select AMOLED Cinema, AMOLED Photo or Basic. Turn it down to basic and it feels like someone ruined the party.
We had no complaints with screen responsiveness, and if you dig deep in settings, you'll find a glove mode option too.
A tablet snapper that delivers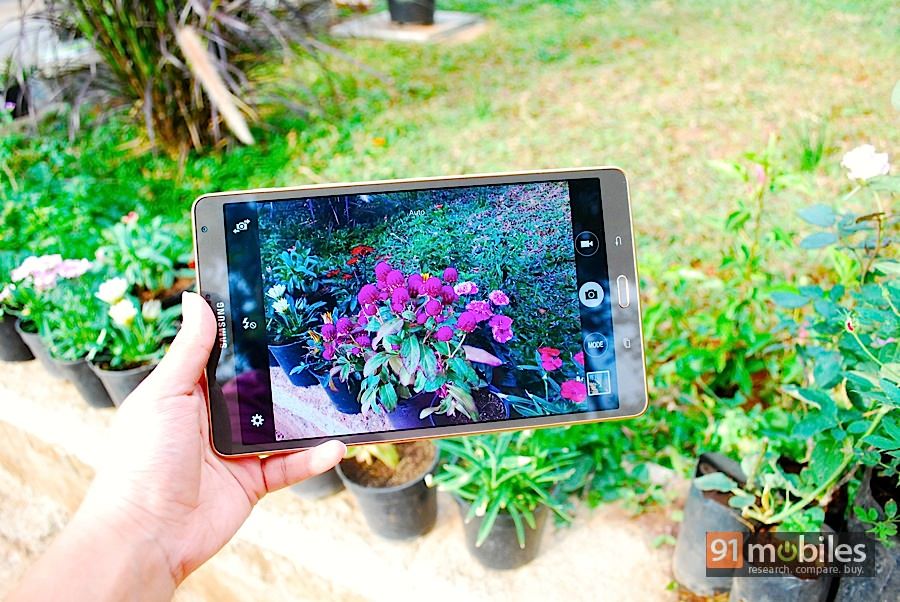 We never expect much from tablet cameras, but the 8MP rear and 2MP front duo on the Tab S pleasantly surprised us. Not only is the primary shooter fast to focus, it also produces detailed daylight shots. Low light shots are predictably grainy, while photos taken at night are very dark. The tablet's skinny dimensions make it easy to take photos, and the vivid display makes for a generous viewfinder. It's worth noting that your photos will look much more colourful on the tablet than they do when transferred to a PC, given that the Super AMOLED panel can be deceptively vivid.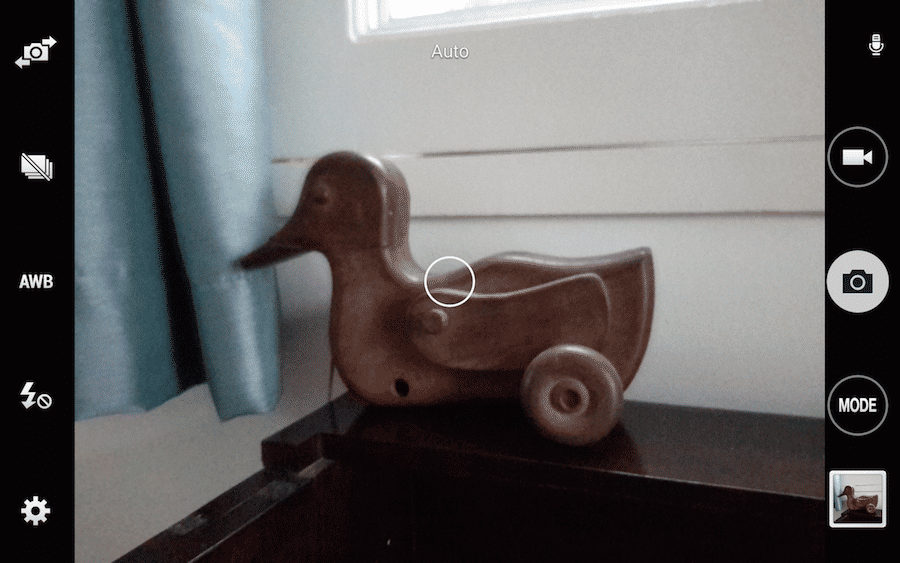 A tablet's front camera is rarely used for anything other than video calls, but the Tab S can take better selfies than several smartphone cameras.
The camera app itself is loaded with functions such as ISO, Burst mode, metering, timer, stabilisation, tap to shoot, face detection and special effects. There are also various modes available, like Beauty face, HDR and Panorama. There also Shot & more which takes a sequence of photos and merges them, and Dual Camera, which uses both the front and rear cameras to create fun mash-ups.
There's no getting away from TouchWiz

You can hide, but TouchWiz will always find you on a Sammy device. The tablet runs Android 4.4.2 KitKat, skinned with the latest version of TouchWiz. which on the plus side is more toned down now. Swipe to the right and you'll see Samsung's tile-based Magazine UX, which uses Flipboard as a content partner. The interface offers various widgets, broadly divided into three categories – news, social and apps.
The news tiles display snippets, and you can flick through individual tiles to see more headlines. Clicking on a news tile will take you to Flipboard, where you'll be able to read the whole article. Magazine UX takes up two homescreens on the left, with one meant for news and the other reserved for email, calendar and other apps. You can always customise them with widgets of your choice. Overall, you can add up to five Magazine homescreens, but we personally didn't find the interface useful. And in true Samsung style, there's no way to delete Magazine UX, so you'll have to make your peace with it.
The Tab S comes with the usual array of TouchWiz additions, including Multi Window, which can be accessed by swiping to the left. This feature lets you run two apps simultaneously on the display, and even lets you resize the windows. There's also Toolbox, which is a small floating button that brings up five app shortcuts, which can be customised in settings. The usual bevy of smart features are also included, such as Smart Stay, Direct Call, Smart Alert, Smart Pause and Palm swipe to capture.
The notification panel has the usual row of shortcuts at the top, and also includes a shortcut for Adapt Display, which we discussed earlier. You can access several quick settings via a tab at the top, and you can select which buttons will appear here via settings.
Samsung has a strange fascination with modes, and you'll find plenty of them if you explore the settings menu.
First up is Private Mode, which lets you hide select photos, videos, music and files, secured with a pre-defined unlock method. Then there's Power Saving, which offers a choice of a regular mode, and an Ultra Power Saving Mode (which we explained in detail earlier), which changes the display to greyscale and restricts functionality to a few apps.
Under display settings you can enable Reading Mode, which optimises the screen for reading in select apps, like Play Books. Blocking Mode is Samsung's answer to Do Not Disturb on iOS, letting you block incoming calls, notifications, and alarms during a certain time period. You can specify allowed contacts who can get through the barrier. Multi User mode lets you add up to seven users, each with their own accounts and passwords.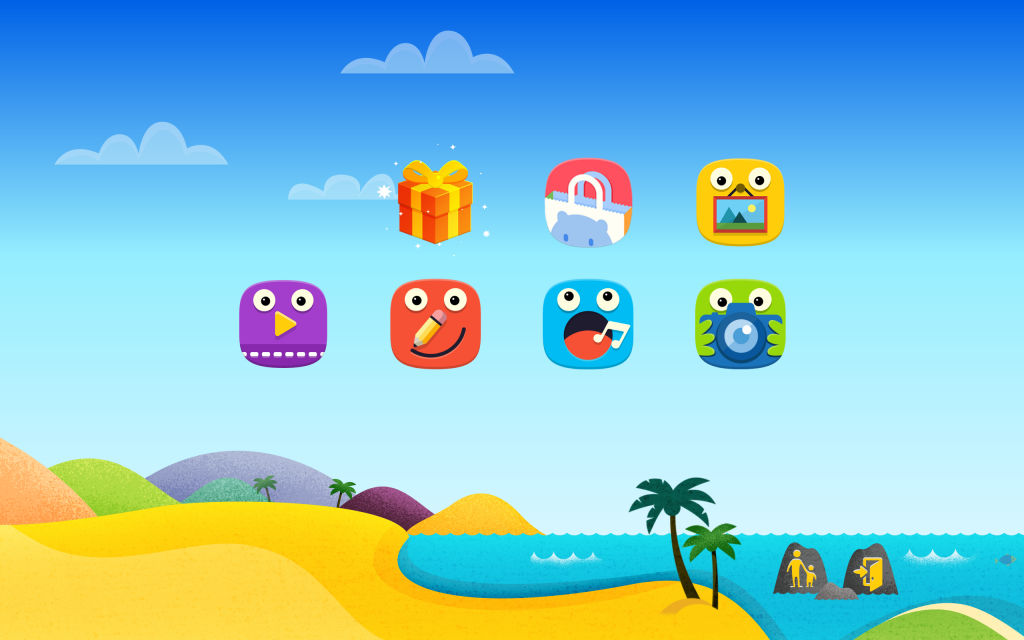 Samsung's also included a Kids Mode. You'll be prompted to download the app when you click on the icon. It displays a colourful interface, and allows kids access only to those apps which you specify. It also includes a redesigned camera and sketching app, and a screen which has several interactive elements, including a crocodile you can dress up in a variety of outfits. To exit to the normal mode, you'll need to enter a pin.
To make the Tab S a more exciting proposition, Samsung has included several freebies, which you can explore in the Galaxy Gifts section. These include apps and games like Asphalt 8: Airborne, Family Guy: The Quest for Stuff, Cut the Rope 2, Marvel Unlimited, Kindle for Samsung and more. You also get access to stream 100 free Hollywood flicks via the myplex app, and three months' free subscription to 21 magazines via Magzter. Additionally, Samsung also lets you download one free eBook, as well as stream Gravity for free. Other freebies include a week's free access to NYTimes, a one-year subscription to Bloomberg Businessweek+, and a one-year premium subscription to Evernote. The icing on the cake is the 48GB of free Dropbox storage, which is available for two years.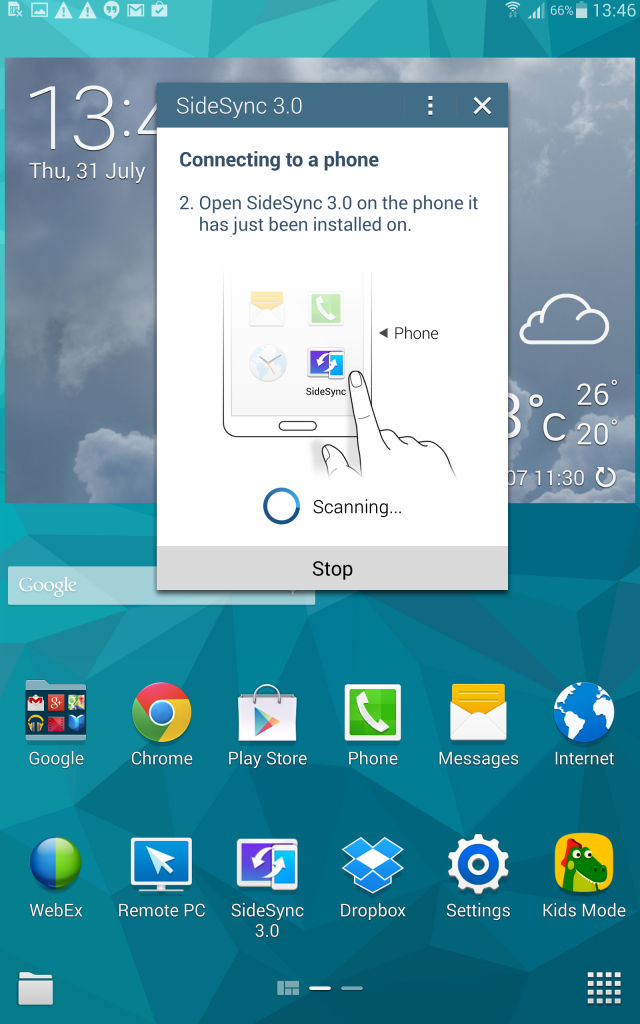 The Tab S comes with the usual selection of Samsung apps, like S Voice, S Planner, and the Galaxy App Store. There's Smart Remote to set up your IR Blaster, Remote PC to remotely access your device (you'll need a Samsung account for this) and WebEx for enterprise users. The latest SideSync 3.0 is included, which is a Samsung app that lets you connect your Tab S to a Galaxy smartphone to transfer files and share screens via Wi-Fi and Wi-Fi direct. If you have a Galaxy S5, you can also forward calls between the devices. We didn't have a Galaxy smartphone with us so we could't test how well this works. Other pre-installed apps of note include Chrome, Evernote, Hancom Office Viewer, Flipboard, and Dropbox.
It's powerful and smooth (mostly)
The Tab S is powered by Samsung's own Exynos 5 Octa processor, the same one found on the Galaxy S5. The SoC consists of four Cortex-A15 cores clocked at 1.9Ghz, and four Cortex-A7 cores clocked at 1.3GHz. In order to conserve battery life, the processor uses the high-power 1.9GHz cluster for intensive tasks, and the low-power 1.3GHz cluster for easier ones. That's not to say that the chip can't use all eight cores simultaneously – it can when required, thanks to a solution called Heterogeneous Multi-Processing (HMP).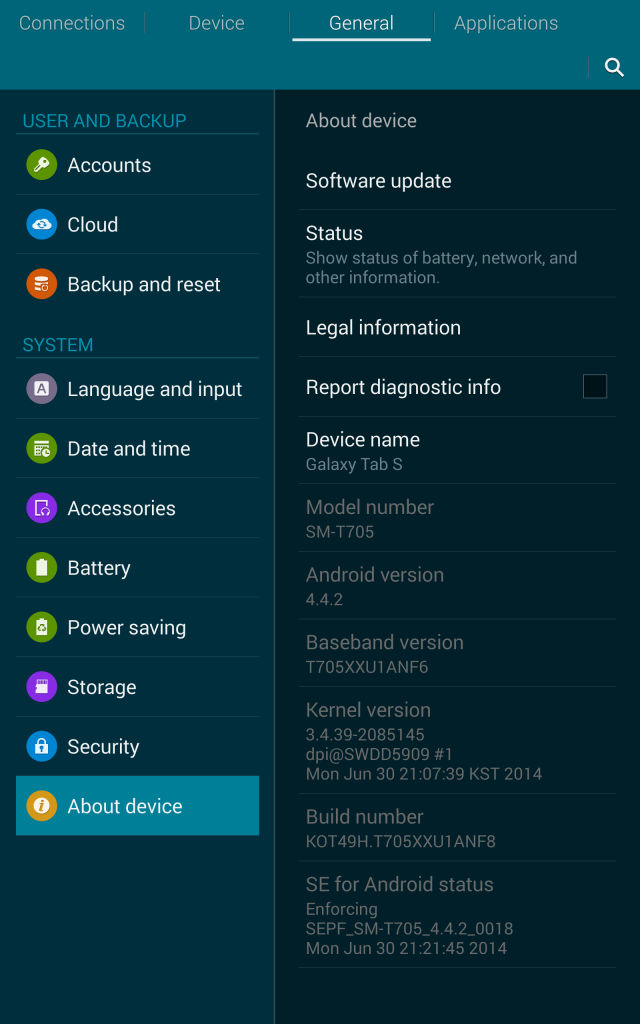 Paired with a healthy 3GB of RAM, the tablet is quite the powerhorse, playing 1080p videos, games like Riptide GP2 and multi-tasking without a hitch. It was the smaller tasks where we noticed some lags though, with apps taking longer than necessary to open, and even closing unexpectedly on occasion.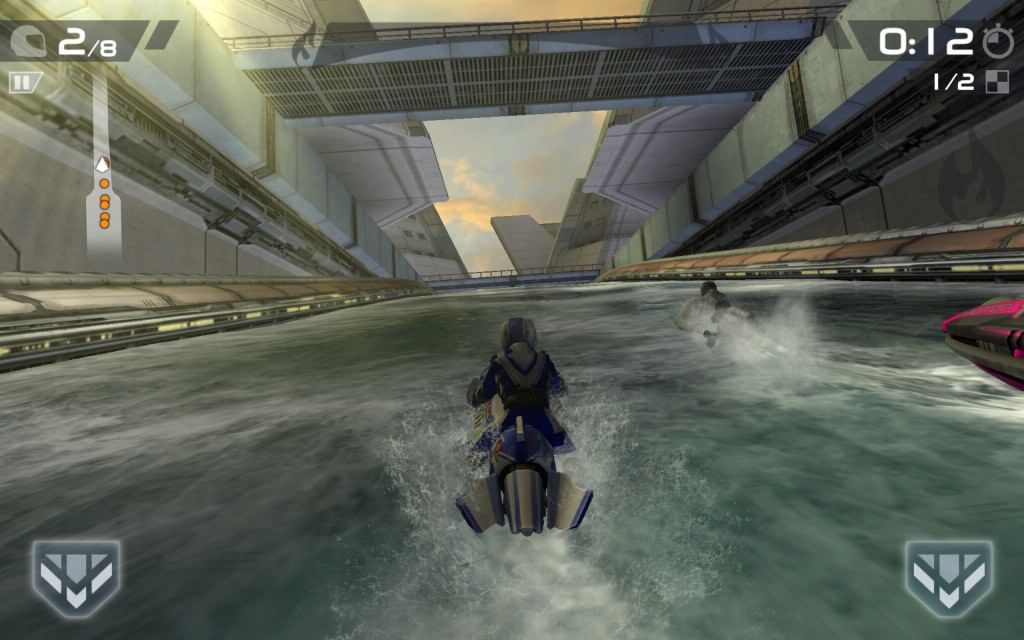 The glitches could be attributed to the heavy skin on the tablet, but we also feel that it might have something to do with the Exynos 5 Octa chip. It's not a serious concern, but we hope Samsung can resolve this with a future firmware update.
The fingerprint sensor is a major highlight, and it's worth noting that Samsung incorporated this feature on a tablet before Apple. You can register up to three fingerprints for a single user. Unlike TouchID on the iPhone 5s, here you'll need to unlock the screen by swiping down on the home button from the top. The fingerprint sensor wasn't a 100 percent accurate though, sometimes requiring more than a few attempts to register. If you cross five attempts you'll be forced to wait for 30 seconds before trying again.
The tablet offers 16GB of internal storage, and this can be expanded up to 128GB via microSD. Out of the on-board memory, a little under 11GB is available to use.
The battery life on the Tab S was a treat. The 4,900mAh battery easily lasts for two days with heavy usage, and longer when used sparingly. In our video loop battery drain test, we got 12 hours and 50 minutes of juice, which is in line with Samsung's estimation of 12 hours.
In terms of connectivity, the Tab S is fully loaded, offering 3G/4G, Wi-Fi 802.11ac, Wi-Fi Direct, DLNA, Bluetooth 4.0, MHL (via USB 2.0) and an IR Blaster.
Verdict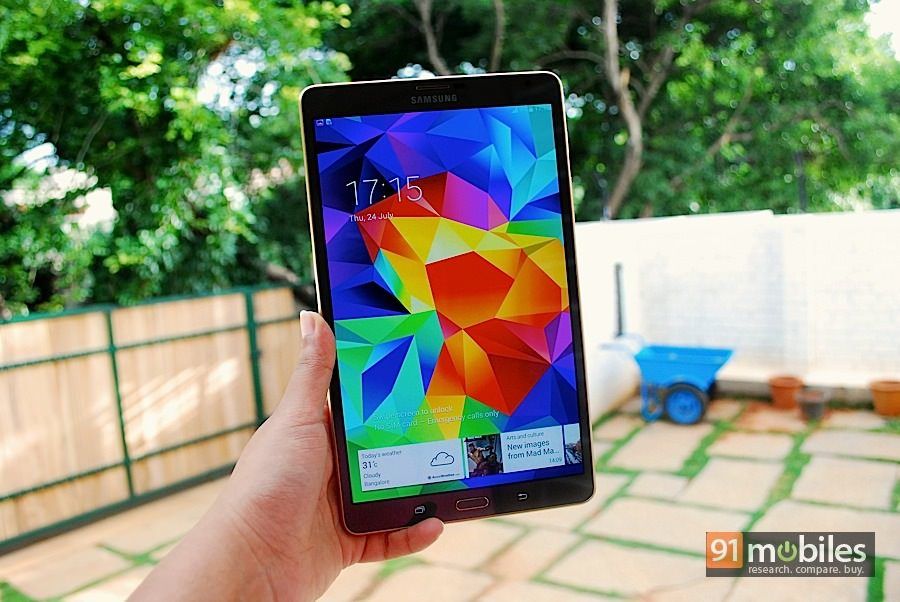 While we've been rambling on about the Tab S, we still haven't addressed the elephant in the room. The question which most potential buyers will ask themselves will likely be"Is the Tab S better than the iPad Air?". It's a tough one. The iPad, like we mentioned in the introduction, has the advantage of a wealth of apps (that aren't just blown-up versions of smartphone apps). The iPads also boast of better construction, thanks to their aluminium casing, and come with the promise of timely updates.
With the Tab S, you'll have to settle for a still-developing tablet app ecosystem, and make your peace with paying a bomb for plastic. There is one key difference between the iPad and Tab S though. While the iPad is more catered towards app usage, productivity in particular, the Tab S has been designed with a focus on media consumption. The brilliant display, lightweight construction, superior cameras, expandable storage and most importantly, the ability to easily transfer files, all contribute to it being a media-friendly device.
Samsung's also got it right with battery life, connectivity and performance, making the Tab S an all-rounder in the premium tablet space. Android purists won't be happy with TouchWiz and Magazine UX, but will have to admit that there's finally a formidable device for those who don't want to go the iOS way.
In our opinion, the Tab S ticks most of the boxes, and is currently the best Android tablets your money can buy.
Price: Rs 37,800
Editor's Rating: 9 / 10
Pros:
Super-slim, elegant design with quality build
Stunning display
Good battery life
Several useful freebies
Good primary camera
Reliable performance
Cons:
Plastic construction tends to scratch easily
Fingerprint scanner is temperamental
The combination of TouchWiz and Magazine UX can be overwhelming
Video by Pratik Vyas
Competitors for Samsung Galaxy Tab S 8.4 3G 16GB