Samsung Galaxy Tab
is officially launched and will be shipping in India from November 12th 2010. The initial price of the device is set at Rs. 38,000 (approx $850). Pretty expensive. Have you ever wondered how much does it cost to make the device? iSuppli, a premier market research company has done a tear-down analysis on
Samsung
Galaxy Tab's Hardware. Based on the analysis, the total cost of materials and manufacturing comes to $214.57 (Rs. 9,500 approx). You can refer to the detailed tear-down provided below.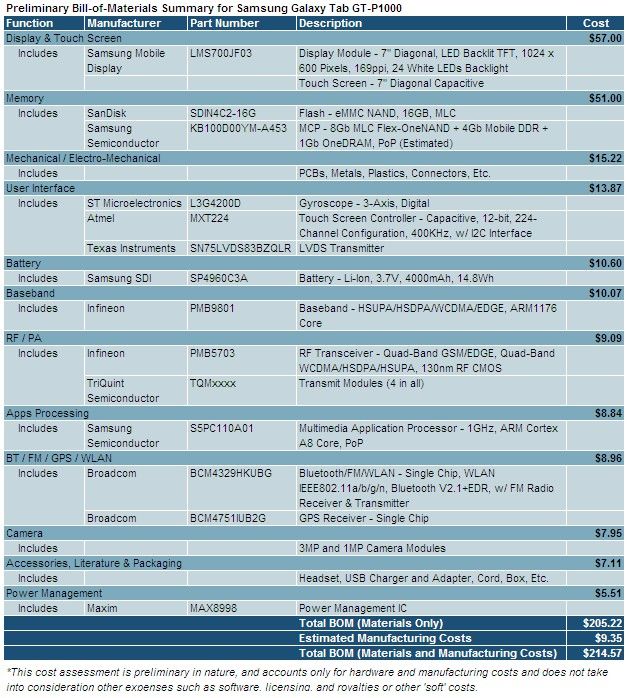 When you look at the individual components, you will notice that Display and touchscreen costs $57, almost 27% of total BOM (Bill of Materials). This is the case with most smartphones and touchscreens. Memory is the second costliest component with $51. So display and memory alone accounts for 50% manufacturing costs! The day the display and memory components become cheaper we can see $200 tablets 🙂 It's interesting to note that the Processor of 1 GHz costs only $8.84 and its cheaper than the battery which is $10.60. Camera costs around $7.95 (including both 3MP and 1MP). Looking at all these, we are left wondering about the margins possible for these devices. The report also carefully says they have not taken into account the software, licencing or royalty costs. Even if you add 50$ the cost comes to $264. So, essentially the device is sold $850. There's a big margin of $590 which is spent in marketing, logistics, distribution etc! In addition, Samsung manufactures mobile display unit, mobile processors and memory..Samsung is a real force to reckon with. Some interesting excerpts
"Instead of matching up with the iPad on a feature-by-feature basis, the Galaxy Tab really is larger version of Samsung's Galaxy S smart phone," said Andrew Rassweiler, director, principal analyst and teardown services manager for iSuppli. "While the design approach makes the Galaxy less expensive to produce than the iPad 3G, it also makes for a product that lacks the same usability. The Galaxy Tab's screen resolution, size and technology are not at the same level as the iPad. This is a critical difference, given the fact that the display is a key differentiating factor for the iPad." On the plus side for the Galaxy Tab, the device includes some features not found in the iPad. For example, the Galaxy Tab includes a gyroscopic Microelectromechanical Systems (MEMS) sensor, likely for use in gaming. Furthermore, the Galaxy Tab comes with a primary 3 Megapixel (MP) autofocus camera along with a 1.3MP front-facing or video conferencing camera. Finally, the Galaxy Tab includes build-in support for Adobe's Flash to provide more universal Web browsing—something notably lacking from the iPad.
Via
iSuppli