The South Korean Manufacturer, Samsung is rumoured to showcase the next generation Tabs naming as Samsung Galaxy Tab 3 in upcoming Mobile world Congress scheduled to take place in February 2013 at Barcelona, Spain.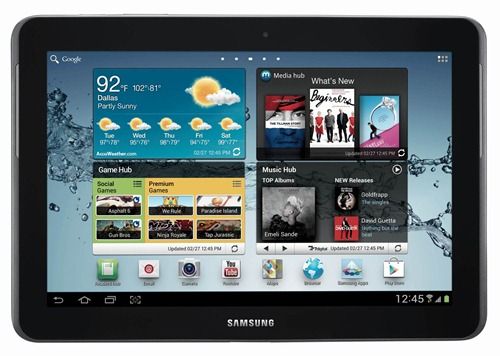 It has been a year since Samsung launched the 7 inch and 10.1 inch Samsung Galaxy Tab 2. Now, the market is heated up with the rumours of upcoming Samsung Galaxy Tab 3.
Samsung is expected to launch the Samsung Galaxy Tab 3 tablets under the name of "Santos". These tablets will be available in two variants. One sporting a 7 inch Touch screen and the other a 10.1 inch touch screen just like the current versions of Samsung Galaxy Tab 2.
The Processor of these tablets is still unknown and there are no official report about the specs or features and even any information about the existence of these devices.
They are rumoured to be naming as GT-P3200, GT-P3210, GT-P5200 and GT-P5210. And Just like the current variants of Samsung Galaxy Tab 2, these will also available in 3G and Wi-fi and only Wi-fi version.
The Tablets can come with 16GB or 32GB inbuilt Memory options, which may be expanded by using a microSD Card.
Samsung Galaxy Tab 3 may house a 5 Megapixel camera and can be launched in the market by the first half of 2013.
So, if you are planning to buy a Tablet, have your eyes stuck on the upcoming Mobile World Congress 2013 to be held at Barcelona, Spain.