Samsung Galaxy S4
has got a solid start in the market with its uprising sales which is definitely an alarming bell for flagships coming from other companies. Blackberry Q10 is the latest phone coming from the house of Blackberry running latest version of Blackberry OS. It is generating a large number of bookings in the markets of Canada and Britain. However, the popularity of Galaxy S4 is a threat which might come as a curse slowing down its momentum in other markets.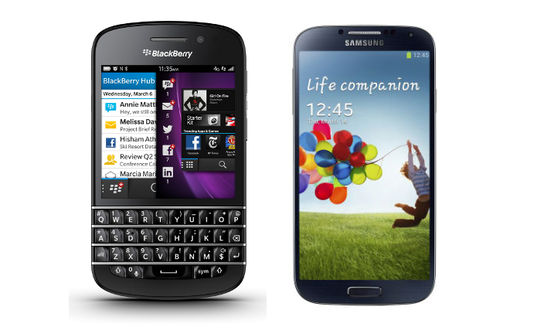 After Blackberry Z10, Blackberry continued its comeback in the smartphone segment with the launch of
Blackberry Q10
. It is a touchscreen phone but also sports the retro keyboard that was present in most of the Blackberry devices. Small QWERTY keyboard present in the Blackberry phones is an strong selling point for the company. However, success of Blackberry Z10 hints even Blackberry fanboys are ok with the virtual keyboards of the latest smart phones which lowers down their interest in Blackberry Q10.
Blackberry Q10
is receiving unexpected positive reviews from the market. There are some speculations about a Gold body version of the phone coming soon for special buyers. Blackberry Q10 is selling pretty well in the markets of Canada and UK. Research In Motion has also got approval from Department of Defence in America for its latest devices to use their networks. Samsung has also got this approval for its latest flagship device. While Apple is still waiting for the green light from DoD. Despite all the good things happening for Blackberry Q10, company is losing its sales to Samsung Galaxy S4. The Korean mobile phone maker is impressing smartphone buyers with its latest flagship Galaxy S4. Company has added some cool life task features in the device like smart scroll, smart pause, air gesture etc to create a better smart phone experience for the customers. Running the latest Android version which is also enhanced by the Samsung TouchWiz user interface, it is packed with great performance and clean user interface.
Blackberry Q10
is the game changer for the company and we assume it to do pretty well but the sales is certainly going to be hampered. Samsung is shipping out Galaxy S4 in more than 150 countries and it is going to be difficult for Blackberry to keep up its sales momentum in the smart phone market.