The much awaited Samsung Galaxy S 4 is rumored to have some really superb specs to beat the mounting competition from Apple, Sony, HTC and the other big sharks of the smartphone market. We heard news of the device's official launch at an event in New York on 14th March.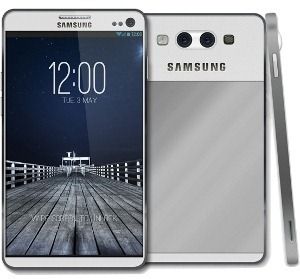 The design and specifications of the Galaxy S4 have been a closely guarded secret with the company only letting out bits of information to keep the frenzy going. However, thanks to the various leaks that crop up on the internet, we do know that the device runs on the Android 4.2 Jellybean platform. It has a 5 inch HD Super AMOLED touchscreen display with 1920×1080 pixels resolution at 440 ppi pixel density.
The device is powered by a 2.5GHz Snapdragon processor assisted by the integrated Mali-T658 GPU, and 2GB of RAM, which is a far better hardware than what any of S4's predecessors had to offer. Finally, device is rumored to have a 13 MP rear camera with flash and a 2MP front camera.
Fresh leaks have now cropped up on Twitter, that confirm what we already know, besides adding some new information such as a rectangular body is to be expected on this flagship device with less curvy edges. Also, the device will come in three storage option versions – 16GB/ 32GB/ 64GB.
Another interesting software spec to look forward to will be the Eye Scrolling feature which the device will use to track the user's eye and determine where to scroll. This means, you don't have to slide your fingers up and down every time you want to scroll your device.
Most of these specs are unofficial leaks and are likely to change. The real deal will of course be made public on the 14th as Samsung had already said. These details should definitely fuel the our imaginations till then.