Much awaited Samsung Galaxy S3 mini is up for sale on eBay for a price of Rs 26990 with seller's warranty.
Samsung Galaxy S III mini is the miniature version of world's bestselling mobile phone, the Samsung Galaxy S III. Sporting a 4.0 inch Super AMOLED Capacitive touch screen running Android 4.0, the mobile gives a tough competition to the newly launched Apple iPhone 5.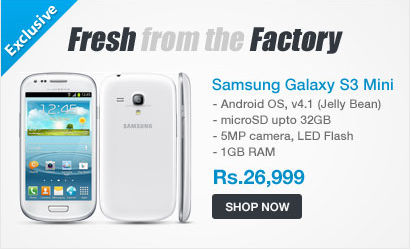 The mobile is yet to be launched in India officially. However, a seller named Dhiman Infotech is selling it on eBay India for a price of Rs 26999. Be warned that the mobile is available on a seller's warranty which means, you can send it back to seller for software related issues only. You won't be able to get it serviced to Samsung's network of service centers.
Samsung Galaxy S III mini comes with an excellent quality display. As far as hardware configuration is concerned, it runs on Dual core 1 GHz processor, Mali-400MP GPU and 1GB Ram. Android 4.0 performs buttery smooth on this mobile.
So are you going to purchase this? Go ahead! Though there are a few points you should consider before making a purchase.
The original Samsung Galaxy S3 can be purchased from our products page for Rs 29999 with sellers warranty and for around Rs 32k with manufacturer's warranty. There is no point of settling down on miniature version only to save 3-5k bucks.
Or if you want to purchase the Galaxy S3 mini only because you are not comfortable with the large screen of the original S3, I would recommend you to wait for the official launch. You will get the same product with manufacturer's warranty for a better price.
Or if you are impressed with the design of S3 and want to save money on the cost of an inferior configuration, consider thinking about Samsung Galaxy S Duos as well. Costing around 15k, Galaxy S duos sports same design with dual SIM functionality but with a lowered down set of specifications.