Its a good news to know that Samsung Galaxy R I9103 was treated with a scoop of Android Ice Cream Sandwich. Though the device is not popular among the Galaxy line-up, the Korean company offered an Android update. In fact, Samsung a few months ago promised to deliver an Android update for Galaxy R. Almost three months after the news broke-out, the company kept it promise and the device received an update.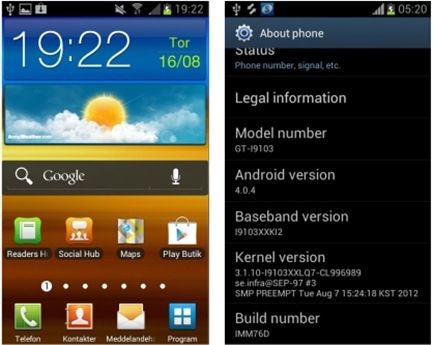 Samsung Galaxy R I9103 a.k.a Samsung Galaxy Z is a sleek Android smartphone built on the original flagship device Samsung Galaxy S II. Samsung announced the device with an affordable price tag and comes with a brushed metal finish and resembles the original Galaxy S II. The major differences from the flagship version are the 4.19 inch Super Clear-LCD touchscreen display with 480 x 800 pixel resolution instead of Super AMOLED display. Similarly, the device sports a 5.0 Megapixel rear-facing camera with LED flash instead of 8MP camera and a 1.3 Megapixel front facing camera. Samsung Galaxy R uses the same 1Ghz dual-core processor and 8GB internal storage like the classic version. The device runs on Android OS v2.3 Gingerbread seasoned with TouchWiz 4.0 UI. Apart from this, every feature was dubbed from the flagship Android smartphone Samsung Galaxy S II I9100.
Samsung started pushing the updates over-the-air in Sweden and it takes time to reach other countries. Therefore, users can check for an update for their device on the About phone >> under Settings.