Smartphone unveiled a brand new Smartphone during IFA 2011. Samsung calls this "Galaxy Note". Galaxy Note looks like a really powerful mean machine! Powered by 1.4 GHz dual-core processor and Android Gingerbread operating system, Galaxy Note pioneers in lot of areas. It has a large display..really large for a smartphone. Measuring 5.3 inch, the display looks stunning with all new HD Super AMOLED. HD Super AMOLED has an impressive pixel density of 285 pixels per inch. No wonder when samsung calls this device "Largest screen with Smartphone portability" and "World's first 5.3 inch HD Super AMOLED display"! Secondly, Samsung has really made use of this large screen estate. Some of the applications adapt very well to the large screen resulting in minimal screen transition and scrolling. Thirdly, Samsung has brought in free notes taking capability to this smartphone with an in-built S-Pen (kind of stylus). The S-Pen is in itself a sophisticated gadget 🙂 S-pen packs in amazing pressure sensitivity to enable precise, smooth and faster pen operations on the screen. All the native applications that comes with Galaxy Note can interact with the pen smartly. Other interesting features include: Handwriting recognition, Text digitization of handwriting (kind of ocr), Voice/music recording and Image cropping (this looks awesome in the demo!)…You can even personalize the pictures and videos taken through Galaxy note by adding texts and scribbles on top of the media.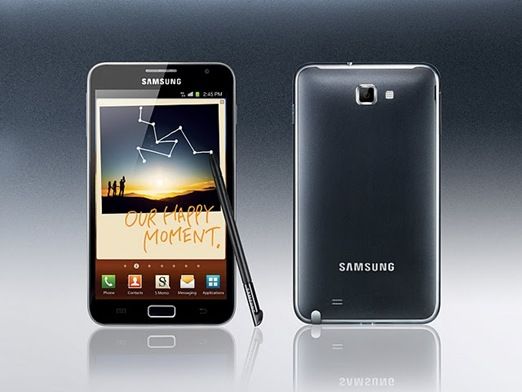 Even the 8mp camera packs in lot of camera features such as Anti-shake technology, Exposure compensation, Multiple focus modes, Scene modes, shooting modes, Blink detection, Self-Timer, Auto white balance, Metering (awesome!), auto-contrast, GPS tag (geo-tagged images). Looks like a mini professional camera out there 🙂 Galaxy Note is 4G/LTE compatible. What's the use of all these capabilities, if the battery runs out fast. Samsung has thought about this and brings you a 2500 mAH battery..
Samsung claims that this new device is actually the result born out of consumer insights. Their consumer research indicated that users want to do more tasks much better even while travelling. The more tasks include Email, Gaming, Viewing pictures and videos, Camera, Web browsing and taking notes (read productivity needs). Well, smartphones of today are capable of executing all the tasks mentioned above. So Samsung wanted to do all these tasks in a better way. They sense that there is a fundamental need for a primary go-to device that can combine the following: Tablet's large display, Note pad's free idea capturing, Smartphones 24/7 portability and other mobile devices core benefits (such as gaming and camera). Out of the reasons mentioned above, the "note pad's free idea capturing' capability on a smartphone sounds pretty reasonable to us. But for all the developments that have happened around note-taking capabilities using computing devices, we human beings are still comfortable using pen and paper. Let's see how Samsung Galaxy Note has approached the problem!
We have seen Dell streak with 5 inch screen sizes before. But Samsung's offering looks much better. We must appreciate the boldness in attempting this. The pricing and the availablity for this device is not announced yet.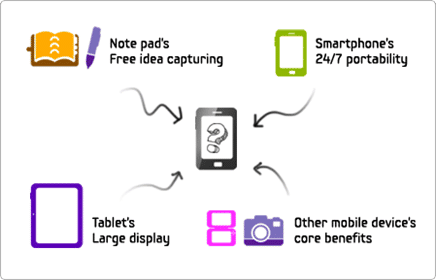 Samsung Galaxy Note Infographic summarizing features and benefits

Samsung Galaxy Note official Video Demo
Samsung Galaxy Note Hands on Video