"Got your eyes on the latest Note phablet? Here's what you need to know"
As far as phablets are concerned, it's all about the size. People love a device that combines the functionality of multiple gadgets (a smartphone and a tablet in the case of large-screened phones), which explains the growing popularity of this particular segment. We're sure phablets have also eaten up into the share of compact tablet to a significant extent, and if you covet a large phone of your own, there are a slew of options spanning across the affordable price bands right up to the high-end. Even the likes of Apple and Google have jumped into this space, and the juggernaut just keeps rolling without any signs of slowing down in the foreseeable future. Samsung is widely considered to be the pioneer of the phablet domain, and it has smartly chosen to take a different route by means of its S Pen – a stylus on steroids. With the S Pen, Samsung has successfully managed to carve a unique niche for itself in the large-screened smartphone category, and so far, none of other rivals have been able to come close, despite trying.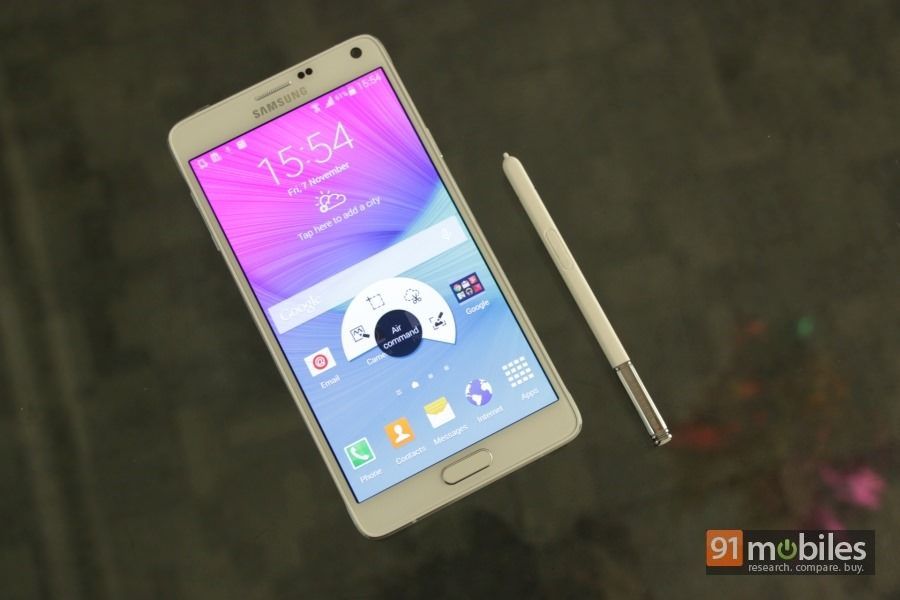 The capabilities offered by the S Pen have been improved over generations and the latest Note model… the Galaxy Note 4 (first impressions) also boasts quite a few new features. Apart from the S Pen, The Note 4 also rocks drool-inducing hardware and comes across as one of the most loaded phablets money can buy right now. If you've been eying the device as your next buy but need a few things to be clarified before you apply for a loan, then you're on the right page. Read on to get answers on the most common doubts regarding the smartphone. Let's initiate the proceedings by skimming over the key specs
Loaded you said? What are its specs?

The horsepower is provided by a top-of-the-line quad-core Snapdragon processor clocked at 2.7GHz. This is mated to 3GB of RAM and Adreno 420 graphics. The 5.7-inch display rocks QHD resolution and an eye-popping 515ppi pixel density. Fuelling the show is a 3,220mAh battery. We did say it was loaded, right?
What all is included in the retail pack?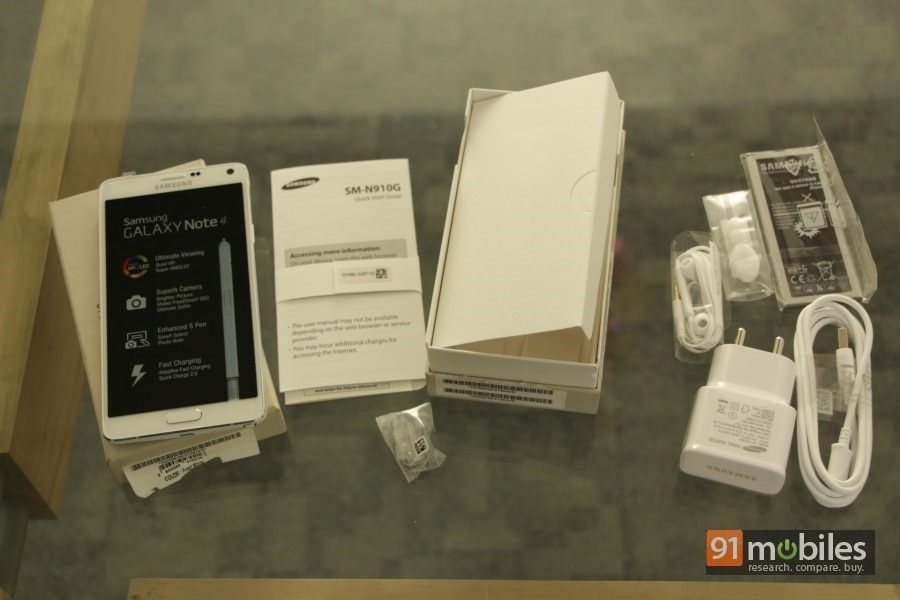 The box comes with the usual set of accessories, covering a 2A wall charger, a micro-USB to USB cable, a quick start guide, the removable battery, and a wired headset (along with differently-sized rubber tips). You also get a few spare tips for the S Pen and a tool to help you replace the worn out ones on your own.
Does the Note 4's display sport a layer of Gorilla Glass?


Absolutely. There's a layer of third-gen Gorilla Glass present over the phablet's screen for protection against minor scratches.
What SIM card does the Galaxy Note 4 accept? Does the device support 4G?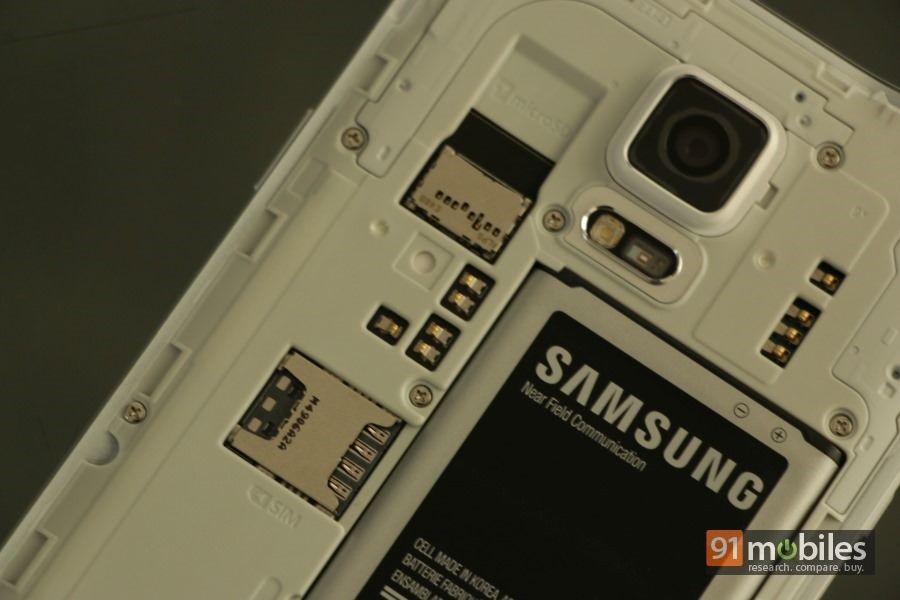 The Samsung Galaxy Note 4 is a single SIM device and accepts a micro-SIM. Notably, the device supports the 4G frequencies available in India, and therefore, makes for a future-proof purchase even if you don't have these services available in your region.
Does the Samsung Galaxy Note 4 support USB OTG?


The answer to that is yes.
Does the Note 4 feature NFC?


Affirmative. The Note 4 supports NFC for quick pairing with compatible devices and accessories.
What about the rest of the connectivity options?


Loaded is the key word here. Apart from 4G, USB OTG and NFC, you also get support for dual-band Wi-Fi ac, Wi-Fi Direct, Wi-Fi hotspot, A-GPS, Bluetooth 4.1, wireless display mirroring, TV-out via MHL and MirrorLink for mirroring the screen to your car's display.. provided your car system supports it. Connectivity options also include a Download booster feature that combines cellular data and Wi-Fi for faster internet speeds. Did we mention it also has an IR blaster on top that converts it into a universal remote?
How much storage does the Note 4 offer, and how much is available to use? Can I add more?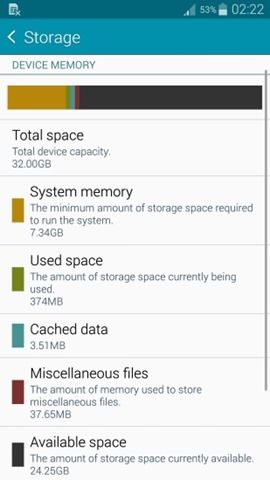 The internal storage is 32GB, and out of that, you can use a little over 24GB. There's a microSD slot present and you can add up to 128GB more.
How are the Samsung Galaxy Note 4's cameras?


The front camera sports a resolution of 3.7-megapixels, while the one at the rear is a 16-meg shooter complete with an LED flash, optical image stabilisation and 4K video recording capabilities. The front snapper may not look too selfie-focussed in terms of megapixel count, but it does boast some handy features for clicking self portraits. For one, you can shoot selfies by placing and then removing your finger on the heart rate monitor at the back. In addition, there's a Wide selfie mode that can fit more people into a single image.
One of the shooting modes available for the primary camera is a Rear-cam selfie mode that allows you to take high-res selft portraits using the main shooter itself, using face recognition to work its magic and make sure your face is right in the frame where you want it. We'll be going in-depth into the device's shooting prowess, but first impressions are very favourable and we've got tons of pristine images in our Note 4 review unit as evidence. In short, the camera looks very promising indeed and we're sure it's not going to disappoint us.
What about the software side of things?


The Galaxy Note 4 runs Android 4.4.4 with Samsung's TouchWiz UI on top. The device boasts tons of features such as Multi Window, Ultra Power Saving mode, a one-handed mode, Smart stay, Adaptive display, glove mode, Direct call, and Smart alert, along with other modes covering Easy mode, Blocking mode and Private mode. There's a safety assistance feature available too, and you can also choose to customise your device by tweaking the unlock effect on the lock screen and rearranging the quick settings on the custom notification panel. There's a Flipboard-powered news aggregator dubbed Briefing available as well, occupying a dedicated homescreen on the left. It can be disabled in case you don't want it.
There are a few interesting features hidden under accessibility settings too. For example, under 'Vision', you'll find a 'Hover zoom' option that magnifies content on the screen when you hover the S Pen over it. You can even customise the zoom levels. Under 'Hearing', you can enable flash notifications to alert you by blinking the camera flash. Under the same head, you'll even find 'Sound detectors' – options that make the phone vibrate when the sound of a baby crying or a ringing doorbell are detected. Nifty indeed.
We'll be covering these features as part of our main review, so watch out for that.
Any other special features to take note of?


While the Note 4 isn't impervious to water like the Galaxy S5, it does come with many other features seen on the S-series flagship, such as the fingerprint scanner integrated into the home key and the heart rate monitor at the back. In addition, The Note 4 also features an SpO2 sensor that measures the concentration of oxygen in your blood, and a UV sensor that can measure the UV intensity when you're out in the sun. Like the heart rate monitor, these features are also available via the S Health app. In the same app, you'll find Coach by Signa, a digital coach service that allows you to set fitness goals for yourself and then monitor your progress over time.
What about the capabilities of the S Pen?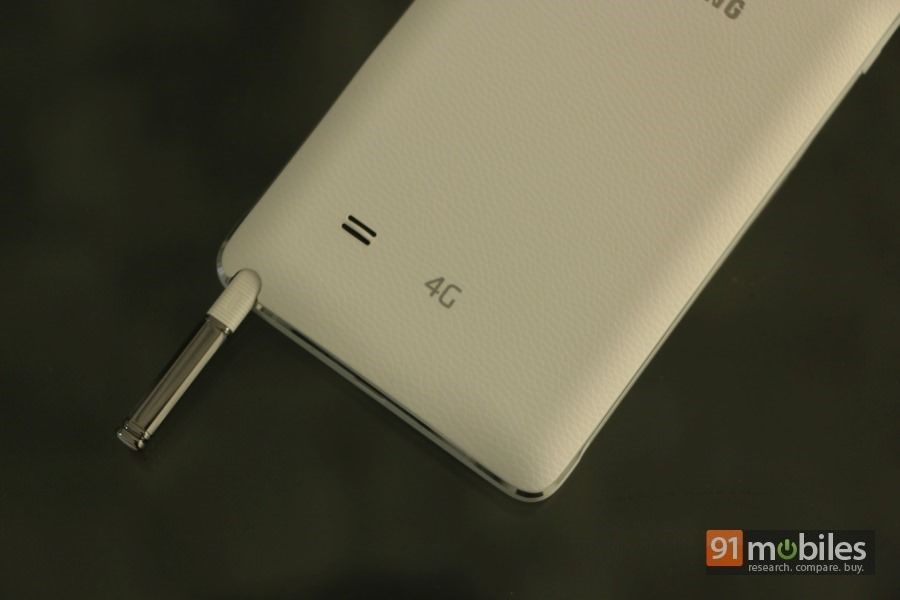 Without the S Pen, Samsung's Galaxy Note range is like a lost soul hunting for purpose. While that may sound too profound, the fact is that while the Note 4 and its predecessors have all been worthy phablets, their mainstay and key differentiation aspect has always been the S Pen. Basically a stylus that has been fed on a steady protein diet to enhance its muscles, the S Pen resides insides a dedicated silo on the bottom right of the device.
Pulling it out wakes up the smartphone from slumber and launches a fan-shaped menu called Air Command. It sounds like a game involving fighter aircraft, but it's really a launcher for S Pen-centric apps and functions. On the Note 4, the S Pen has been blessed with even more powers and capabilities, and Samsung says the pressure sensitivity levels have been doubled as compared to the Note 3 to make the experience closer to writing with a real pen. One of the new functions of the S Pen includes Smart Select – letting you collect any content you want directly from the screen, covering everything from documents, web pages, notes, images, widgets, and apps. The collected content can be modified and shared easily. Photo Note is yet another S Pen-enabled feature and is available from the S Pen widget on one of the home screens, letting you create editable notes from images of written text. Again, more on the S Pen and its powers later – we need to save something for the full review you see.
Any freebies included as part of the deal?


Apart from the free spare tips for the S Pen you mean? Yes, you do get 2GB of free 3G data from Vodafone for two months, along with quite a few other content-related freebies. Available under a special widget titled 'Galaxy Gifts', you can choose to download them all in one shot, or one-by-one if you wish. The offers include Hancom Office 2014, a three-month subscription to 21 magazines via Magzter, a four-month subscription to F-Secure SAFE, free prints worth Rs 1,000 from Zoomin, a one-year subscription to Bloomberg Businessweek+, a six-month subscription to The Wall Steet Journal, a six-month access to Pocket Premium and more.
What's the outlay involved? Break it to me gently, please.


There's no way to be gentle about this, so brace yourself. The Galaxy Note 4 will cost you Rs 58,300.
More on the Galaxy Note 4 soon, so don't go anywhere.