Samsung Galaxy Note 10.1 (N8000)– the stunning beauty and an iconic device from the Korean handset maker goes for sale from this month. According to the latest news, the device will officially be made available for sale throughout the world market. Several online stores has tagged this device with various internal storage capacities. The new Samsung Galaxy Tab 10.1 is a high-end tablet with full HD touchscreen display and challenging hardware elements. Apparently, this device is a perfect contender to Apple New iPad.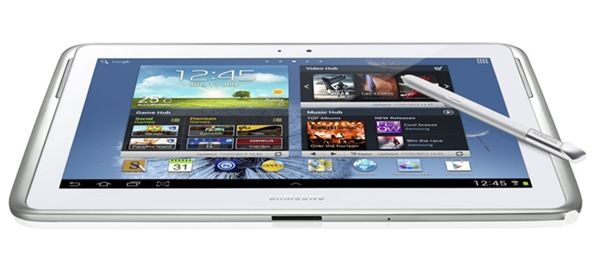 The Samsung Galaxy Note 10.1 is a value-addition to the Samsung Galaxy family and the tablets line-up. Like its sibling Galaxy Note, the device enhances the users life with the level of productivity tools and its creative features. Samsung Galaxy Note 10.1 comes with a 6.5mm stylus S-Pen that allows an user to take handwritten notes, sketch on pictures and do lot of fun activities. Above all, it comes pre-loaded with a range of productivity apps like S Planner, Crayon Physics, Polaris office, Adobe Photoshop Touch, and etc that works with S-Pen. As the name suggests, the new Samsung Galaxy Note 10.1 is a 10-inch slate running Android 4.0 OS Ice Cream Sandwich. Though not official, it is expected that the device will soon be upgraded to Android Jelly Bean.
Samsung Galaxy Note 10.1 is an ideal device with active fun features. Apparently this is the first tablet from Samsung to feature an LED flash next to the 5.0 Megapixel camera. The device also sports a front-facing 1.9 megapixel camera for video chatting. Samsung Galaxy Note 10.1 comes in three connectivity options, a WiFi-only version, a WiFi-and-3G HSPA-Plus connectivity version at launch, and a WiFi-and-LTE version planned to launch later this year. Samsung announced the device in Korea, Germany, US and UK and soon it rolls-out to other global markets starting in August.
Announcing the news, JK Shin, President of IT & Mobile Communications Division, Samsung said, "Galaxy Note 10.1 further demonstrates Samsung's dedication to delivering products that offer a complete mobile experience for creating personalized and expressive content. History has shown that taking notes, capturing ideas immediately, and sketching to realize them is the most personal and natural way to be more productive and creative. The advanced technology and features included in Galaxy Note 10.1 give users the power to produce, create and customize communications."