The Samsung Galaxy S4 is yet to hit the markets, and already the two new phablets have surfaced on the internet with Samsung confirming their rumored specs. The first device is the Samsung Galaxy Mega 5.8 (GT-I9152) and the second is the Galaxy Mega 6.3 (GT-I9200 without LTE and GT-I9205 with LTE).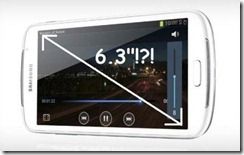 As per the specifications mentioned online, the Galaxy Mega 5.8 has a 5.8-qHD TFT touchscreen display with 960×540 pixels resolution, a 1.4GHz dual core processor with 1.5MB RAM, 8MP rear camera and 2MP front camera, Wi-Fi 80211 a/b/g/n, GPS with A-GPS and Bluetooth 4.0 connectivity options and finally a 2600mAh battery to run on. The device has a width of 9.7mm, so we can expect to have a slim body. the device might come with the DUOS tag like the Galaxy Grand DUOS for its dual core processor.
The Galaxy Mega 6.3 has a 6.3-inch touchscreen and also sports a dual core processor offering maximum speed of 1.7GHz with 1.5GB RAM. It has a the same specifications as the Mega 5.8 in terms of the camera and connectivity options, but will run on a 3200mAh battery. This device has 88×167.6×7.9 mm dimensions with lesser width than the Mega 5.8. The Mega 6.3 will come in two versions- with and without LTE and in Black and white colors.
It is not yet confirmed if the device will have Android jelly Bean version 4.1.2 or the 4.2.2. However, as the two devices are expected to arrive in the month of May, we might as well expect them to come with the latest Jelly Bean version, hopefully with the Key Lime Pie upgrade compatibility.