The world is definitely excited about wearable tech and if pundits are to be believed, its going to be one of the next big things in technology. Ever since the Google Glass surfaced, we saw many other companies jumping in to wearable tech.
A smart watch seems to be most feasible thing in this area. Fitting a smart operating system in a watch means, you don't always need to pull out your mobile to check mails, finding locales and managing other stuffs. Using mobile's GPS while riding a bike is painful, but with a Smartwatch, it won't be.
Though its not the first time a watch with some smart OS is being introduced to the world, but what makes Samsung Galaxy Gear different is the rumor that this watch might feature a full fledge Android mobile within itself. Moreover, coming from a company like Samsung itself adds to the perception that it would come with something big and better.
History of Smart Watches
If its about embedding a mobile phone in a watch, a hell lot of Chinese companies are already selling mobile watches. However, when it comes about a smart OS laden wristwatch, only a handful of products have been able to register a presence.
Most popular Smartwatch till date undoubtedly comes from Sony. Sony Smartwatch acts as a second screen or companion device to your Android phone and saves you from headache of pulling out mobile from your pocket every now and then. You can check your mails, social networks, see who is calling and a lot more cool stuffs. Sony also published a range of Smartwatch dedicated apps to make the device more useful and fun.
Sony Smartwatch received a mixed reviews. While the concept was good, techies were not optimistic about a significant usefulness of a companion device for an already portable and handy device. Though, Sony managed to score well in terms of sales and came up with a successor called Sony Smartwatch 2.
Another similar product known as I'M Watch also bagged some spotlight. Lately, Motorola also came up with a similar product called MotoActv watch.
A genuine effort to put up a 3G mobile phone into a watch was made by LG in its LG Watch Phone GD 910. However, it came with a hefty price tag and was not able to gain a fair share of popularity.
Worth mentioning, even Samsung has a history of releasing Watchphones. In 1999 Samsung launched SPH-WP10 claiming it to be world's first watchphone and in 2009, it launched another product named Samsung S9110. None of them witnessed a worldwide launch.
Samsung Galaxy Gear Smartwatch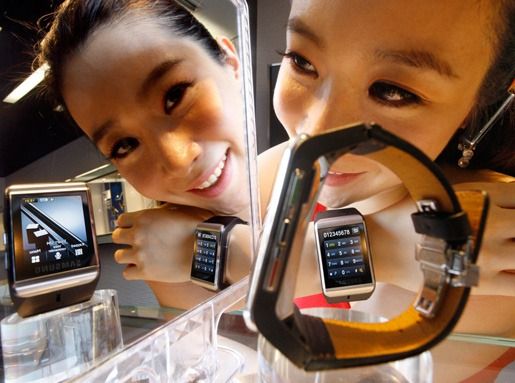 If the rumors are to be believed, Samsung is all set to launch Samsung Galaxy Gear Smartwatch on September 4 along with its next flagship, Samsung Galaxy Note 3. There's no clarification whether it would be a companion device like Sony Smartwatch or a full fledge Android Mobile fitted in a tiny wearable format. Different rumors point to different possibilities.
Based on a copyright document, Bloomberg last week claimed the smart watch to come with the abilities to make phone calls. This certainly hints towards another Watchphone with a SIM slot. However, The Verge has something different to say.
The Verge claims Samsung Smartwatch to be a companion device like Sony Smart watch or Pebble. It will connect to your phone via Bluetooth enabling you to do a lot of stuffs you will need to pull out your phone otherwise. A report by Gigaom also goes inline with this.
We have analyzed all the information available via rumors to come up with a final picture over the Samsung Galaxy Gear Smartwatch. Here are some key findings with regard to configuration and features.
Configuration:
2.5 inch, 320×320 pixels, high quality OLED touch display
Android 4.1/Android 4.2 operating system
1.5 GHz dual core Samsung Exynos 4212 processor, Mali-400 GPU
Camera embedded on strap
Inbuilt speakers
NFC, Bluetooth v4.0
A lot of sensors
Features:
Companion device / Second screen: All the rumors overall, strongly suggests Samsung Galaxy Gear to be a companion device rather than a full fledge Smart Watchphone. Though, its a no-brainer that the device will come up with some head turning features and would be more useful in comparison to existing companion devices.
Notifications: This seems to be most logical and focused feature of the device. With the emergence of Social networking, the amount of notifications we receive has significantly increased. Pulling out your mobile phone every now and then makes life a bit clumsy. In fact, sometimes, like while driving, we tend to ignore viewing notifications instantly. A handy device like Smartwatch could well bridge this gap. Needless to say, this is going to be the most important feature of this device.
Continuity sync with smart phone: If this going to be a companion device, a strong syncing with smartphone is inevitable. However, Samsung smartwatch might go a step further. A continuity syncing means one companion device starts from where you left another. Say you are reading a mail on smartwatch but suddenly you feel its an important message and you pull out your mobile to read it further. A continuity sync ensures you mobile starts from where you left it in smartwatch.
Smart sensors: Pressing that tiny button in the side to wake up the device sounds like an obsolete concept now. A range of smart sensors in Galaxy gear watch will ensure most of such activities are automated through gestures. The moment you bring your wrist in front of your eyes, the device wake up automatically. Some Galaxy S4 fame features like Smart view and smart scroll might also make a place in this device.
Exclusive to Samsung smartphones: This might be a deal breaker for non Samsung users. There's also a hint that Samsung Galaxy Gear watch might only be compatible with Samsung mobiles and tablets. Though we are taking it as a grain of salt as it will limit the target consumer for this product and not to forget, it won't be hard for developers community to develop a patch.
Competitors
If this is going to be a companion device, it already has some competition. Products like MotoActv, Sony Smartwatch, I'M Watch etc are already in the market. Only a feature packed offering could let the Samsung strike a lead over its competitors. Moreover, the biggest competition will be coming from Apple's rumored iWatch which is speculated to be released shortly.
Summing up
There's certainly a market for this device. People bored of Smart mobiles and tablets will get a refreshing device to play with. Though a couple of similar devices already exist, but entry of Samsung and Apple will surely kickoff the market. Success of Samsung Smartwatch certainly depends a lot on what all it features and at what price tag?