"A close look at the box contents of the metal-laden Samsung Galaxy Alpha"
For a premium smartphone, the use of metal as one of the construction materials as its key highlight feels a tad strange. However, the fact that it comes from Samsung, and is actually the very first from the brand to boast metal construction makes it very noteworthy. We got the chance to play with the Samsung Galaxy Alpha during launch time, and the design definitely looks quite yummy, if only a tad iPhone-esque. However, we're sure the device has more to it than just design, and we'll be diving deeper into its capabilities soon… since the handset has just landed in our labs. Before we do that however, let's take it through our customary unboxing process to check what Samsung includes inside the box.
Notwithstanding the fact that the Samsung Galaxy Alpha is quite a compact device, all thanks to its 4.7-inch screen, it's still a surprise to see the size of the box it comes in. The retail pack looks very small, but fret not – it contains everything one might expect. The rear of the box mentions a few key specs.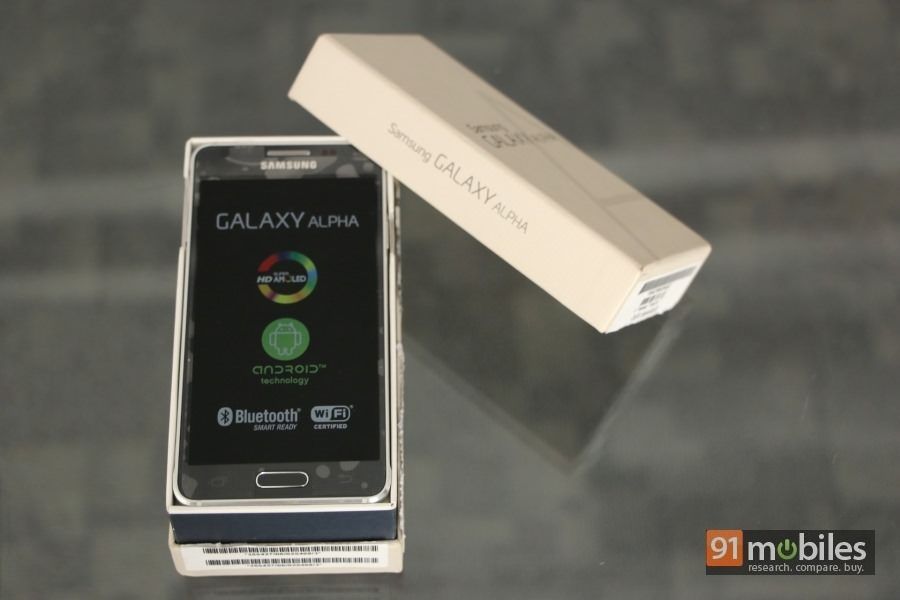 Opening the lid reveals the stylish smartphone lying right at the very top, wrapped in plastic. Putting that away to the side and lifting a thin layer of cardboard aside reveals the cavity inside containing all the goodies.
Out comes a thin booklet which is nothing but a quick start guide. Then there's a micro-USB cable, a two-pin wall charger, and a wired headset with differently-sized spare rubber tips to ensure optimum fit. The removable 1,860mAh battery is also packaged separately inside.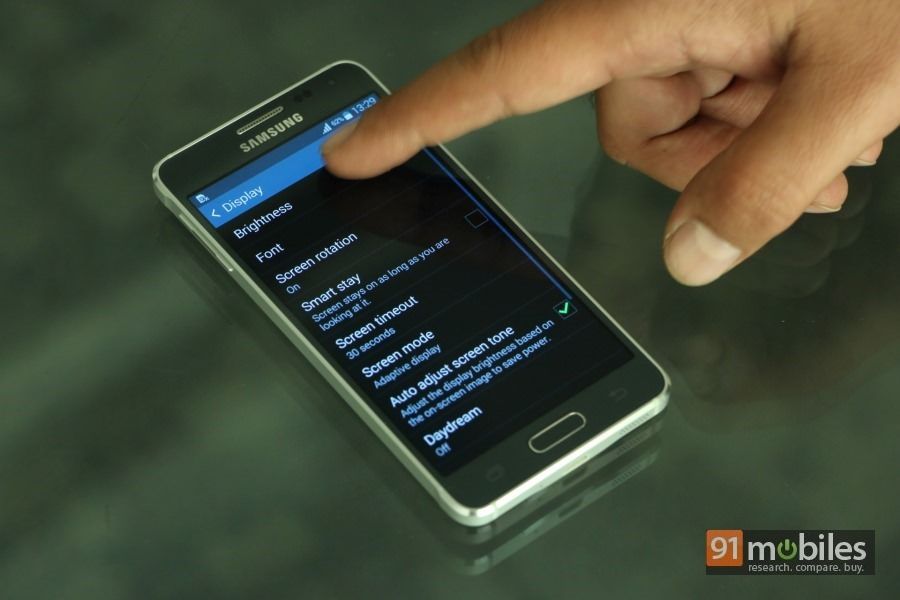 So no surprises, unpleasant or otherwise, from the Samsung Galaxy Alpha's retail box. We sure hope it can manage to surprise us when it comes to performance and capabilities, so we're looking forward to spending some more quality time with it during the course of our review. Keep your eyes peeled.