Samsung announced their Q3 results today and the results were impressive for a particular division of the company – Samsung Mobility. Samsung has four divisions namely Semiconductors, Display Panels, Telecommunication and Digital Media & Appliances. Of all the four divisions, three divisions have reported negative growth and one division has posted tremendous growth @ whopping 37%. Samsung Mobility division has posted a sales of $13.5 billion and a record profit of $2.3 billion.
Inspite of strong seasonality associated with mobile phone sales, Samsung reports that they are witnessing a 6-8% increase in demand QoQ. The smartphone growth rate is faster than the whole mobile handset growth rate. Much of the success with smartphone growth came from Samsung Galaxy S II – the flagship smartphone from Samsung so far in the market. Samsung has also been releasing this handset in phased manner geographically. In the Q3 2011, Samsung officially became the world's leading smartphone manufacturer selling 27.8 million smartphones in Q3. In that process, it overtook Apple which registered a figure of 17.1 million smartphone sales. Congratulations Samsung.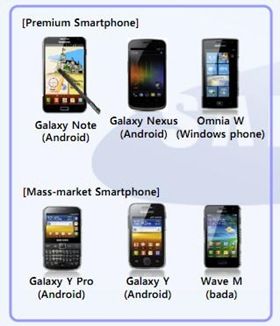 The road ahead for Samsung is looking much rosier as they seem to have figured out their future strategy well and are also well on track as far as implementation is concerned. Samsung is betting on three new smartphones to propel the growth rate faster. The smartphones include Samsung Galaxy Nexus, Samsung Galaxy Note and Samsung Omnia W [the windows mango phone]. These phones are expected to hit the markets towards the end of the year. As far as mass-market Smartphone is concerned, Samsung is betting on Samsung Galaxy Y Pro, Samsung Galaxy Y and Samsung Bada M [The bada os phone].