Samsung showcased its pentile display technology at SID Display Week in Los Angeles. Samsung demonstrated a ground-breaking WQXGA display (2560×1600) for 10.1 inch tablets using Samsung PenTile RGBW format. This display essentially offers a super high resolution display with crisp image quality, impressive brightness, incredible outdoor visibility and best of all it runs at half the power. Which means, the battery life is doubled overnight! Ideally suited for mobile devices such as smartphones and tablets. This resolution on 10.1 inch tablets yields a 300dpi display quality which is very good!
The 1080p High Definition displays that you see today offer a resolution of 1960×1080 pixels. So, Samsung WQXGA is way better than the 1080p HD standard. The next better HD standard would be QFHD which has a resolution of 3840×2160 pixels, essentially doubling upon the 1080p display. Samsung is almost there to bring on the QFHD displays. Looking at the rate of advancement, I seriously wonder if we have enough video content that can actually utilize these amazing displays 🙂
The RGBW has an extra white sub-pixel. You may wonder what's the role of the extra white sub-pixel. Well, the white sub-pixels provides the much needed brightness and crispness. In case of LED-lit displays, the led light has to pass through the RGB color filters and naturally loses some of the brightness. On the other hand, the RGBW allows for LCD to have much more brightness than the LED-lit displays at half the power! Brilliant.
Samsung developed this technology along with Nouvoyance. "In order to develop tablets with the form and function that consumers demand, a design engineer ultimately has to determine how to get the highest resolution display possible, while still fitting within the overall power budget for their design," said Joel Pollack, executive vice president of Nouvoyance, Samsung's affiliate company that developed the PenTile RGBW technology.
"Samsung's PenTile display technology is the only display technology that operates at 40 percent less power yet provides twice that of Full HD-viewing performance for consumers compared to legacy RGB stripe LCDs. There is no other commercial display technology on the market today that offers this high of a resolution and pixel density in a 10.1-inch size display," said Dr. Sungtae Shin, Senior VP of Samsung Electronics.
Pentile Technology – Twice the brightness while running at half the power which is very ideal for mobile users. It also employs a new pixel structure called RGBW that includes a while sub-pixel which brings on a very crisp displays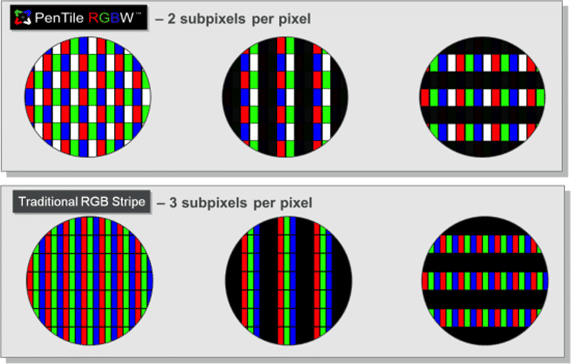 Key Technical specifications of this pentile display
10.1-inch tablet panel is capable of 300 cd/m2 of luminance, using 40% less power than that used by legacy LCDs.
Outdoor brightness mode upto 600 cd/m2 providing a superior outdoor viewing capability.
display's color gamut is 72 percent., allowing greater color realism than legacy RGB stripe tablet displays that have a typical color gamut of 55 percent NTSC.
PenTile technology achieves 300 dpi resolution with two-thirds the number of subpixels, maintaining the VESA/ICDM display resolution standard.
To know more about Pentile technology head over to the pentileblog