Sabeer Bhatia, the co-founder of Hotmail known famously for the $400 million exit to microsoft, is back to make another hit. This time through a FREE SMS application. Sabeer Bhatia has launched a mobile application called JaxtrSMS, which has been in beta mode for quite sometime. He claims that already more than 120,000 users have downloaded the app. So, how does jaxtrsms work?
Users download the jaxtrsms app from the website jaxtrsms.com. The jaxtrsms is available for all major mobile platforms such as iOS, Android, Windows, Blackberry, Java, Symbian and Nokia. (That's super cool…only Bada and other esoteric platforms are left out i guess…not a big deal)
Install the jaxtrsms application.
Users sign up with their name and mobile number.
Users need to verify the identity either through the SMS or weblink sent (Depending upon the mobile platform).
Once the phone is verified, users can start sending messages to the friends in their address book.
JaxtrSMS senses if the recipient has jaxtrsms installed or not.
If the recipient is a jaxtrsms user, he will receive the message in his inbox directly.
If the recipient is not a jaxtrsms user, he will receive a SMS from a US number. The SMS apparently contains a small snippet which encourages the recipient to download the jaxtrsms app.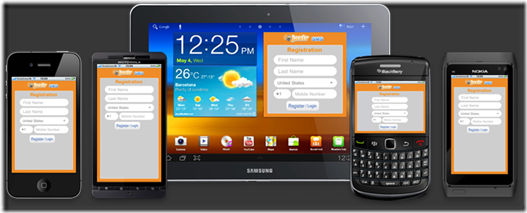 As you see, jaxtrsms exploits the ability to send messages over internet. So any smartphone or feature phone with a proper data plan can start sending text messages to both domestic and international users free of cost.
This application is not first of its kind. There are already some applications available like WhatsApp. The main difference between WhatsApp and JaxtrSMS is that WhatsApp allows you to send messages only to other users who have WhatsApp application installed. In case of JaxtrSMS, you can send messages to both jaxtrsms users and non-users. Not a difficult barrier to break, but still it's unique.
Since there is a heavy regulation on sending/receiving SMS in India (imposed by TRAI), JaxtrSMS wont be reaching the SMS inbox of users who are enlist in DND registry. However, Sabeer bhatia is confident to find work-arounds for this nagging problem.
What started off as a service from Blackberry is slowing evolving in to a much more open and efficient messaging solution. How will TRAI enforce regulations on these apps now? Going forward, these kind of messaging apps will take over the SMS.